House passes bipartisan measures targeting Iran over death of Mahsa Amini, missile program
The U.S. House has overwhelmingly approved several measures targeting Iran for its human rights record and placing restrictions on the country's ability to import or export its expanding arsenal of weapons
House passes bipartisan measures targeting Iran over death of Mahsa Amini, missile program

Show all 3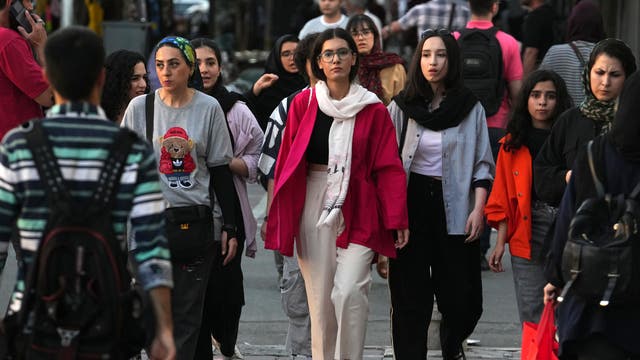 The U.S. House overwhelmingly approved measures Tuesday targeting Iran for its human rights record and placing restrictions on the country's ability to import or export its expanding arsenal of weapons.
The measures would impose a series of sanctions on Iran's supreme leader, president and other individuals as Washington seeks to further punish the Islamic Republic ahead of the one-year anniversary of nationwide protests over a mandatory headscarf law. The resolutions will now go to the Senate, where it is unclear if the Democratic-controlled chamber will take them up.
The first bill takes aim at Iran's production and exports of missiles and drones by sanctioning individuals involved in the process, while the second imposes sanctions on high-ranking government officials for "human rights abuses and support for terrorism." The third resolution specifically condemns the government's persecution of the Baha'i minority.
The near-unanimous passage of all three represents a renewed condemnation by Congress against Iran's government, which engaged in a brutal crackdown of its citizenry after the September 2022 death of Mahsa Amini in police custody.
Amini had been detained for allegedly wearing her hijab too loosely in violation of strictures demanding women in public wear the Islamic headscarves. The 22-year-old died three days later in police custody. Authorities said she had a heart attack but hadn't been harmed. Her family has disputed that, leading to the public outcry.
The protests that ensued represented one of the largest challenges to Iran's theocracy since the 1979 Islamic Revolution. A security force crackdown that followed saw over 500 people killed and more than 22,000 people detained.
The unrest only further complicated any attempt by the Biden administration to restart negotiations between Washington and Tehran — after former President Donald Trump abruptly withdrew U.S. from the Iran nuclear deal in 2018.
And it has remained a point of contention for Republicans in Congress, who have sought to use the power of their majority in the House over the past several months to introduce or pass a series of binding and nonbinding resolutions related to the country's abuse of human rights as well as its nuclear and missile programs.
The passage of the resolutions also comes a day after the Biden administration cleared the way for the release of five American citizens detained in Iran by issuing a blanket waiver for international banks to transfer $6 billion in frozen Iranian money without fear of U.S. sanctions.
In response, Rep, Michael McCaul, the GOP chairman of the House Foreign Affairs Committee, said while he was relieved to see the hostages released, the deal sets a bad precedent.
"I remain deeply concerned that the administration's decision to waive sanctions to facilitate the transfer of $6 billion in funds for Iran, the world's top state sponsor of terrorism, creates a direct incentive for America's adversaries to conduct future hostage-taking," he said.