Guatemala's struggle with corruption thrust into international spotlight by election meddling
The Guatemalan government's clumsy interference with its presidential election has turned a global spotlight on a country whose struggles with deep corruption got limited international attention
Guatemala's struggle with corruption thrust into international spotlight by election meddling
Show all 10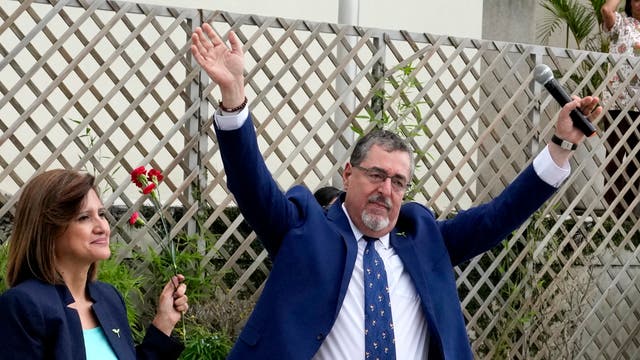 (asterisk)(asterisk) TO MOVE AT 0400 GMT(asterisk)(asterisk)
The Guatemalan government's clumsy interference with its presidential election has tturned a global spotlight on a country whose struggles with deep corruption had received limited international attention.
President Alejandro Giammattei was deeply unpopular at home, but other than occasional statements of reprobation from the United States and Europe, had managed to consolidate his control of the justice system with little consequence.
It was a dramatic transformation for a country that until four years ago hosted an aggressive and productive anti-corruption effort supported by the United Nations. But since that mission was forced out by Giammattei's predecessor, the president had systematically put in loyalists to replace prosecutors and judges who led that fight against graft. Even those who had grown critical of the zealous anti-corruption effort now concede the country is much worse off now.
Then came the June 25 presidential election, which produced a shock for Guatemalans and outside observers. Heading into the vote, all polls indicated there would be a runoff between a narrow spectrum of candidates between the right and extreme right.
But with the number of null votes, many cast in protest, beating out all the 22 candidates, the progressive Seed Movement's Bernardo Arévalo came in second, ensuring his participation in an Aug. 20 runoff. Suddenly, there was a real possibility of choice for Guatemalans who want to change the status quo
Katya Salazar, executive director of the Due Process Foundation, said Arévalo's surprise support was "a demonstration of the dissatisfaction" in the Central American country and that shook the entrenched power structure right up to the president.
"I think that fear clouded him, blinded him, and I think he thought that it would be the same as always," Salazar said.
Late Wednesday, a federal prosecutor announced the Seed Movement had been suspended for allegedly violating election laws in forming. Prosecutors followed up on Thursday morning by raiding the offices of the Supreme Electoral Tribunal just hours after it certified the election results that put Arévalo in the runoff.
The uproar was immediate. In addition to statements of concern from the United States, European Union and Organization of American States, criticism came from other Latin American governments as well as Guatemala's most powerful private business association.
Even Arévalo's runoff opponent, conservative Sandra Torres, joined in, announcing that she would suspend her campaign activities in solidarity because the competition was uneven while authorities pursued the Seed Movement.
Torres' UNE party has been a key force in allowing Giammattei to advance his legislative agenda, but it appeared she felt his attack on the Seed party could undermine her own candidacy.
"We want to demonstrate our solidarity with the voters of the Seed party and also with those who came out to vote," she said. "As a candidate, I want to compete under equal conditions."
Not long after that, the Constitutional Court, the country's highest tribunal, provided another blow, granting the Seed Movement's request for a preliminary injunction against a lower court's suspension of its legal status. That quickly, if temporarily, lowered tensions.
Giammattei, who was barred by law from seeking reelectdion, keep out of sight. His office issued a statement saying it respects the separation of powers and would not be involved in any judicial processes.
Arévalo thanked the Constitutional Court as well as the Supreme Electoral Tribunal, which promised to defend the will of voters against government interference.
"The corrupt who have tried to steal these elections from the people today find themselves marginalized," he said. "Today we are starting the first day of the campaign."
___
Sherman reported from Mexico City.