AP News Digest 3:30 am
Show all 4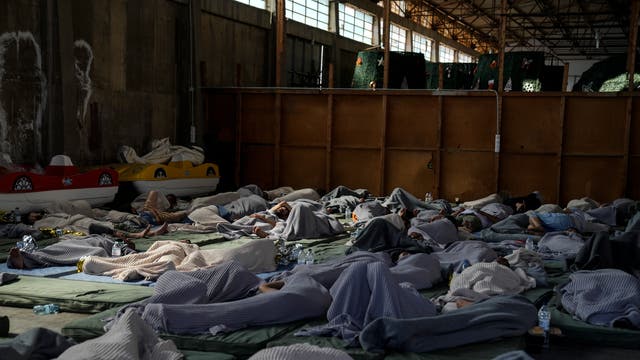 Here are the AP's latest coverage plans, top stories and promotable content. All times EDT. For up-to-the minute information on AP's coverage, visit Coverage Plan.
———————
ONLY ON AP
———————
CHINA-ZERO-COVID EXIT — When China suddenly scrapped onerous zero-COVID measures in December, the country wasn't ready for a massive onslaught of cases, with hospitals turning away ambulances and crematoriums burning bodies round the clock. But despite Chinese state media claims that the decision to open up was based on "scientific analysis and shrewd calculation" and "by no means impulsive", the ruling Communist Party ignored repeated efforts by top medical experts to kickstart exit plans until it was too late. By Dake Kang. SENT: 2,820 words, photos. An abridged version of 1,080 words is also available.
———————
TOP STORIES
———————
RUSSIA-UKRAINE-WAR — Japanese Prime Minister Fumio Kishida began a surprise visit to Ukraine, hours after Chinese President Xi Jinping arrived in neighboring Russia for a three-day visit. The dueling summits come as the longtime rivals are on diplomatic offensives. Kishida will meet President Volodymyr Zelenskyy in the Ukrainian capital. By Karl Ritter. SENT: 550 words, photos.
TRUMP LEGAL PROBLEMS-POLITICS — From the moment he rode down the Trump Tower escalator to announce his first presidential campaign, a searing question has hung over the Republican Party: Is this the moment to break from Donald Trump? After almost eight years of near-constant scandal, Republicans have repeatedly rallied behind Trump. By Steve Peoples, Farnoush Amiri and Lisa Mascaro. SENT: 1,260 words, photos. Also see MORE ON TRUMP-LEGAL TROUBLES below.
BANK COLLAPSE-LOBBYING — It seemed like a good idea at the time: red state Democrats facing grim reelection prospects would join forces with Republicans to slash bank regulations — demonstrating a willingness to work with then-President Trump. That unlikely coalition voted to roll back portions of a far-reaching 2010 law intended to prevent a future financial crisis. Those changes now are being blamed for contributing to the collapse of two regional banks. By Brian Slodysko and Ken Sweet. SENT: 1,280 words, photos.
RUSSIA-UKRAINE-WAR-FRONT-LINE EVACUATION — For months, authorities have been urging civilians in areas near the fighting in eastern Ukraine to evacuate to safer parts of the country. But while many have heeded the call, others have steadfastly refused. So it has fallen to local police to try to persuade residents to leave. By Elena Becatoros. SENT: 800 words, photos.
UNITED STATES-TAIWAN-CHINA — The Biden administration is putting out the word in advance that an expected unofficial stopover in the United States by Taiwan President Tsai Ing-wen would fall in line with recent precedent and should not be used as a pretext by Beijing to step up aggressive activity in the Taiwan Strait. By Aamer Madhani. SENT: 670 words, photo.
FRANCE-CITY OF GARBAGE — Garbage. Heaps, mounds and piles of it are growing daily — and in some places standing higher than a human being. A strike by Paris garbage collectors, which begins its 16th day, is taking a toll on the renowned aesthetics of the French capital, a veritable blight on the City of Light. By Elaine Ganley. SENT: 740 words, photos. With FRANCE-PENSIONS — French government survives no-confidence votes over pensions.
———————
MORE ON RUSSIA-UKRAINE WAR
———————
RUSSIA-UKRAINE WAR-ABDUCTED CHILDREN — Russia plans to hold an informal meeting of the U.N. Security Council in early April on what it said is "the real situation" of Ukrainian children taken to Russia, an issue that has gained the spotlight following the International Criminal Court's arrest warrant for Russian President Vladimir Putin for war crimes related to their abduction. SENT: 380 words, photo.
RUSSIA-UKRAINE-WAR-DEVELOPMENTS — Ukraine's military intelligence agency reported what appeared to be a brazen attack on Russian cruise missiles being transported by train in the occupied and illegally annexed Ukrainian Crimean Peninsula. SENT: 360 words.
———————————-
MORE ON TRUMP-LEGAL TROUBLES
———————————-
TRUMP-LEGAL TROUBLES — A New York grand jury investigating Trump over a hush money payment to a porn star appears ready to complete its work soon as law enforcement officials prepare for possible unrest in the event he is indicted. SENT: 950 words, photos, video. With TRUMP-LEGAL TROUBLES-EXPLAINER — Trump indictment would be unprecedented in U.S. history; TRUMP-LEGAL-PROBLEMS-CONGRESS — House GOP demands info from prosecutor about Trump case.
———————
TRENDING
———————
XXXTENTACION SLAIN-TRIAL — Jury convicts three of murder in death of rapper XXXTentacion. SENT: 750 words, photos.
PUERTO RICO-BAD BUNNY LAWSUIT — Bad Bunny's ex-girlfriend files lawsuit seeking $40 million. SENT: 550 words, photo.
FILM-JOHN WICK 4 PREMIERE — "John Wick" stars honor late co-star Lance Reddick. SENT: 410 words, photos.
BIDEN-MENTAL HEALTH-TED LASSO — "Ted Lasso" visits White House, promotes mental health care. SENT: 680 words, photos.
———————————-
WASHINGTON/POLITICS
———————————-
BIDEN-NATION'S CAPITAL — President Joe Biden signed into law legislation nullifying the recent overhaul of the District of Columbia criminal code, but the fight between Congress and local lawmakers is continuing. SENT: 1,000 words, photos.
———————
NATIONAL
———————
LOS ANGELES SCHOOLS-STRIKE — Tens of thousands of workers in the Los Angeles Unified School District planned to walk off the job over stalled contract talks, and they will be joined in solidarity by teachers in a three-day strike that will shut down the nation's second-largest school system. SENT: 710 words, photos.
WISCONSIN SUPREME COURT — Wisconsin voters had a chance to cast ballots in person in the state's high-stakes Supreme Court race, the same day the two candidates were meeting for their first and only debate two weeks before election day. SENT: 500 words, photos. UPCOMING: Debate at 1:45 p.m.
UNITED STATES-SAUDI ARABIA-AMERICAN FREED — Saudi Arabia freed a 72-year-old American citizen it had imprisoned for more than a year over old tweets critical of the kingdom's crown prince, his son said. SENT: 560 words, photo.
APACHES-MINING PROJECT — An Apache group battling a foreign mining firm that wants to build one of the largest copper mines in the United States on what tribal members say is sacred land will get a new chance to make its point when a full federal appeals court panel takes another look at the case. SENT: 570 words, photos.
HISTORIC SIERRA SNOW — A relentless winter at Lake Tahoe has now etched its way into the history books as the Sierra's second snowiest on record. SENT: 920 words, photos. With HISTORIC SIERRA SNOW-GLANCE.
SCHOOL SHOOTING-NEWPORT NEWS — A Virginia teacher who was shot and wounded by her 6-year-old student said she has had four surgeries and is going through a challenging recovery. SENT: 550 words, photos.
———————
INTERNATIONAL
———————
SOUTH KOREA-JAPAN — South Korean President Yoon Suk Yeol said his government will move to restore Japan's preferential trade status as he pushes to resolve history and trade disputes with Japan despite domestic opposition. SENT: 600 words, photos.
SRI LANKA-ECONOMIC CRISIS — The International Monetary Fund said it is assessing Sri Lanka's governance in the first case of an Asian country facing scrutiny for corruption as part of a bailout program. SENT: 670 words, photos.
COLOMBIA-BULLFIGHTS — The tradition of bullfighting has taken some blows around the world recently and Colombia could be next to take up a ban. SENT: 900 words, photos, video.
————————-
HEALTH/SCIENCE
————————-
ABORTION-WYOMING — Wyoming has pushed to the front of state efforts to prohibit the most common type of abortion by instituting the nation's first explicit ban on pills that terminate pregnancies. SENT: 800 words, photo.
———————
BUSINESS/ECONOMY
———————
FINANCIAL MARKETS — Asian stock markets followed Wall Street higher ahead of a Federal Reserve decision on another possible interest rate hike amid worries about global banks. By Business Writer Joe McDonald. SENT: 510 words, photos.
————
SPORTS
————
ST JOHN'S-PITINO — Rick Pitino is back in the Big East Conference as St. John's hired the Hall of Fame coach to boost a storied program that's been mired in mediocrity for much of this century. By Sports Writer Mike Fitzpatrick. SENT: 960 words, photos.
———————
ARTS/ENTERTAINMENT
———————
GWYNETH PALTROW-SKIING LAWSUIT — Gwyneth Paltrow is scheduled to stand trial in a lawsuit filed by a retired optometrist who said that the actress-turned-lifestyle influencer violently crashed into him in 2016 while skiing in Utah at one of the most upscale ski resorts in the United States. SENT: 450 words, photos.
———————
HOW TO REACH US
———————
At the Nerve Center, Jerome Minerva can be reached at 800-845-8450 (ext. 1600). For photos, Shuji Kajiyama (ext. 1900). For graphics and interactives, ext. 7636. Expanded AP content can be obtained from AP Newsroom. For access to AP Newsroom and other technical issues, contact apcustomersupport@ap.org or call 844-777-2006.