Fox: Dominion defamation suit is assault on First Amendment
Attorneys for Fox News say a $1.6 billion defamation lawsuit against the network over its coverage of the 2020 presidential election is an assault on the First Amendment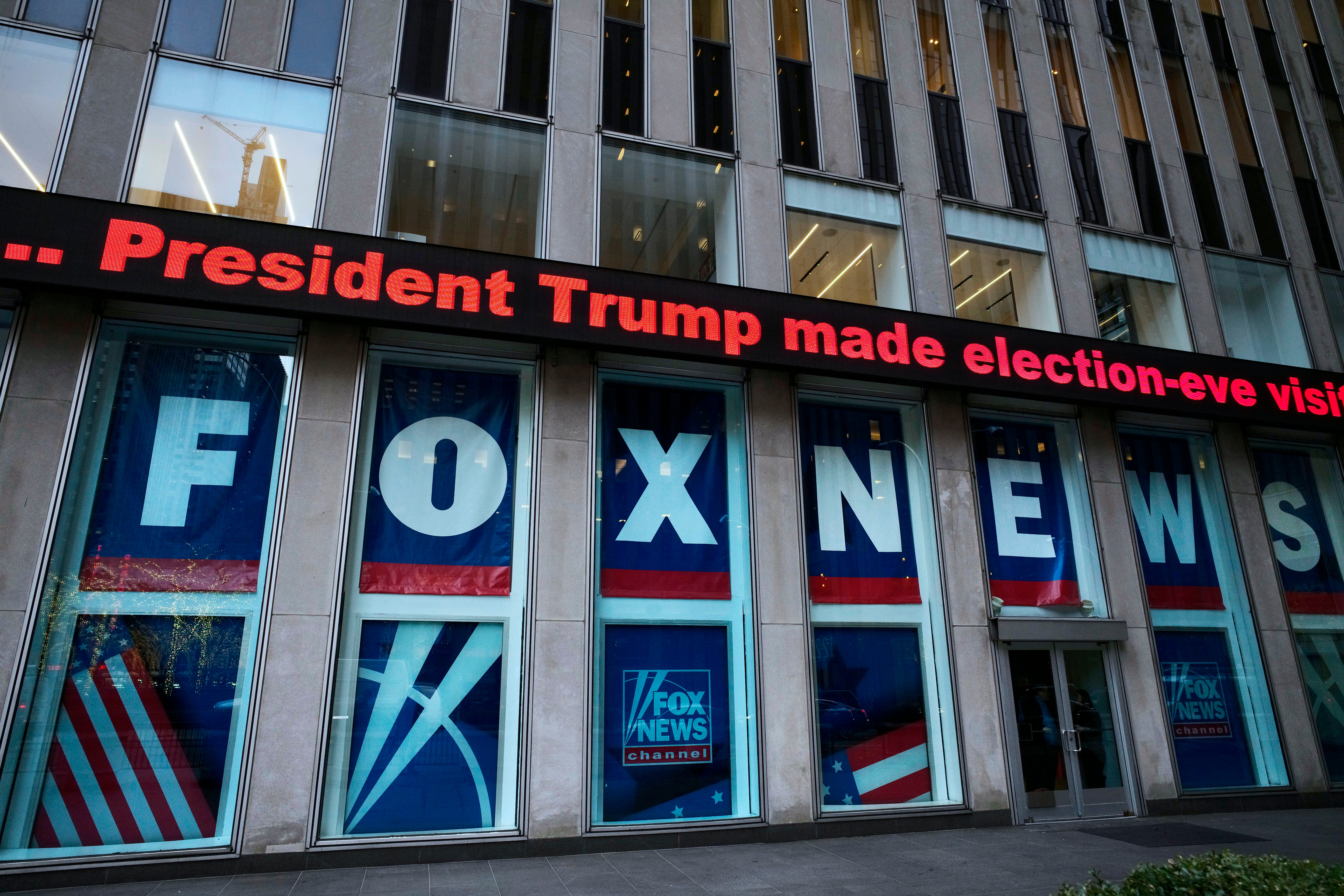 A $1.6 billion defamation lawsuit against Fox News by Dominion Voting Systems over the network's coverage of the 2020 presidential election is an assault on the First Amendment, attorneys for the cable news giant argued in a counterclaim unsealed Thursday.
Denver-based Dominion, which sells electronic voting hardware and software, is suing both Fox News and parent company Fox Corporation. Dominion said that some Fox News employees deliberately amplified false claims by allies of former President Donald Trump that Dominion had changed votes in the 2020 election, and that Fox provided a platform for guests to make false and defamatory statements.
In an amended counterclaim, attorneys for Fox argue that Dominion has advanced "novel defamation theories" and is seeking a "staggering" damage figure aimed at generating headlines, chilling protected speech and enriching Dominion's private equity owner, Staple Street Capital Partners, and its investors.
"Dominion brought this lawsuit to punish FNN for reporting on one of the biggest stories of the day—allegations by the sitting President of the United States and his surrogates that the 2020 election was affected by fraud," the counterclaim states. "The very fact of those allegations was newsworthy."
Fox attorneys argue that when voting-technology companies denied the allegations being made by Trump and his surrogates, Fox News aired those denials, while some Fox News hosts offered protected opinion commentary about Trump's allegations.
Fox's counterclaim is based on New York's "anti-SLAAP" law. Such laws are aimed at protecting people trying to exercise their First Amendment rights from being intimidated by "strategic lawsuits against public participation," or SLAPPs.
"According to Dominion, FNN had a duty not to truthfully report the President's allegations but to suppress them or denounce them as false," Fox attorneys wrote. "Dominion is fundamentally mistaken. Freedom of speech and freedom of the press would be illusory if the prevailing side in a public controversy could sue the press for giving a forum to the losing side."
Fox attorneys say Dominion's own public relations consultant, Michael Steele of Hamilton Place Strategies, described Trump's allegation about the election as "the biggest topic in the country at that time." They also argue that threatening the company with a $1.6 billion judgment will cause other media outlets to think twice about what they report.
"Dominion could not possibly suffer damages in that amount, let alone suffer such damages because of a single press outlet's coverage of a story that was reported by media throughout the world," Fox attorneys wrote. Documents produced in the lawsuit show that Dominion has not suffered any economic harm and do not indicate that it lost any customers as the result of Fox's election coverage.
According to Fox, Dominion's claim of $1.6 billion in enterprise value is 42 times what Staple Street paid in 2018 to acquire 76% of the company. Staple Street, meanwhile, has estimated the value of its investment in Dominion to be about $80 million.
The counterclaim also notes that Dominion CEO John Poulos told Staple Street partner and co-founder Hootan Yaghoobzadeh in December 2020, amid media coverage of Trump's allegations about the election, that "no customer cares about the media. It's just more words from their perspective."
Superior Court Judge Eric Davis is scheduled to preside over a trial beginning in mid-April, but attorneys for both sides have asked him to grant summary judgment in their favor, which would remove the need for a jury trial that could stretch over five weeks.
In a 192-page redacted brief filed Thursday, Dominion said the judge should rule in its favor because "no reasonable juror could find in Fox's favor on each element of Dominion's defamation claim." Dominion attorneys also assert that no reasonable juror could find in favor of Fox's "neutral reportage" and "fair report" defenses.
"Recounts and audits conducted by election officials across the U.S. repeatedly confirmed the election's outcome, including specifically that Dominion's machines accurately counted votes," Dominion's filing states. "That evidence alone more than suffices for summary judgment on the falsity of the claims that Dominion rigged the election and its software manipulated vote counts."
Attorneys for Fox News argue in their summary judgment brief that the network's coverage and commentary are not defamatory.
"Even assuming, for the sake of argument, that Dominion could point to any statement that could be actionable defamation, this court should grant Fox News' summary judgment motion for the independent reason that Dominion lacks clear and convincing evidence that the relevant individuals at Fox News made or published any statement with actual malice," the attorneys wrote.
Davis ruled last month that, for the purposes of the defamation claims, he will consider Dominion to be a public figure. That means Dominion must prove by a preponderance of the evidence that the Fox defendants acted with actual malice or reckless disregard for the truth.
Attorneys for Fox Corp. joined in the brief filed by Fox News, while also asserting that the parent company is independently entitled to summary judgment because Dominion has not produced any evidence needed to hold Fox Corporation liable.
"More than a year of discovery has confirmed what Fox Corporation has been saying all along: Neither Rupert nor Lachlan Murdoch nor anyone else at Fox Corporation played any role whatsoever in creating or publishing any of the statements Dominion challenges," attorneys for the parent company wrote.