Ex-prosecutor who resigned from Trump-Russia probe nears confirmation to Connecticut's Supreme Court
A former federal prosecutor who helped investigate the origins of the Trump-Russia probe in 2020 before abruptly leaving the Justice Department is a step closer to being confirmed for Connecticut's State Supreme Court
Ex-prosecutor who resigned from Trump-Russia probe nears confirmation to Connecticut's Supreme Court
Show all 2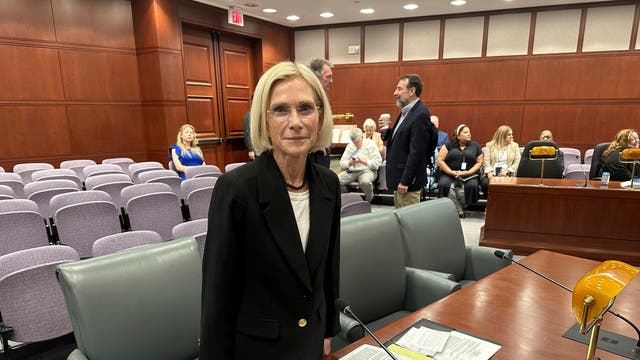 A former federal prosecutor who helped investigate the origins of the Trump-Russia probe in 2020 before abruptly leaving the Justice Department moved closer on Tuesday to being confirmed as the newest member of Connecticut's State Supreme Court.
Nora Dannehy, who also served from 2008 to 2010 as the first woman U.S. Attorney for the District of Connecticut, cleared the state Senate by a 31-2 vote. Her nomination now moves to the House of Representatives for an expected vote later in the day.
Dannehy, a 62-year-old Connecticut native, spoke publicly for the first time during her confirmation hearing about why she left the federal investigation. That probe looked into how the FBI and other federal agencies set out to investigate Russian interference in the 2016 presidential election and whether the campaign of former President Donald Trump had coordinated with the Kremlin.
Dannehy told state lawmakers at the hearing that she was concerned with then-Attorney General William Barr's public comments about the Trump-Russia case and because she strongly disagreed with a draft of an interim report he considered releasing before the 2020 presidential election.
"I had been taught and spent my entire career at Department of Justice conducting any investigation in an objective and apolitical manner," she said. "In the spring and summer of 2020, I had growing concerns that this Russia investigation was not being conducted in that way."
She continued, ""Attorney General Barr began to speak more publicly and specifically about the ongoing criminal investigation. I thought these public comments violated DOJ guidelines."
Both Democrats and Republicans on Tuesday lauded Dannehy for her range of experience. She has had stints as a Connecticut deputy attorney general, associate general counsel for global ethics and compliance with United Technologies Corporation, and chief legal counsel for Democratic Gov. Lamont, who nominated Dannehy to the state's highest court.
"I think she'll be a fabulous addition," said state Sen. John Kissel, the top Republican on the General Assembly's Judiciary Committee, crediting her having "the moral compass as well as the intellectual gravitas and wealth of knowledge" to do the job. Kissel said Dannehy "doesn't seem the least bit predisposed, one way or another," crediting her with the ability to make "fair and even-handed decisions" without the influence of partisan politics.