Israeli-Palestinian cauldron tests US as Blinken visits
An alarming spike in Israeli-Palestinian violence and sharp responses by both sides are testing the Biden administration as U.S. Secretary of State Antony Blinken plunges into a cauldron of deepening mistrust and anger on visits to Israel and the West Bank this week
Israeli-Palestinian cauldron tests US as Blinken visits
Show all 2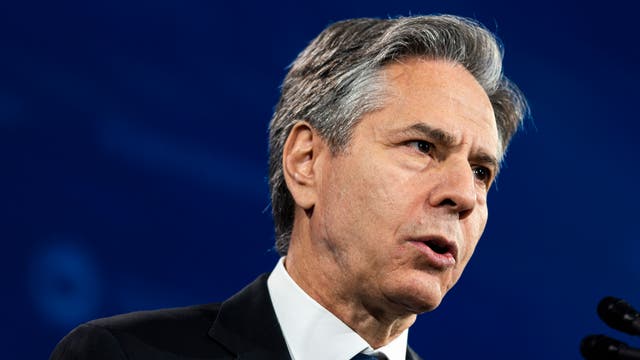 An alarming spike in Israeli-Palestinian violence and sharp responses by both sides are testing the Biden administration as U.S. Secretary of State Antony Blinken plunges into a cauldron of deepening mistrust and anger on visits to Israel and the West Bank this week.
What had already been expected to be a trip fraught with tension over differences between the administration and Israeli Prime Minister Benjamin Netanyahu's new far-right government has grown significantly more complicated over the past four days with a spate of deadly incidents. Blinken's high-wire diplomatic act begins on Monday after he completes a brief visit to Egypt that has been almost entirely overshadowed by the deteriorating security situation in Israel and the West Bank.
U.S. officials say the main theme of Blinken's conversations with Netanyahu and Palestinian leader Mahmoud Abbas will be "de-escalation." Yet Blinken will arrive in Israel just a day after Netanyahu's Security Cabinet announced a series of punitive measures against Palestinians in response to a weekend of deadly shootings in which Palestinian attackers killed seven Israelis and wounded five others in Jerusalem. Those shootings followed a deadly Israeli raid in the West Bank on Thursday that killed 10 Palestinians, most of them militants.
The violence has made January one of the bloodiest months in the occupied West Bank and east Jerusalem in several years. While Blinken's trip has been planned for several weeks and will follow visits by President Joe Biden's national security adviser Jake Sullivan and CIA Director Willian Burns, it will be the highest-level U.S. engagement with Netanyahu since he retook power last month and the first since the surge in violence.
Already contending with the new Israeli government's far-right policies and its opposition to a two-state resolution to the long-running conflict, U.S. officials have yet to weigh in on the retaliatory steps that include sealing and demolishing the homes of Palestinian attackers, canceling social security benefits for their families and handing out more weapons to Israeli civilians.
Perhaps most alarming was Netanyahu's vague promise to "strengthen" Israel's West Bank settlements, built on occupied land the Palestinians claim as the heartland of a future state. Bezalel Smotrich, an ultranationalist Cabinet minister whom Netanyahu has placed in charge of settlement policy, said he would seek new construction in a strategic section of the West Bank called E1. The U.S. has repeatedly blocked previous attempts by Israel to develop the area.
U.S. officials have, however, criticized Abbas' decision to suspend Palestinian security cooperation with Israel in the wake of the West Bank raid.
"We want to get the parties to not cease security cooperation but to really enhance the security coordination," said Barbara Leaf, the top U.S. diplomat for the Middle East. "We are urging de-escalation and a calming of the situation."
Ahead of his meeting with Blinken, Netanyahu said Sunday that Israel's response is not intended to exacerbate tensions.
"We are not seeking an escalation, but we are prepared for any scenario," Netanyahu told a Cabinet meeting. "Our answer to terrorism is a heavy hand and a strong, swift and precise response."
The Palestinians and some human rights groups believe the Israeli retaliation, including the demolition of homes of attackers' families, amounts to collective punishment and is illegal under international law. The turmoil has added yet another item to Blinken's lengthy diplomatic agenda that was already set to include Russia's war on Ukraine, tensions with Iran and crises in Lebanon and Syria; all of which weigh heavily in the U.S.-Israel relationship.
Easing strains on those issues, or at least averting new ones, are central to Blinken's mission despite Netanyahu's opposition to two of Biden's main Mideast priorities: reviving the 2015 Iran nuclear deal and restarting Israeli-Palestinian peace talks. But, with both of those matters stalled and little hope of any resumption in negotiations, the administration is attempting just to keep the concepts on life support.
In the meantime, the administration has resolved to improve ties with the Palestinians that former President Donald Trump had severed. Although it has resumed suspended U.S. assistance, its goal of re-opening the American consulate in Jerusalem to deal with Palestinian issues and the possibility of allowing the Palestinians to re-open their diplomatic mission in Washington have been blocked by a combination of Israeli opposition and U.S. legal hurdles. Blinken is unlikely to be able to offer the Palestinians any sign of progress on either of those matters, while pressing the case for further political reform in the Palestinian Authority.
The U.S. has also remained silent on Netanyahu's proposed sweeping changes to Israel's judicial system, which would allow lawmakers to overrule decisions by the Supreme Court. Recent weeks have seen mass protests in Jerusalem and Tel Aviv over the proposals that critics say would badly damage Israel's democratic standing.
"It's clear that this issue of the judicial legislation packages is one that's sparked intense, intense discussion, debate within Israeli society," said Leaf. "It's clearly a measure of the vibrancy of the democracy that this is being contested so clearly up and down across segments of Israeli society."
While she and other U.S. officials have spoken of the importance of "shared values" with Israel, they have steered clear of commenting on what they regard as a purely domestic issue.
"But now it became an issue" because of its proposed speed and scope, the public outcry, and growing concern among American Jewish leaders and members of Congress, said Eytan Gilboa, a U.S.-Israel expert at Bar-Ilan University.
"There is much confusion about what the Israeli government is up to," he said. "If for Netanyahu Iran is the major issue, by pushing the judicial reform, he is diverting the attention from the number one, more critical issue of Iran's nuclear program."
__
AP correspondent Ilan Ben Zion contributed from Jerusalem.