Kentucky gubernatorial rivals Andy Beshear and Daniel Cameron offer competing education plans
Democratic Gov. Andy Beshear has proposed awarding the largest pay raise in decades to Kentucky's public school personnel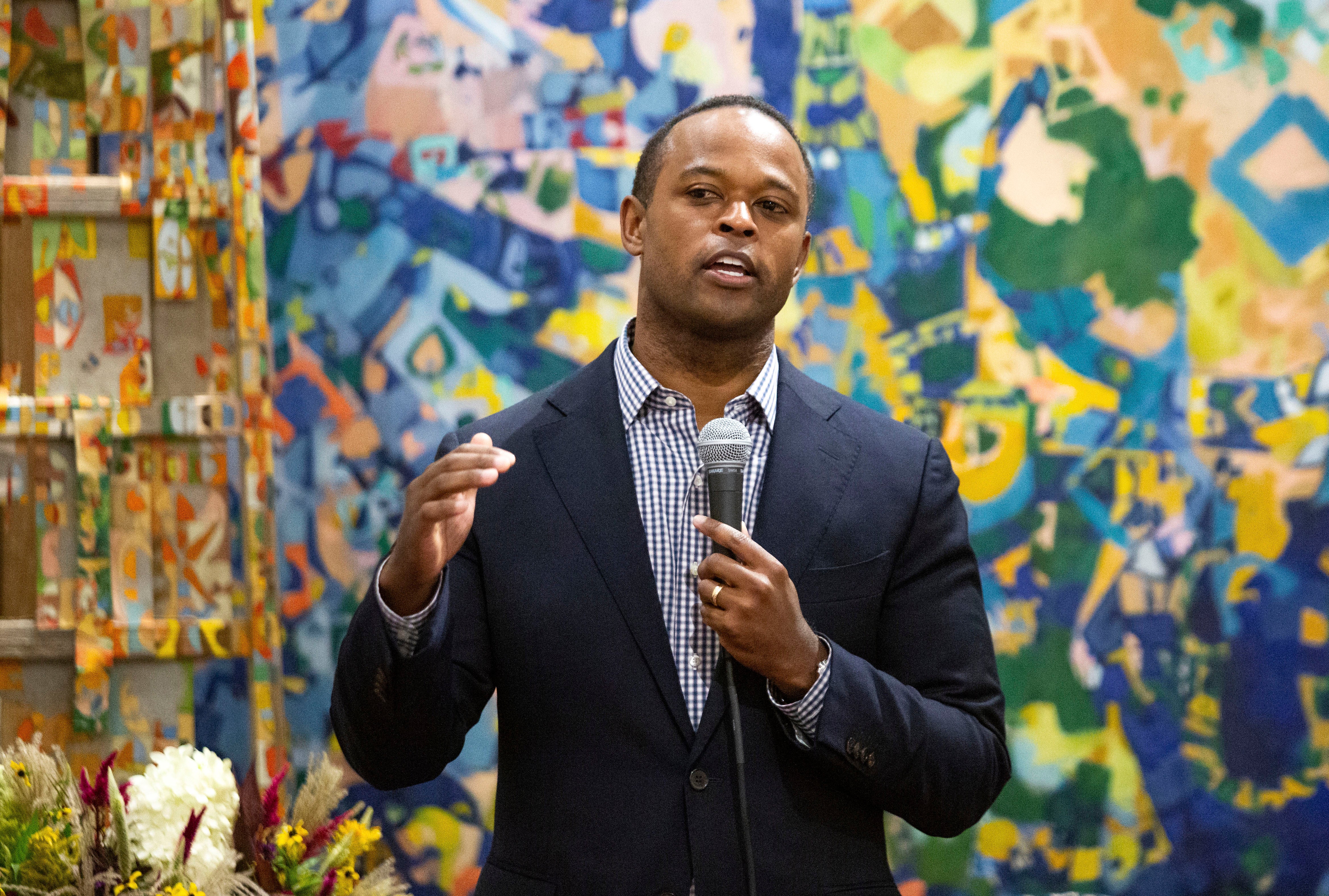 Democratic Gov. Andy Beshear proposed awarding the largest pay raise in decades to Kentucky's public school personnel, upping the ante Wednesday in his competition with Republican challenger Daniel Cameron, who offered his own plan to boost salaries and overcome pandemic learning setbacks.
The rivals in the November election outlined ideas for boosting K-12 education on back-to-back days, staking out positions on an overarching issue. Their gubernatorial showdown is one of the nation's most closely watched this year as the Democratic incumbent tries to win reelection in the red state.
Beshear garnered strong support from teachers in winning the governorship in 2019, naming an educator as his running mate and vowing to make education his top priority. Cameron is trying to make inroads, having apologized for an ex-GOP governor's feud with educators and unveiling a plan to boost starting teacher pay and develop tutoring programs for students who fell behind during the pandemic.
Beshear countered Wednesday with his own plan highlighted by an 11% pay raise for teachers and all school personnel, including bus drivers, janitors and cafeteria staff. It would amount to the single largest raise for Kentucky public school educators in at least 40 years, the governor said.
"You can't catch a kid up on math without a math teacher, and we cannot remain competitive with other states if we don't pay teachers closer to what they're worth," the governor said at a news conference.
The governor said his plan would fully fund student transportation. He said that funding, along with the pay raise, would help avoid problems like what occurred in Louisville's district, where schools closed for more than a week after a redesign of bus routes resulted in long delays on the first day of classes.
Beshear's plan was in the works long before Cameron unveiled his proposals Tuesday, the governor's office said.
Kentucky ranks 44th nationally in average teacher starting pay and 40th in average teacher pay, Beshear said, citing statistics from the National Education Association. An 11% raise — a $1.1 billion expense over two years — would vault Kentucky to the middle of the pack.
With a record budget surplus and strong economy, the governor's proposals are affordable with "plenty of space" to meet other demands, State Budget Director John Hicks said.
On Tuesday, Cameron proposed setting the statewide base starting pay for new teachers at $41,500. That would have a ripple effect by lifting pay for other teachers, he said.
"What our plan entails is making sure that we get every county in our commonwealth up to that number, so we can ensure that our teachers are in a position to take care of themselves and be confident in the classroom as they work with our students," Cameron said.
Beshear said the average teacher starting salary in Kentucky is $38,010, based on NEA statistics. He said his proposal would raise that to $42,191.
The governor pledged to continue pushing for state-funded pre-K for all 4-year-olds if he wins a second term. The proposal made no headway previously in the Republican-dominated legislature.
Beshear said his plan includes fully funding teachers' pensions and medical benefits to ensure there's no increase in health insurance premiums for school employees.
A key part of Cameron's plan would develop an optional, 16-week tutoring program for math and reading instruction. Students falling behind grade level would get first priority, he said. The proposal mirrors initiatives already started by some school districts.
It's a response to statewide test scores last fall that showed fewer than half of students were reading at grade level. Lower across-the-board scores were posted in math, science and social studies. National test scores showed it's a problem across the U.S. as schools try to recover from the pandemic.
Cameron blames Beshear for learning setbacks during the pandemic, when schools shifted to virtual learning, saying it put many students at risk of losing "their God-given potential." The governor supported school closures during the height of the pandemic to protect people from the virus. He prioritized vaccinating teachers to get schools reopened and says his policies reflected recommendations from then-President Donald Trump's coronavirus task force.
Kentucky lawmakers have generally followed their own course in setting education policies. The two-year budget passed last year funded full-day kindergarten and poured money into teacher pensions and infrastructure. They increased the state's main funding formula for K-12 schools, but the amount was considerably less than what Beshear proposed.
The governor chided lawmakers Wednesday for "shorting" districts in allocations for school transportation.
"If you want to solve transportation issues, then we need to pay bus drivers enough," Beshear said.