Paris terror 'hero' accused of links to right wing group associated with QAnon in election bid
'The more we learn about him, the more troubling his candidacy gets,' executive director of House Majority says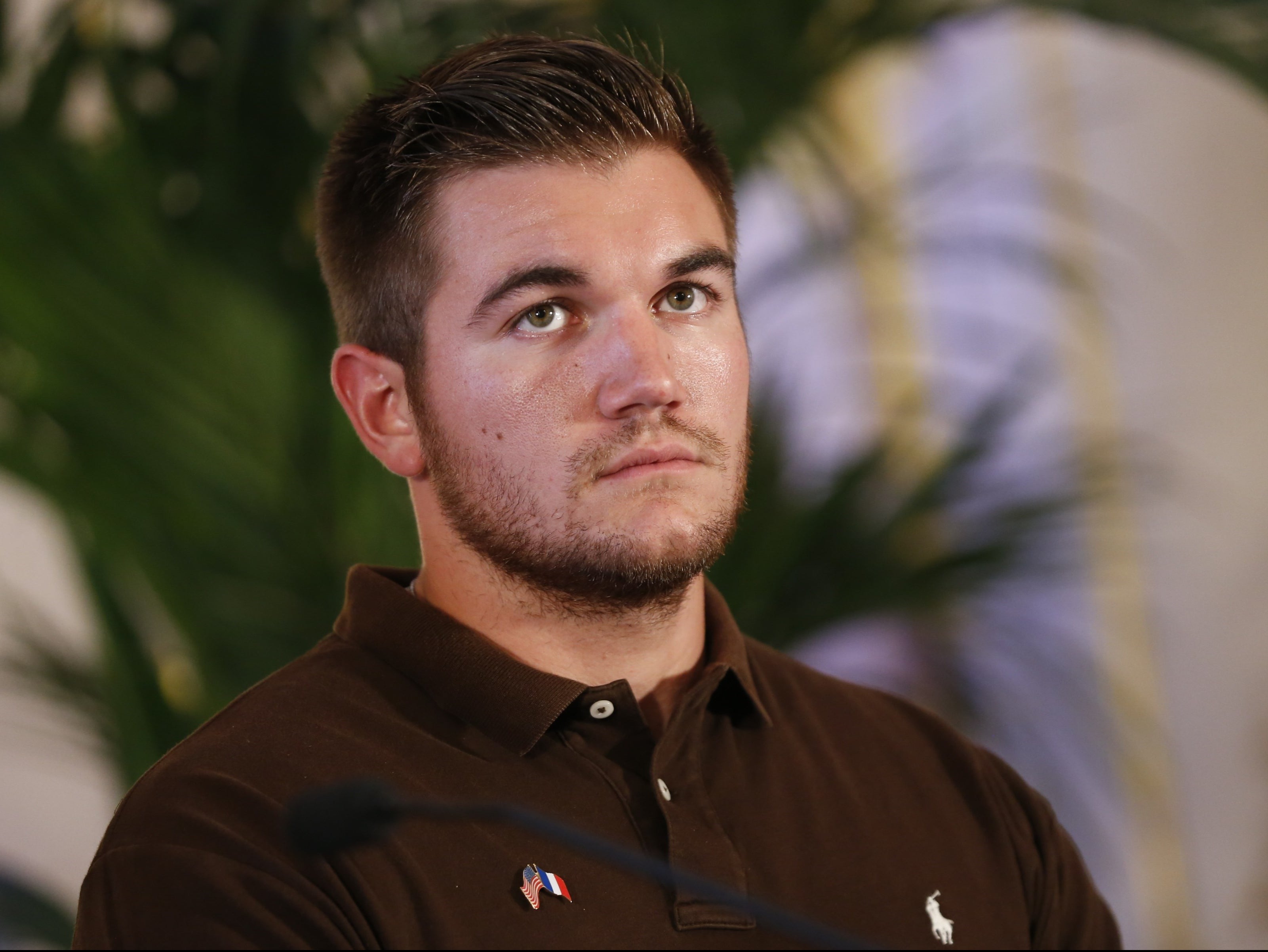 A Republican candidate in Oregon's 4th Congressional District known for taking down a gunman wielding an AK-47 on a French train, has been accused of associating with a right wing group with reported links to QAnon.
A report by Salon accused Alek Skarlatos of maintaining links to Timber Unity, a group that has been linked to extremist groups such as the Proud Boys and QAnon.
The outlet cited a photo displayed on the Skarlatos campaign's Facebook page from June 2019 showing the Republican candidate posing with Timber Unity protesters holding a banner with the QAnon slogan last year.
Mother Jones reported in March that Timber Unity participants have often been associated with violent extremists and far-right groups and that several senior members have been photographed alongside members of neofascist or militia groups.
According to the report, its rallies have prominently featured messages backing QAnon, the conspiracy group that promotes the belief that the president is secretly working to save the world from a satanic cult of paedophiles and cannibals.
Salon reports that Democrat groups have raised concerns over Mr Skarlatos apparent links to the group, saying they raise "serious questions about his affiliations".
"Their Salem log truck rallies were a smorgasbord of climate denial, anti-vaxxers, gun nuts, anti-immigrant, militia groups, QAnon," Steve Pedery of the conservation group Oregon Wild told the outlet.
Abby Curran Horrell, executive director of House Majority Political Action Committee said: "Alek Skarlatos has been hoping to skate through this election without answering any real questions — and with good reason."
"The more we learn about him, the more troubling his candidacy gets, and his association with an extreme right wing group is just the latest alarming news about him. Alek Skarlatos needs to disavow this group immediately, or answer serious questions about his affiliations."
Mr Skarlatos' campaign did not immediately respond to The Independent's request for comment.
Julie Parrish, a Timber Unity board member, denied the groups connections to QAnon or other extremist groups.
"Let me be really clear: Our board doesn't support racism in any way, shape or form," she told Salon.
"We're not part of QAnon, or any other group. We have one focus — protect jobs for working Oregonians in the natural resource sector — regardless of their party, race, sexual orientation or gender."
Mr Skarlatos rose to notoriety after he and fellow serviceman Spencer Stone and student Anthony Sadler disarmed a gunman on holiday in Europe in 2015.
The former National Guardsman from Roseburg, Oregon, who completed a nine-month deployment in Afghanistan with the US Army was praised by then US president Barack Obama at the time.  
He ran for the Douglas County Commission in 2018 but failed and has raised this $3.9 million for his congressional race this year, The Oregonian reported.
Mr Skarlatos has said he doesn't believe in government intervening in health care and would vote to repeal the Affordable Care Act, is against attempts to limit ownership of firearms, and believes poor forest management is to blame for forest fires, the newspaper said.
Join our commenting forum
Join thought-provoking conversations, follow other Independent readers and see their replies