Youth football coach shot by parent over son's playing time in Missouri
Shaquille Latimore, 30, was shot in front of several children at a practice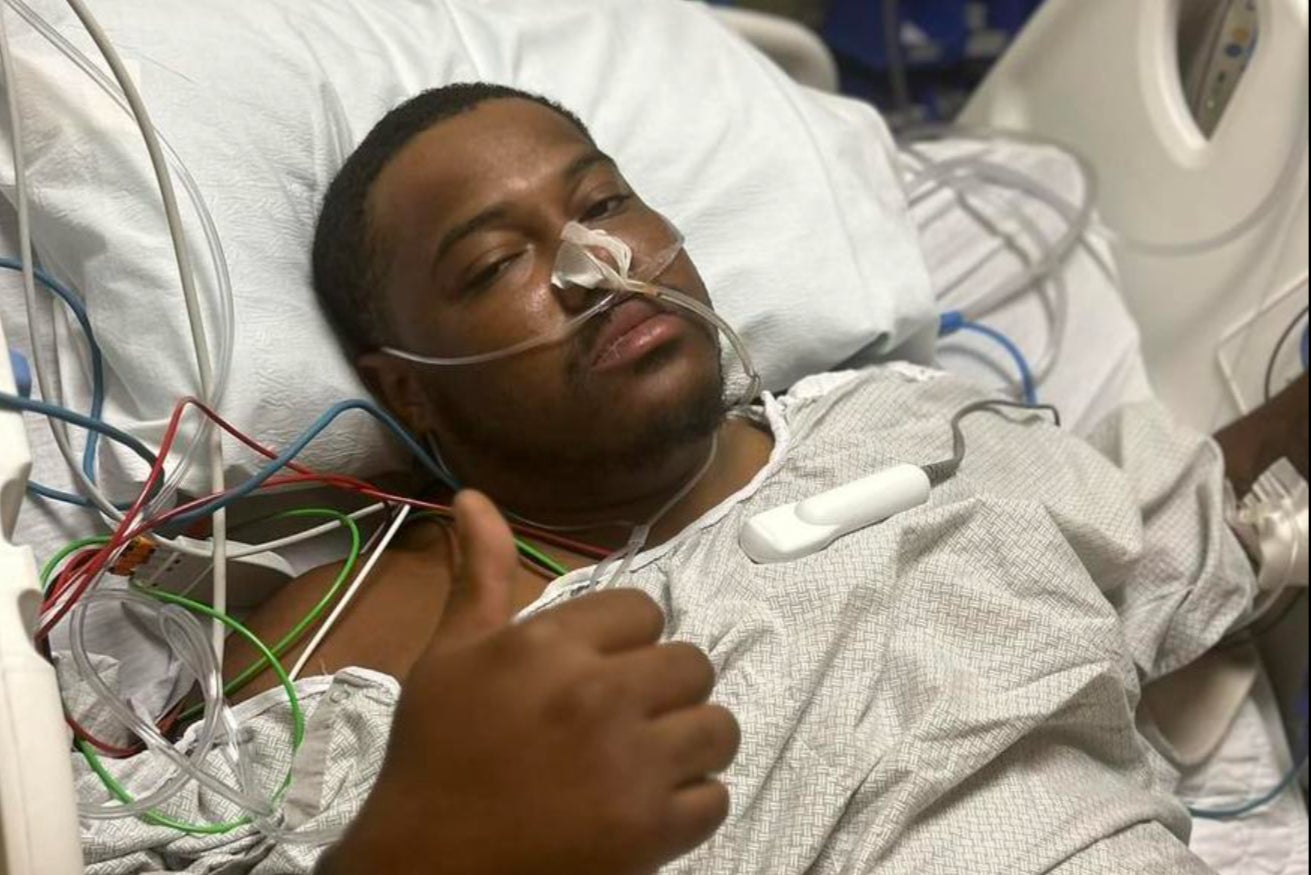 A youth football coach in Missouri was shot by a parent who was allegedly upset he had not started his son on the team, or given him enough game time.
Shaquille Latimore, 30, was shot in front of several children at a practice on Tuesday last week, following an "ongoing" feud between himself and the man, who was also an ex-coach.
Daryl Clemmons, 43, turned himself in on Wednesday night and faces charges of first-degree assault and armed criminal action, according to The St Louis Post-Dispatch.
Mr Latimore volunteers as an assistant coach and defensive coordinator for a city recreational league team called the St Louis BadBoyz. He coaches with his cousin.
In an interview from the hospital, he told the newspaper that he was "going to be okay" and that the damage was "more psychological than anything else".
Mr Latimore says he had also brought a gun to the practice for protection due to the neighbourhood being unsafe but had reportedly handed his weapon to another person before speaking with Clemmons that evening.
"I didn't want [Clemmons] to feel threatened. [Otherwise] I would've defended myself," he said.
Mr Latimore said that he had not seen Mr Clemmons's gun "until it was too late" and was shot in the back as he tried to run away. Mr Clemmons then allegedly shot him several more times and taunted him while he lay on the ground.
His mother, SeMiko Latimore said that her son was doing "remarkably well" following the incident. "He's a fighter, one thing he's been all his life is a fighter," she told The New Real Stl News.
"He's sitting up on his own. He's walking by himself....He's pushing himself to get back to where he wants to be."
She said that there had been "history" between the pair and that Mr Clemmons had always been critical of Mr Latimore's performance as a coach.
"There was an ongoing altercation with the person, they knew each other from the field plus (Clemmons) is an ex-coach," she said.
"It was always kind of like a, you know, a nagging type of thing – what Shaquille could do better and how he could do this better, how he could be better. There was always something.
"If they could actually win a game like almost 26 to nothing game, you know, and it was always a critique to come back and tell Shaquille what he could do better."
Ms Latimore described her son as a "loving, giving person", adding: "He loves those children. He loves people period. He's always giving to someone… He will give the shirt off his back.
"You know, that's just the type of person he is – he's a go-getter. He's hard. He's Stern, but he's the type of person that feels like you have to work for what you get."
A GoFundMe page, set up to help with Mr Latimore's medical bills, has reached almost $10,000.