Was grandfather who started a gun battle with Pittsburgh police that led to his death a political extremist?
William Hardison Sr, 63, identified as a 'sovereign citizen', write Kelly Rissman and Bevan Hurley
Wednesday 23 August 2023 19:32 EDT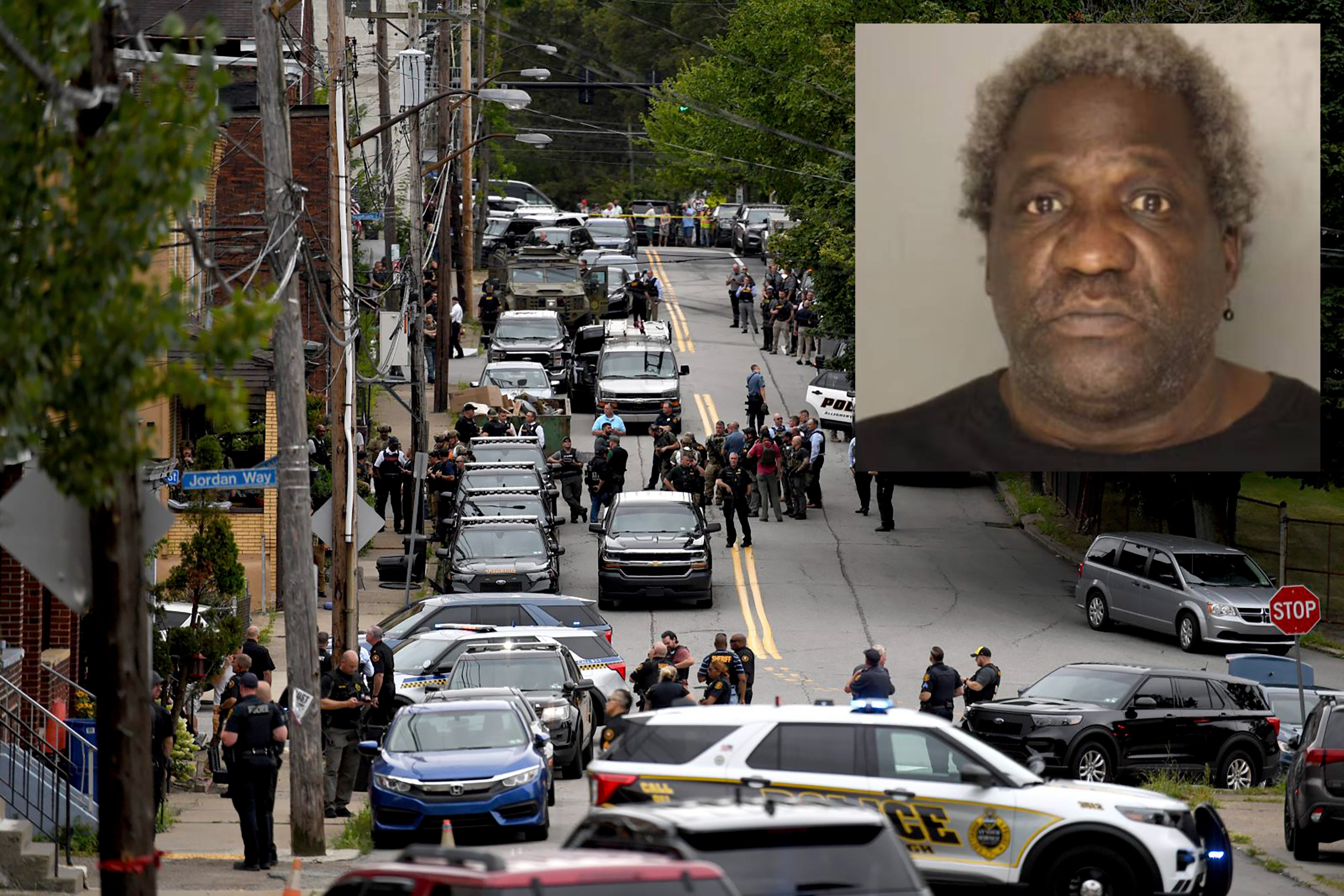 William Hardison Sr had been due to be evicted from his home in the Pittsburgh suburb of Garfield on Wednesday 23 August.
When sheriff's deputies showed up at around 11am to serve the eviction order, the 63-year-old opened fire sparking an hours-long lockdown of the neighbourhood.
Armed officers from the Allegheny County Sheriff's Office, Pittsburgh police, the FBI and SWAT crews descended on the densely populated area in the northeast of the city.
Hundreds of shots were fired across several hours in exchanges between Hardison and law enforcement officers, as neighbours' homes were peppered with bullets.
The dramatic stand-off ended just after 5pm, when Pittsburgh Public Safety announced the gunman had been pronounced dead. Police later confirmed they had killed him with "deadly force".
According to family members, Hardison had believed he owned the house at the centre of the eviction order. It had previously belonged to his brother, who died recently, and been sold to a private firm, family said.
Hardison was reportedly also a so-called "sovereign citizen", who believed that he was not bound by federal or state laws.
What we know about the shooting
At a press conference after on Wednesday afternoon, Allegheny County Sheriff Kevin Kraus said that seven deputies had gone to serve the eviction notice at a property on the 4800 block of Broad Street and North Mathilda Street.
The deputies tried to talk to Hardison to bring him out of the house, but he refused, according to the sheriff.
"We tried to make contact, we were outside the house, called for him, tried to bring him out peacefully to execute the order but clearly that was not on the cards today."
Mr Kraus said the suspect had fired from first and second floor windows, and through walls at the deputies.
"It was a pretty lengthy gun battle," Mr Kraus said.
"We certainly did not expect this, we had no information that this individual was this dangerous."
Authorities declared an "active shooter" situation.
Neighbours barricaded themselves in their homes as shots rang out around the street.
One told CBS News that shots had came through her living room window and bathroom, leaving shattered glass "everywhere".
Police repeatedly shot tear gas into the home, and placed drones above the property, but two or three were shot down by the suspect, Mr Kraus said.
"He had a lot of ammunition in that house, we were all strapped with ammunition but all had to call for more ammunition. We tried to give him every opportunity to come out but it elevated to the SWAT team's response."
Shortly before 5pm, CBS News reported that the gunman had been spotted injured in the house by a drone.
Hardison was pronounced dead at 5.08pm, according to Pittsburgh Public Safety.
The shooting forced the postponement of Pittsburgh's City in the Streets event.
The White House said President Biden had been briefed on the shooting.
What his family are saying
A family member was called to the scene of the shooting by police at about 3pm in an attempt to negotiate with Hardison, CBS News reported.
He returned about an hour later in tears looking "devastated", according to witnesses.
William Hardison Sr's son, who is also called William Hardison, had earlier pleaded with his father to "stand down".
William Hardison Jr told WTAE he and his family had been trying to get hold of his father all day.
Addressing his father directly as the stand-off was unfolding, he said: "Hey dad please surrender, please give up. You have children and grandchildren who love you dearly. Please stand down."
He described his father as "a very stern individual". "He's a man's man. When he believes in something, he's going to fight tooth and nail for something."
Mr Hardison Jr said his father believed he owned the house.
"My uncle passed away, he only had a few more years left to pay on the house. So why would they close on something for $25,000 when hundreds of thousands of dollars had been put into the house?"
According to Action News, the property was sold to a company called 907 East Street. A judge issued an eviction notice for it last week.
What we know about the suspect
Hardison Sr had a lengthy criminal past. Public records show he had been convicted of carrying a firearm without a licence, forgery, harassment, and an accident involving death or injury.
Sources told WTAE he identified as a "sovereign citizen", which meant he did not believe he had to respect laws or pay taxes.
Sovereign citizens are extremists who have been linked to the murder of police officers, fraud, and ant-government scams, according to the Southern Poverty Law Center.
"Sovereigns hold truly bizarre, complex, antigovernment beliefs that are rooted in racism and anti-Semitism," the watchdog group states.
"They believe they get to decide which laws to obey and which to ignore, and they don't think they should have to pay taxes. They participate in protests against governments or use 'paper terrorism' – filing bogus lawsuits and fake liens on properties – to carry out their mission of disorder. Sometimes, they get violent."
Pittsburgh Police Chief Larry Scirotto addressed the suspect's links to the movement during Wednesday's press conference.
He said police do not have any information about Hardison Sr being a sovereign citizen "but I'm sure we will uncover a lot about the suspect and his associations as we move forward."