A kidnapped woman punched her way out of a cinderblock cell. Police say she may have saved countless others
Negasi Zuberi has been charged with abducting a woman and holding her in a soundproof cell in his garage. Authorities fear there may be many more victims. Bevan Hurley reports
Monday 07 August 2023 01:16 EDT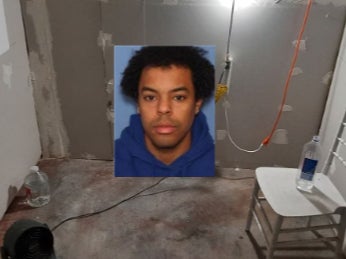 When Negasi Zuberi moved with his wife and two young children into a quiet street in Klamath Falls, Oregon, about six months ago, neighbours didn't notice anything out of the ordinary.
To residents of North Eldorado Avenue the 29-year-old was polite but not over-friendly, and didn't seem to follow a regular schedule, Melanie McClure told NBC News.
Mr Zuberi once stepped in to save Ms McClure's Pomeranian-husky after it was attacked by her much larger Doberman pinscher puppy, prising the dogs apart and performing chest compressions on the injured animal.
"He brought him back for me," Ms McClure told the network.
The quiet suburban setting was shattered on 15 July when a woman flagged down a car outside the Zuberis' home and begged the driver to call 911.
According to the FBI, Mr Zuberi had abducted the woman in Seattle by impersonating an undercover police officer, aimed a Taser at her, placed her in handcuffs and leg irons before shoving her in the back of his car.
He then drove the 450 miles back to Klamath Falls, allegedly stopping to sexually assault her multiple times along the way.
Mr Zuberi then locked the woman in a purpose-built cinderblock cell in his garage, according to authorities.
Police say she beat the door with her hands until they were bloody in order to break free, grabbed a gun from Mr Zuberi's unlocked car and flagged down a car to raise the alarm.
Mr Zuberi fled the home with his family and was arrested the next day after a stand-off with police in Reno, Nevada, according to the FBI.
Authorities said Mr Zuberi has multiple aliases, has lived in 10 states since 2016. Authorities have linked him to violent sexual assaults in four states. They believe he is likely to have other victims and are appealing for information from the public.
Suspect arrested after kidnapping victim escapes from cinderblock "dungeon"
What we know about the kidnapping
Mr Zuberi approached the female victim, a sex worker, at about midnight on 14 July in Seattle, according to a probable cause statement.
"Zuberi told the victim she was under arrest," the Klamath Falls Police Department said in a statement. "The victim reported Zuberi had a firearm, police patches, a taser, and other law enforcement equipment."
After allegedly assaulting her on the drive back to Klamath Hills, he forced her into a soundproof cell that he had constructed from cinder blocks in the garage of the modest one-storey rental home.
The cell was built with a metal door installed in reverse so it could not be opened from the inside.
"After ensuring the victim was secure in the room, Zuberi left," Klamath Falls police said.
The woman fell asleep briefly, before she "awoke to the realisation that she would likely die if she did not attempt to escape," the FBI says.
She punched the security screen door repeatedly for several hours until her fists were bloodied, the FBI says.
She was eventually able to break the welds and pull the metal screen material down and climb through a small gap, before flagging down a passing motorist who took her to a local hospital.
Authorities praised the woman's bravery, and credited her with saving lives.
"We are fortunate that this brave woman escaped and alerted authorities," Stephanie Shark, an FBI special agent in charge of the Portland Field Office, said in a statement.
"Her quick thinking and will to survive may have saved other women from a similar nightmare."
"The victim's focus, actions and her will to survive triggered a law enforcement response that may have actually saved many other women from a similar nightmare," Ms Shark said.
How police arrested Zuberi
Klamath Falls Police Department obtained a search warrant for the property and found the cell in his garage as the victim had described, the FBI says.
Investigators also found a diagram of a planned 100-foot hole, and a note reading: "You don't want any type of investigation."
Police traced the suspect's cellphone and learned he was 250 miles southeast in Reno, Nevada.
Using cellphone technology, two Nevada State Police troopers located Mr Zuberi in a Walmart carpark in South Reno on 16 July.
When they approached his vehicle, Mr Zuberi was holding his child in the car and his wife was outside talking to him.
Mr Zuberi allegedly threatened to harm himself, and grabbed a knife and cut himself, authorities said.
He was arrested after a 45-minute stand-off.
He is in federal custody on charges of interstate kidnapping and transporting an individual across state lines with intent to engage in criminal sexual activity, and is expected to be returned to Oregon in the coming days to be formally arraigned.
Who is Negasi Zuberi?
According to the FBI, Negasi Ishaiah Zuberi used at least three other aliases including Sakima Zuberi. Justin Hyche and Justin Kouassi. His neighbours knew him as Sakima from Colorado.
The FBI said Mr Zuberi has resided in more than 10 states since 2016; California, Washington, Oregon, Colorado, Utah, Florida, New York, New Jersey, Alabama, and Nevada.
In a statement, the FBI said it had linked Mr Zuberi to four other violent sexual attacks and feared there may be more victims.
Klamath Falls police said Mr Zuberi is believed to have several different methods to gain control of his victims including drugging their drinks, pretending to be a police officer, and soliciting the services of sex workers and then violently sexually assaulting them.
Some of the encounters may have been filmed to make it appear as if the assault was consensual, police said. The victims are threatened with retaliation if they notify the police.
The FBI believes he targeted sex workers or roommates in California, Washington, Oregon, Colorado, Utah, Florida, New York, New Jersey, Alabama, and Nevada between August 2016 and July 2023.
Public records list his last address in Vancouver, Clark County, in Washington state.
A name linked to one of his aliases, Justin Hyche, shows his last known address in Antioch, California. Justin Hyche has four criminal incidents on file, including possession firearm public in Illinois, and driving in excess of 100 mph in California.
He also has civil court judgments listed against him in court states, New York, California, Illinois and Alabama.
Neighbours stunned
The arrest has stunned residents in Klamath Falls, a town of about 25,000 people just over the Oregon border from California, including,,that it appears his wife.
His former neighbour Ms McClure told NBC News Mr Zuberi's wife had no idea about her husband's alleged actions and "was doing her best to navigate this".
This week, it emerged that Mr Zuberi had rented the home from Klamath Falls mayor, Carol Westfall, and her husband.
In a statement to FOX 12, Ms Westfall said she was "shocked and dismayed by what has occurred".
"We applaud the actions of this woman in helping capture this person and preventing him from committing further atrocities. We commend the work of the KFPD, 0SP and the FBI on this case. We encourage anyone with information about this situation to notify the proper authorities."
Anyone with information about Mr Zuberi is urged to visit fbi.gov/SakimaVictims or call 1-800-CALL-FBI to provide tips. The FBI Portland Field Office can be reached at (503) 224-4181.