A Palestinian mother fled to the US for safety. 12 years on, war in her homeland fueled her son's murder
Hanaan Shahin left the West Bank in 2011 in search of a better life in the US. More than a decade later, she and her six-year-old son Wadea Al-Fayoume were targeted in a deadly attack allegedly driven by fresh violence in her homeland. Martha McHardy reports
Tuesday 17 October 2023 06:30 EDT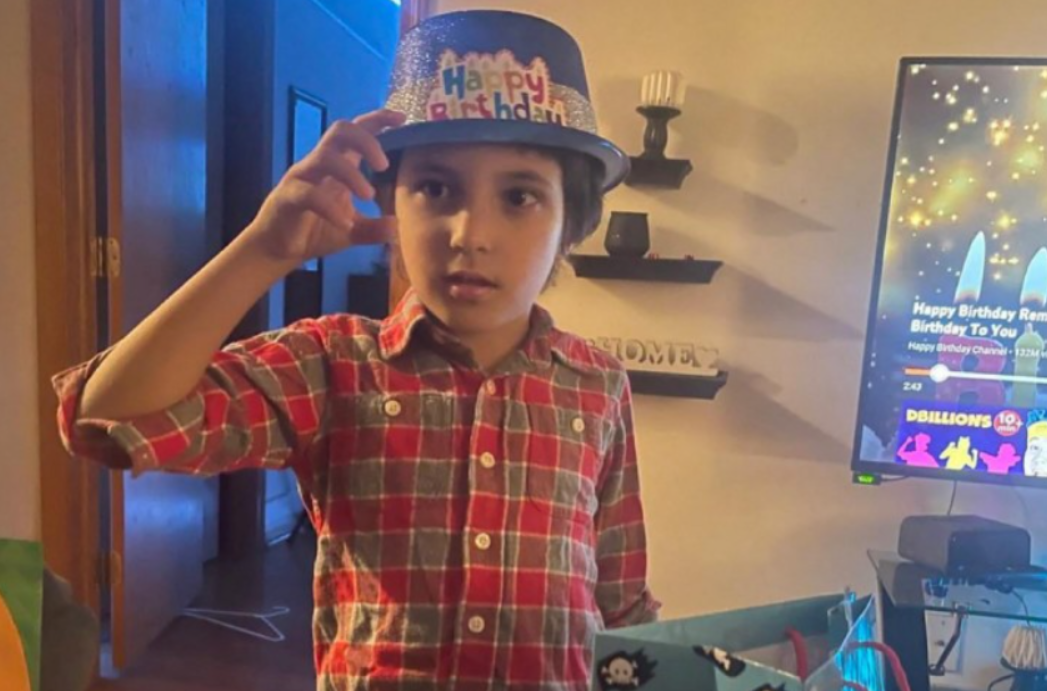 Twelve years ago, Hanaan Shahin left the West Bank in search of a better life in America.
The then-20-year-old Palestinian was fleeing the violence and chaos of her homeland, which has been embroiled in a long-standing conflict with Israel for decades.
Ms Shahin settled in Plainfield Township, outside Chicago, for a life free from terror and violence, where she gave birth to her son.
But little did she know, 12 years later, her life would be torn apart by a shocking act of violence.
On Saturday morning, Ms Shahin's six-year-old son Wadea Al-Fayoume was stabbed 26 times and killed at their home. She was stabbed 12 times.
Police said that the boy and his mother were "targeted" due to their Muslim faith and the "on-going Middle Eastern conflict involving Hamas and the Israelis".
The child was rushed to hospital following the attack, where he was pronounced dead. His mother remains in a serious condition but is expected to survive.
The mother and son's landlord, 71-year-old Joseph Czuba, was arrested in connection with the attack and charged with a hate crime, as well as first-degree murder, attempted murder, and aggravated battery.
The Chicago FBI Field Office, the Civil Rights Division of the Department of Justice and the US Attorney's Office for the Northern District of Illinois said they have opened a federal investigation into the killing.
Here's what we know so far:
The attack
Six-year-old Wadea was stabbed to death after Mr Czuba allegedly knocked on his door and attempted to choke his mother, before shouting "You Muslims must die" and stabbing her and her son.
The court heard Ms Shaheen was having breakfast with her American-born son on Saturday morning when the suspect knocked on their door.
She told police that he then began to argue with her about the situation in the Middle East, and she told him "Let's give peace a chance."
Will County assistant state's attorney Michael Fitzgerald said that is when the suspect launched his brutal attack.
Ms Shahin was stabbed at least 12 times, while her son was stabbed 26 times.
The 32-year-old mother reportedly hid from her attacker in the bathroom, where she called 911, during which time the suspect allegedly killed her son.
The youngster was found dead in a bedroom with multiple stab wounds and a knife plunged four inches into his abdomen.
Police found a military-style knife at the scene and the suspect sitting on the ground near the home with a cut to his face and wearing a knife holster on his belt.
He was transported to the Will County Adult Detention Facility and is awaiting his initial court appearance.
The six-year-old's heartbroken father, Oday El-Fayoume, claimed his ex-wife and son had a "good relationship" with their landlord and that his son was likely running towards Czuba to "give him a hug" when he was attacked.
He said Mr Czuba lived on the ground floor of the home the six-year-old and his mother lived in, and he had even built a treehouse and an indoor play area for the child.
Mr El-Fayoume said that he "cannot believe" how his son's murder could have happened, adding that little Wadea never yelled out during the stabbing, with his last words offering reassurance to his mother that "I'm fine," said Mr El-Fayoume.
Boy and mother 'targeted' in 'anti-Muslim hate crime'
Following the attack, police said the boy and his mother were "targeted" due to their Muslim faith and the war raging between Israel and Hamas.
"Detectives were able to determine that both victims in this brutal attack were targeted by the suspect due to them being Muslim and the on-going Middle Eastern conflict involving Hamas and the Israelis," Will County Sheriff's Office said in a statement, calling the attack "senseless" and "cowardly".
At his court appearance, prosecutors said that Mr Czuba had been listening to right-wing talk radio coverage of the Israel-Hamas war before the attack, causing him to become increasingly concerned for his safety, reported The Chicago Sun-Times.
His wife told investigators that he "believed he was in danger and she [Shaheen] was going to call Palestinian friends to come and harm them," said the Will County assistant state's attorney.
Mr Czuba's wife said her husband had also taken out $1,000 from the bank because he believed "the grid" was set to go down.
As reaction to the attack flooded in, the Chicago office of the Council on American-Islamic Relations (CAIR-Chicago), the nation's largest Muslim civil rights and advocacy organisation, identified Wadea as being a Palestinian-American, and claimed Mr Czuba murdered the six-year-old as a result of being "radicalized by the environment in which we live right now."
"What we have is a murdered Palestinian child by someone who is radicalized by the environment in which we live right now, that casts Palestinians as human animals," Ahmed Rehab, executive director of CAIR-Chicago told reporters in a press conference on Sunday.
The boy's father said he wants his son to be remembered as a "symbol" for the Palestinian people after he "paid the price for the atmosphere of hate."
"People know that we, too, get discriminated against," he said, referring to Palestinians in Gaza and abroad. "I want this to open a door for the freedom of the Palestinian people."
In a statement released on Sunday, President Joe Biden said that he was "shocked and sickened" by the little boy's killing.
"The child's Palestinian Muslim family came to America seeking what we all seek—a refuge to live, learn, and pray in peace," the statement said.
"This horrific act of hate has no place in America, and stands against our fundamental values: freedom from fear for how we pray, what we believe, and who we are."
The Anti-Defamation League, a Jewish anti-hate organisation, has also strongly condemned the incident.
"We're disgusted and horrified that a 6-year-old boy was murdered and his mother was severely injured in #Plainfield, IL, allegedly because they are Muslim. We express our condolences to the Muslim community and categorically reject all anti-Muslim hate," the group said in a statement.
Meanwhile, Illinois governor JB Pritzker condemned the attack as "evil".
"To take a six-year-old child's life in the name of bigotry is nothing short of evil. Wadea should be heading to school in the morning. Instead, his parents will wake up without their son," he said.
"This wasn't just a murder—it was a hate crime. And every single Illinoisan — including our Muslim, Jewish, and Palestinian neighbors —deserves to live free from the threat of such evil. Today, MK and I join our Muslim and Palestinian brothers and sisters in mourning this tragic loss and praying for the recovery of Wadea's mother. May Wadea Al-Fayoume's memory be a blessing."
Wadea was described by his devastated father as a "lovely boy," who loved soccer and basketball. He was "a small angel in the form of a person," his father said.
Hundreds gather for funeral
Hundreds gathered at the Mosque Foundation on Monday afternoon to pray over the six-year-old's coffin, draped in the Palestinian flag.
"I just want to tell the whole world that we live in a country called the USA. We're not in war and we're not bringing war here, too," the boy's uncle said before the prayers were held.
The uncle, who said he was more like a grandfather to the boy who loved soccer, Legos and swimming, called on the president to apologise for his comments on the Israel-Hamas war after initially claiming he had seen photos of Israeli babies beheaded by Hamas.
"Our president needs to come out and say something," he said. "We are not in a war."
Several people at the funeral waved Palestinian flags and many chanted "Free Palestine". Others walked by the line of TV cameras and yelled at the media to "go home" and to "stop inciting violence and hatred".
Ahmed Rehab, executive director of CAIR-Chicago, spoke at the funeral. "This was an attack on all of us. We were all stabbed that day," he said, and then asked everyone, no matter their religion, "to commit to a basic level of respect for all humanity".
Imam Omar Suleiman, founder and president of the Yaqeen Institute for Islamic Research, also spoke, beginning his speech outside Wadea's funeral with a quote from the mother of Emmet Till.
"Since the mother of Wadea is not here, we say on her behalf, 'Let the world see what they have done to the boy'," he said.
Mr Suleiman said that mourning Wadea is mourning all Palestinian children who have been killed in the multi-decade conflict.
"Every single Palestinian child looks like Wadea. That every single child is just as beautiful, has just as much a right to be mourned," he said. "When we condemn the hate that killed Wadea, we are condemning the hate that has killed all of those children."
Rise in anti-Muslim hate crimes
The attack happened amid a spike in hate calls and emails since Hamas launched its surprise attack on Israel on 7 October, CAIR-Chicago said.
The Justice Department has also raised the alarm bell regarding a spike in anti-Muslim hate crime, warning this weekend's attack will "raise the fears of Muslim, Arab, and Palestinian communities" in the US "with regard to hate-fueled violence".
The department said it is focused on "protecting the safety and the civil rights of every person in this country."
"We will use every legal authority at our disposal to bring to justice those who perpetrate illegal acts of hate. No one in the United States of America should have to live in fear of violence because of how they worship or where they or their family come from," the department added.
Over the weekend, FBI Director Christoper Wray also warned of an increase in terror threats to the US amid the Israel-Hamas war.
Speaking at the International Association of Chiefs of Police Conference in San Diego, California, on Sunday, Mr Wray warned of the increased risk of "lone actors" carrying out terror attacks in the US in the vein of those carried out by Hamas in Israel.
"In this heightened environment, there's no question we're seeing an increase in reported threats, especially for lone actors who may take inspiration from recent events to commit violence of their own," he said.
He also urged people to remain vigilant and said the bureau is committed to confronting threats both in the US and overseas.
His remarks came as tensions have been mounting on US soil after Hamas militants stormed into Israel early on the morning of 7 October, killing hundreds of people and taking dozens captive across the Gaza border.
More than 1,400 Israelis were killed in the assault, with thousands more believed to be injured and nearly 200 people taken hostage by Hamas. At least 30 Americans are among the dead, the White House confirmed.
Meanwhile, at least 2,800 Palestinians have been killed in airstrikes by Israeli forces since Prime Minister Netanyahu declared a state of war on Saturday and promised "mighty vengeance".
Last week, Defense Minister Yoav Gallant ordered the "complete siege" of Gaza as authorities cut off electricity and blocked the entry of food and fuel.
Four days later, the Israeli Defence Forces (IDF) ordered all Gaza civilians to leave the area and head southward as it prepared to launch a ground invasion in retaliation for Hamas' attacks, forcing at least one million people to flee their homes.
On Sunday, international mediators appeared close to striking a deal for Egypt to open the southern border to allow foreign citizens to escape the Israeli bombardment and feared ground offensive.
But hospitals in Gaza remain overwhelmed, with medics on the ground warning that thousands could die as the wounded cannot be moved and they are running out of critical supplies.
According to the United Nations, hospitals in the region are expected to run out of generator fuel within two days.
Speaking about the attacks, Wadea's father said he hopes his son "becomes a bullet that solves this issue".
Mr Al-Fayoume said: "The issue of Hamas and Gaza is an issue of people, not countries."