YouTube prankster shot by target of mall practical joke says he wanted a better reaction
YouTuber said he had no idea he was making the man who shot him angry or fearful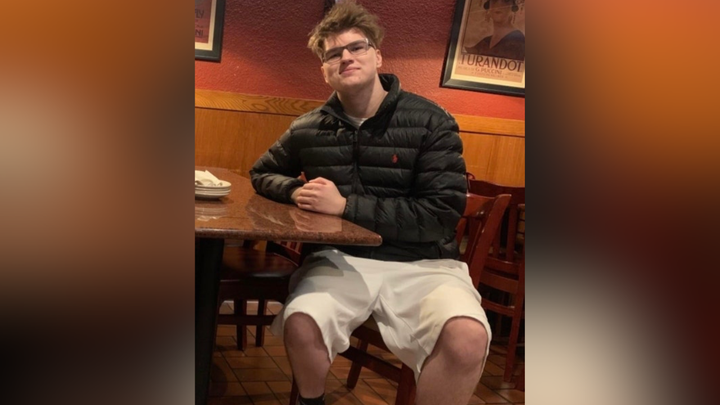 A YouTuber who was shot in a mall while filming a prank video has explained why he didn't back off from the man who opened fire on him.
Tanner Cook, 21, who operated the "Classified Goons" YouTube channel where he and friends perform pranks and tricks on the public, was filming a video in northern Virginia on 2 April when his practical joke went horribly wrong.
While trying to confuse Alan Colie, 31, a stranger to Mr Cook, in the food court in Dulles Town Center, Mr Colie got out a gun and fired it at him.
Mr Colie was charged with malicious wounding, use of a firearm and discharging a firearm inside a building.
Video of the shooting was played in a court hearing for Mr Colie on Tuesday.
In the video, Mr Cook is seen approaching Mr Colie, a DoorDash delivery driver, while he is picking up a food order.
The YouTuber holds a phone around six inches away from Mr Colie's face, while it plays the message "Hey dips***, quit thinking about my twinkle" over and over again.
Mr Colie asks him to stop three times and tries to back away from Mr Cook, who continues to step toward him.
Mr Colie allegedly tried to knock the phone away from his face before he pulled out a gun and shot Mr Cook in the lower left chest.
Speaking to the court, Mr Cook said that he did not try and incite fear or anger in Mr Colie, despite a lot of his prank targets often reacting that way.
Asked why he didn't stop his prank after Mr Colie repeatedly asked him to, he said he "almost did," not because he thought the delivery driver was getting angry or scared, but because he wasn't giving the expected reaction he wanted.
"I was kind of in shock," Mr Cook said of the moment he took a bullet. "I had to double-check I was shot because I didn't feel anything at first."
Mr Cook ran from the food court and collapsed outside a Cheesecake Factory where sheriff's deputies found him bleeding.
He was taken to hospital and was found to have a ruptured liver.
"It was stupid. It was silly. And you may even think it was offensive," prosecutor Pamela Jones said during the hearing. "But that's all it was — a cellphone in the ear that got Tanner shot."
However, the defence attorney Tabatha Blake said that the prosecution's interpretation of the prank "diminishes how unsettling they were to Mr Alan Colie at the time they occurred."
In previous videos on the "Classified Goons" channel, there are various mischievous pranks performed such as pretending to vomit in an Uber, dressing up as clowns in a grocery store and accusing people of stealing animals at PetSmart.