Heather Mack's mother told police she feared her daughter would kill her. They were powerless to prevent it
Behind the headlines about the so-called "Suitcase Killer" is a tragic story of a mother who endured years of domestic violence at the hands of her child. A retired police officer tells Rachel Sharp how authorities were helpless to save her
Monday 19 June 2023 07:11 EDT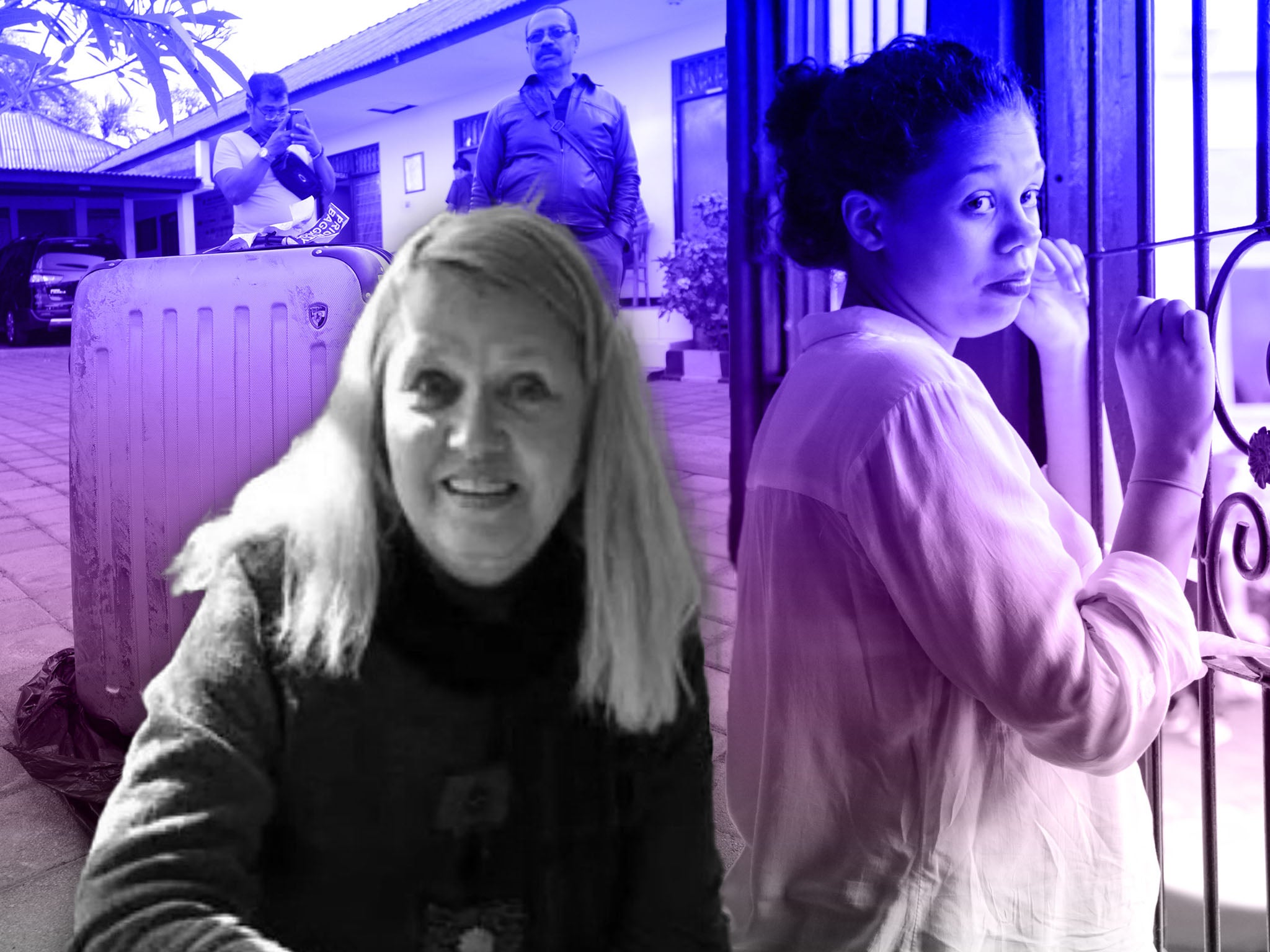 The world first heard the story of American teenager Heather Mack and her mother Sheila von Wiese-Mack when the 62-year-old's body was found stuffed in a suitcase in Indonesia.
But the story actually begins many years earlier.
Behind the headlines about the so-called "Suitcase Killer" is a tragic story of a mother who endured years of domestic violence at the hands of her child inside the home they shared in the Oak Park suburb of Chicago.
Abuse which ultimately escalated to that day in 2014 when the 18-year-old and her 21-year-old boyfriend bludgeoned her to death at a 5-star resort in Bali.
Rasul Freelain, a retired Oak Park Police sergeant who arrested Mack multiple times for allegedly abusing her mother, tells The Independent that the warning signs were there as soon as he met the pair for the first time back in 2010.
What he saw was a sadly typical case of a domestic abuse victim reluctant to speak out or take action against the abuser that she loved.
The violence grew progressively worse over the next few years until January 2013, when von Wiese-Mack made the chilling admission that she believed her daughter was going to kill her.
But – due to the current lack of laws around child to parent domestic abuse – Sgt Freelain and the Oak Park authorities were ultimately helpless to save von Wiese-Mack from her fate.
Nineteen months later, her tragic prediction became a reality.
"It was like watching a slow-moving train derailment – we can see it and we all look and see it falling off into a ravine," says Sgt Freelain.
"I feel that on some level the entire criminal justice system failed Sheila."
He adds: "Her daughter of course failed her the most. Her child who she loved and raised and doted on and did everything she could to win her affection and approval betrayed her in a way no one could match."
Suitcase murder
On 12 August 2014, Mack, then 18, and her then-boyfriend Tommy Schaefer, 21, bludgeoned von Wiese-Mack to death with the metal handle of a fruit stand at the luxury 5-star St. Regis resort in Bali.
They then stuffed her body into a suitcase, hailed a taxi and loaded it into the trunk of the car.
When they were unable to check out of the luxury resort – using her mother's credit card – the couple fled the scene, leaving the bloodstained suitcase behind.
They were soon tracked down to a budget motel and arrested on suspicion of murder.
At the time of the murder, Mack – the daughter of socialite von Wiese-Mack and famed musician James L Mack – was pregnant with Schaefer's child.
Prosecutors revealed that she had flown her lover out on a $12,000 business-class ticket just hours earlier charged to her mother's credit card. Chilling text messages also showed how the couple likened themselves to the notorious duo Bonnie & Clyde and plotted methods of murder with the help of Schaefer's cousin Ryan Bibbs.
They were both convicted of premeditated murder in Indonesia and narrowly avoided facing the firing squad. Mack's baby Stella was born in Bali prison and was allowed to stay with her there  for the first two years of her life. She is now being raised by von Wiese-Mack's niece in Colorado.
Bibbs was also convicted of conspiracy to kill von Wiese-Mack and sentenced to nine years in prison.
After Mack served seven years in an Indonesian jail, she was extradited to the US, where she was arrested on charges of conspiracy to murder in a foreign country in November 2021.
Since then, she has been behind bars in Illinois awaiting trial.
On Friday (16 June), she pleaded guilty to one count of conspiracy to murder a US national under a plea agreement with prosecutors despite believing – by her own admission – that she has already done her time for her crime.
It's a horror case that has transfixed the nation for the past eight years and raised several questions due to the sheer brutality of von Wiese-Mack's demise: How could a daughter have plotted her own mother's death? How could she have then stuffed her own mother's corpse in a suitcase? And why did she do it?
But the bigger question – and one that has rarely been asked over the years – is could von Wiese-Mack's murder have been prevented?
History of violence
In the years leading up to the murder, police records reveal that officers responded to a string of violent incidents committed by Mack against her mother at their home in Illinois.
Oak Park Police records show at least 35 interactions with officers since 2008 including reports of Mack breaking her mother's arm, biting her and punching her. The records also include reports of stealing credit cards and money – an apparent motive for the murder.
While only Mack now knows when the violence first began, the first record of police being called to the home came in April 2008 for a report that the then-13-year-old had locked her mother in a room and threatened her.
The next police report came in January 2010 when Mack allegedly punched her mother's broken ankle.
Sgt Freelain first met von Wiese-Mack in November of that year when she reported that her daughter had stolen her credit card and $1,060 cash.
A detective specialising in youth and family issues at the time, he was assigned the case and says he met von Wiese-Mack in person and spoke with her on the phone several times. It was also the first time he met Mack, then aged 15.
After interviewing her, Mack admitted that she stole her mother's credit card but denied stealing the cash.
"In that first meeting, I certainly saw how Sheila was torn in terms of what to do about Heather," Sgt Freelain recalls.
"She suspected and then knew that she had stolen from her but didn't want to follow through on pressing charges against her daughter which is understandable but as things progressed that infliction would make things very difficult for us to be able to help Sheila.
"In that first meeting it was clear something was wrong – in terms of both the financial side of things but also her daughter's behaviour.
"But it was the next time when I met Sheila in February 2011, that alarm bells really went off."
Sgt Freelain says that von Wiese-Mack turned up at the police department that night with her right arm broken and in a cast.
In one violent incident that January, Mack had pushed her mother causing her to fall and break arm, according to a police report later filed.
"Her body language – she looked so beaten back," Sgt Freelain says of that day in February 2011.
"In November, it was clear there was some kind of domestic dynamic that wasn't good but Sheila hadn't been forthright in elaborating about what was going on.
"But that night I got her more comfortable talking and she opened up about the physical and verbal abuse. We established a good rapport that night that stayed over the next two-and-a-half years."
Von Wiese-Mack told him what had happened to her arm.
"I told her 'I've worked with families where the kids abuse the parents and it doesn't fix itself'," he says.
"I told her about one case where a kid went on to murder their mother."
But when Sgt Freelain says he told von Wiese-Mack that they would have to arrest Mack and that she needed to press charges over the alleged attack, he says "reality hit" and she ran out of the police precinct.
"She was so fearful of the idea of Heather being arrested," he says.
"I figured I would never see her again but she came back the next day to say she'd been attacked by Heather again.
"An officer came and got me from the detective division and said a 'woman is asking for you'.
"I went out and it was Sheila Mack. She had been attacked and was crying and said 'I'm sorry, I should have listened to you. Can you help me?'"
He adds: "And that was the first day that I arrested Heather."
On 17 February 2011, Mack was arrested for the first time for domestic battery over the January attack on her mother that resulted in her broken arm.
This marked a major step forward for von Wiese-Mack.
Up until that point, Sgt Freelain says there was a pattern of her calling 911 to report Mack's alleged attacks but then refusing to cooperate when police urged her to press charges.
But it was a cycle von Wiese-Mack ultimately couldn't get out of.
Victim's conflict
"Her behaviour was completely consistent with other families I've worked with where kids have been abusive to the parents and in other broader situations of domestic or family abuse," says Sgt Freelain.
"It's mirrored in what we see in intimate partner violence where the victim is very reluctant to speak out against their abuser.
"Sheila's conflict was 'I don't believe she wanted to break my arm, she was just mad at me.'
"It's what we hear from so many victims of domestic violence."
Following Mack's first arrest, von Wiese-Mack was given all the options for next steps and decided she did not want the case to go to court.
But, by 14 April – less than two months later – Mack was arrested for a second time for biting her mother's arm.
Sgt Freelain was not the arresting officer in that case but, when he heard about it, he contacted von Wiese-Mack and urged her to seek court protection against her daughter.
"The situation was escalating and I was trying to both keep Sheila safe and help Heather change her behaviour," he says.
"But Heather didn't give things a chance and by the summer more and more reports were coming in about her behaviour."
Between that first arrest in February and the end of 2011, Oak Park Police records reveal no fewer than 10 separate interactions where police were called to the suburban home.
The reports include incidents of biting her mother's bicep, threatening her, running away and one where she is described as "out of control".
In early 2012, Mack was convicted of battery in juvenile court over the violence against her mother, according to Cook County juvenile records, obtained by The Chicago Tribune.
Under the juvenile conviction, she was ordered to attend counselling, with a specific focus on anger management.
Sgt Freelain says that the conviction initially caused von Wiese-Mack to distance herself from the help of police.
"She went from thanking me for helping to navigate the chaos as Heather became more violent and aggressive to not speaking to me because Heather was detained," he says.
"You see it a lot in domestic abuse cases."
He adds: "We were going against Sheila's hardwired desire to protect her own child. Heather was her only child – she was wired to keep her girl safe even though she was going to kill her."
As well as trying to protect von Wiese-Mack, authorities also tried to get Mack the help she needed to change her violent behaviour.
Mack spent time at two separate facilities for juvenile offenders who suffer from mental health problems, receiving both inpatient and some outpatient treatment.
As well as mental health services, Sgt Freelain connected the teenager with a female detective who specialised in connecting with at-risk girls who could act as her mentor.
"My motivation was keeping Sheila safe but also saying what do we need to do for Heather to break this cycle," he says.
"It's a duality we tried to balance."
Despite the efforts, the alleged domestic abuse continued.
Throughout 2012, at least 15 police reports were made about Mack's behaviour.
'It wasn't enough'
"Things then came to a head in January 2013," says Sgt Freelain.
As police records show, von Wiese-Mack confided in him for the first time that she feared her daughter was going to kill her.
"When a victim says 'I think this person is going to kill me, I believe them'," he says.
Sgt Freelain says he passed the information straight away to Mack's probation officer who shared the same fears about the danger to von Wiese-Mack's life. They tried to lay out a case that Mack had violated her court supervision and so should be jailed.
But, von Wiese-Mack stopped cooperating again, he says, and so the case was dismissed in May 2013. The mother and daughter moved from Oak Park to Chicago, out of the jurisdiction of the police department.
Fifteen months on from the case being dropped – and just over a year-and-a-half after von Wiese-Mack disclosed her fears for her life – her only daughter and her boyfriend beat her death.
Sgt Freelain recalls the moment he heard about von Wiese-Mack's murder.
"I was driving my car and it came out on the local news radio… I had to pull the car over to the  side of the road," he says.
"What Sheila said had happened. It was information overload. I started pounding the steering wheel and saying 'no, no, no' in the car. I couldn't fathom that it had happened even though it was like watching a slow-moving train derailment."
Sgt Freelain says he also recognised the name of Mack's accomplice Schaefer, having tried "to take him under my wing" while working as an officer at a school that he attended.
For the retired detective, he is confident that he did everything he could under the law to try to save the 62-year-old.
"In the police department, I felt we were very thorough in terms of documenting every interaction we had and trying to get Sheila to press charges," he says.
"I was the first person who arrested Heather and I arrested her four times in total. I worked to get her convicted and then tried to get her probation violated.
"But it just shows it wasn't enough."
Gaps in the law
In the way was the lack of laws protecting parents from domestic violence at the hands of a child or teenager.
In Illinois and many other states, there are laws protecting children from abuse by their parents and other adults.
There are laws protecting elders from abuse.
And there are also laws protecting adults from abuse by domestic partners and other adults in the home.
But there are currently no laws in Illinois protecting parents from abuse from their minor children.
What this meant was that, once von Wiese-Mack stopped cooperating and refused to press charges, authorities had no power to push ahead and take action against Mack.
Sgt Freelain explains that if Mack had been 18 – and therefore an adult under the law – things would have been very different.
As it was, Mack was just five months away from her 18th birthday when the case was dismissed.
Sgt Freelain asks: "Why is Sheila any safer from a 17-and-a-half-year-old than from an 18-year-old?"
"If Heather had been an adult, in Illinois there would have been all kinds of mandatory things that would have kicked in after even one attack," he says.
"She would have been put in jail overnight, there would be a list of restrictions, a mandatory appearance in domestic violence court, an almost guaranteed second court appearance and – even if Sheila stopped cooperating – we could have continued to prosecute Heather.
"In other forms of domestic violence, we have things in place that even if the person tells the judge or prosecutors that they don't want to cooperate, we can continue with the prosecution. But none of those things are in place for child to parent violence."
Because of the lack of laws recognising child to parent abuse, their hands were tied.
Here was a case where the same laws that can be used to protect victims of abuse by their partner, child victims of abuse by their parents, victims of elder abuse, or abuse by any domestic adult within the home, could not protect a parent being abused by her child.
The state of Illinois is far from alone with this issue. The very first law recognising child to parent abuse (CPA) also came into force in Florida six years ago.
And von Wiese-Mack is also far from alone in her suffering.
While CPA may be less common and rarely spoken about when compared to partner-to-partner violence or child abuse, it is still far too common.
A 2018 study, which looked at 60 years of research, found that CPA exists in between 5 and 21 percent of families.
Due to underreporting – perhaps in part due to a stigma on the issue – the true figures are actually expected to be higher.
Von Wiese-Mack appears to have felt that stigma.
Sgt Freelain recalls that she once attended a support group for domestic violence but, after finding herself the only person in the room being abused by their child, she never went back.
While it's impossible to know, Sgt Freelain believes that the system failed von Wiese-Mack and that her horrific and tragic death may well have been avoided.
"I strongly believe that if the systems that are in place for adults who abuse women, if those laws and protocols had been in place for child and teenage abusers, then there would be a greater chance Sheila would not have been killed on August 12 2014," he says.
Logistically, he points out if the case hadn't been dismissed by the court in May 2013 and Mack had been found in violation of the court order, she would have been sent to jail at 17 and turned 18 behind bars that October. Leaving jail as an adult, she would have then been on parole for any future domestic situations on her release.
"It could have changed the dynamic," he says.
Need for change
This is why the retired police officer is now pushing for a change in laws to recognise child to parent abuse and shore up the gaps in protections and available responses. He is also calling for more training for police and schools on CPA and improved access to mental health services to support young people like Mack. He is writing a book on the topic centred around this tragic case, with the blessing of von Wiese-Mack's family.
"There are gaps in the criminal justice system – do I feel it let Sheila and Heather down? Yes."
"Sheila lost her life and it's had a catastrophic effect on people who cared about her and Heather. And it's sad for Heather as well. I wanted the best for her too," he says.
"It's a tragedy on all sides.
"So I'm motivated by two things: to try to honour the memory of Sheila. We hear about her as someone shoved in a suitcase and about Bonnie and Clyde but what about the victim? She wasn't perfect but she loved her daughter and wanted to give her the best life and no one deserves to be abused the way she was," he says.
"The second motive is to bring awareness of how this case is an extreme example of what can happen with child to parent abuse if we don't bring about change in society. We have got to figure this out.
"There's not a day I don't think about this case and about how families like Sheila and Heather need assistance. Where Sheila and I didn't agree was because she accused me of pushing too hard and I kick myself now as I feel like I didn't push hard enough."
This month von Wiese-Mack should be turning 75.
Instead, her daughter has just pleaded guilty to conspiring to kill her and now faces up to 28 more years behind bars at her sentencing in December.
The sad irony of Sheila's case is that, were it not for the tragic ending, no one would ever have known the years of abuse she endured behind closed doors.
"If it wasn't for the suitcase, the world wouldn't have known about this. The world knows because of the horror and because what they had to do to get her in there was unthinkable," says Sgt Freelain.
"But there's more to it. It's the unthinkable combination of years of unthinkable abuse."