Shocking texts reveal woman allegedly helped son plot murder
Fifty-year-old Sheila Agee is facing first-degree murder charges in the death of 18-year-old Brooklyn Sims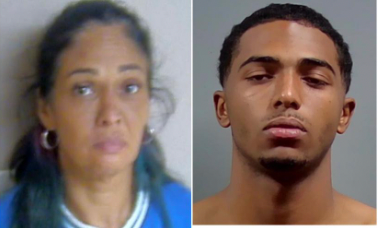 A Florida woman has been jailed for allegedly helping plot a woman's killing after police discovered shocking texts in which she told her son he was a "mother****** b***" if he didn't carry out the murder.
Sheila Agee, 50, has been charged with principal to first-degree murder in the death of 18-year-old Brooklyn Sims, the Escambia County Sheriff's Office said in a statement. Her 20-year-old son Keith Agee is facing aggravated battery and homicide charges in connection with the fatal shooting.
Sims, who shared a two-year-old daughter with Mr Agee, was murdered during her shift at a Home Depot store on 11 August, WEARTV reports. During the investigation into the attack, law enforcement found a series of disturbing texts Mr Agee and his mother exchanged just hours before Sims was killed.
Mr Agee allegedly texted his mother he would shoot Sims although he "hated that for their daughter but couldn't take it anymore," which prompted Ms Agee to tell him that he was a "mf b****" if he didn't commit the murder.
"Hell if you getting off work now I'll give you the address here and you can ride over here and do it so you don't have to do it in front of [Mr Agee and Sims' daughter]," Ms Agee allegedly texted, seemingly suggesting her son could drop off his daughter at her home so the minor wouldn't witness the shooting.
"The murder itself is unbelievable, but to know the mother knew about it and helped coordinate it is incomprehensible," Sheriff Chip W Simmons said in a statement.
The ESCO accused Ms Agee of being directly involved in the attack by helping her son locate Sims. It appears that Ms Agee then allegedly tried to conceal her interaction with her son.
"Hold up let me get it erase the texts cause I don't want nobody to know I was texting you stupid a**," the text made public by the ESCO read.
Her son replied that he had already deleted his.
"So that last thought of her knowin she f****** and the regret in her face will b enough to satisfy me ... what she see wen she dead," another text by Mr Agee read.
Ms Agee reportedly attended a balloon release for Sims before she was arrested in Alabama, according to WEAR.
Xia Xang Parnell, a close friend of Sims, was also grazed by a bullet during the shooting. He told the outlet that Sims and Mr Agee had a very turbulent relationship.
"It's a scene you never think you'll be a part of. I've seen it on TV and movies, but I never thought it would be me in a situation like that or happen to somebody I love," Mr Parnell said.
He added: "It was a rough situation between them trying to be together ... recently she's just been trying to co-parent with him ... All she ever talked about was that baby. [She] is and was her life."
Mr Agee is expected to appear in court again on 1 September. His mother's extradition to Escambia County is pending.