Woman sentenced after lying about rape to hide affair
Renee Skoglund, 30, will spend eight years on probation and must repay for the cost of the investiagtion into her false report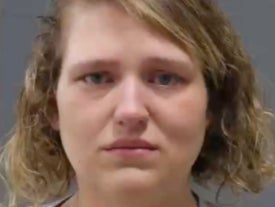 A married woman falsely claimed she was sexually assaulted in order to access free STD testing after having an affair.
Renee Skoglund, 30, will spend two years on community control and eight years on probation after striking a plea deal with Tampa prosecutors. During her sentencing hearing last week, prosecutors said Skoglund travelled from South Dakota to Hillsborough County, Florida to cheat on her spouse, FOX13 reports.
The one-night stand on 8 March reportedly made Skoglund fearful that she could have caught a sexually transmitted disease. Looking to get free testing, Skoglund then made up an elaborate story about being raped on an interstate while she pulled over to check her car.
"I was just raped, like 45 minutes ago," a tearful Skoglund told 911 operators, also claiming that her supposed rapist had put a towel on her head, tied her hands and feet with a rope, and forced her into the backseat of her vehicle.
Authorities noticed several inconsistencies in Skoglund's story after reviewing her cell phone. They also found surveillance video of Skoglund buying a rope at a Walmart that she later claimed was used during the rape.
She later reportedly confessed to making up her rape allegations and was charged with making a false police report.
"She had consensual sexual intercourse with an individual in Hillsborough County," prosecutor Jessica Couvertier told the court during Friday's sentencing. "Then she felt guilty about it because of her marital status, and she wanted to get checked out for a sexually transmitted disease."
In addition to probation, Skoglund must also pay $17,245 to the Hillsborough County Sheriff's Office.
"This case is truly disheartening," Sheriff Chad Chronister said in a May press release. "There are far too many victims faced with this type of trauma. This woman took advantage of our 911 emergency line and diverted attention from actual victims who need the viable resources available in these investigative scenarios."