Ruby Franke's husband sought to have daughter arrested after influencer charged with child abuse
Kevin Franke tried to have his oldest daughter arrested for burglary two days after Ruby Franke's arrest, a police report revealed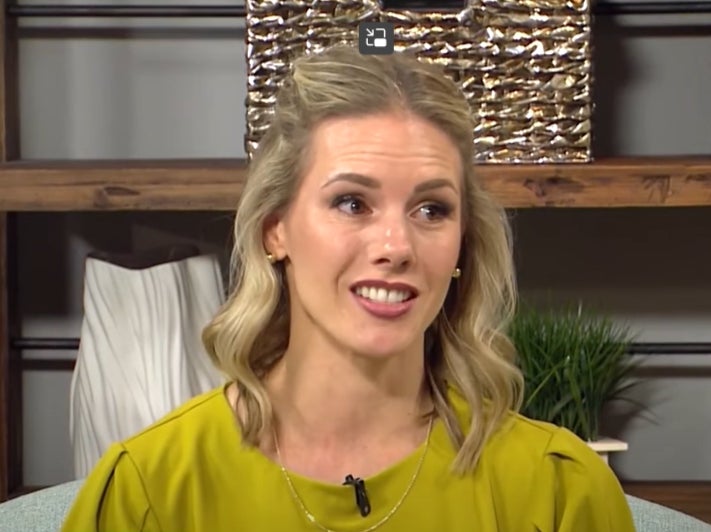 The husband of disgraced Utah parenting blogger Ruby Franke sought to have his eldest daughter arrested for burglary two days after police broke into their family home to serve a search warrant, according to a police report.
Mother-of-six Ms Franke was arrested along with her business partner, Jodi Hildebrandt, in August. The two women, who ran a parenting and lifestyle YouTube channel together, were charged with six counts of child abuse each after two of Ms Franke's children were found malnourished and neglected.
Authorities allege the two children were under Ms Hildebrandt's "direct care" at her home when the incident happened.
Ms Franke's estranged husband, Kevin Franke, who started a separate now-deleted YouTube channel with her in 2015 showcasing their strict parenting techniques and punishments, has denied any knowledge of child abuse and was not living with Ms Franke and his children at the time of the arrests.
But now a September police report has revealed Kevin Franke tried to have his oldest daughter arrested for burglary two days after the child abuse arrests.
"I responded by phone to the complainant [Kevin Franke] on the report of a burglary at the home," a Springville police officer wrote in the report from 1 September, obtained by Fox News.
Kevin Franke told police the front door of his home had been "kicked in and damaged," and some of his electronics were missing, according to the report. He also named his oldest daughter, Shari Franke, as a suspect.
"Kevin stated that Shari is not allowed in the home, and that he believes she entered unlawfully and he wants her charged with burglary," the officer wrote.
Police told Kevin Franke his home had been broken into after police served a search warrant and his daughter was not a suspect.
Kevin Franke "wanted to have his daughter charged with theft for taking some hard drives out of the house," the report said, but the responding officer informed him that "his daughter wasn't aware" she wasn't allowed to have them and offered to bring them back.
The electronics — which included three tablets, three cellphones, three cameras, a stack of written journals and three passports — were returned to police by Shari and given back to Kevin Franke.
Police then informed Kevin Franke that they would not be charging his daughter, "as her intent was not to deprive him of any items, she had previously been allowed in the home, and he had not been in the home admittedly for 13 months," the police report states.
Kevin Franke then allegedly threatened to sue the police department, the police report says.
The father-of-six was separated from his wife for 13 months before her arrest, and had no contact with his children during that time, according to his lawyer.
Ms Franke allegedly told her husband that they both needed to work on their marriage, but that it would be better if he moved out and did not communicate with the children.
Kevin Franke previously claimed Ms Hildebrandt "manipulated" him and "destroyed his family," and said the dynamic of his and his wife's marriage completely changed when Ms Franke became business partners with Hildebrandt.
Allegations were made about Ms Franke as early as 2020 with an online petition, while her husband was still in the picture.
Ms Franke was arrested after her 12-year-old son escaped through a window and ran to a neighbor's home pleading for food and water, according to authorities.
The boy was severely malnourished and had "deep lacerations from being tied up with rope and from his malnourishment," according to court documents filed by law enforcement.
The condition of the child was said to be "so severe" that he was transported to a local area hospital.
Following this encounter, police received information that other children may also be at risk at a nearby home.
Officers arrived at the home and carried out a search, where they found another 10-year-old girl in a "similar physical condition of malnourishment".
That child was also transported by EMS to hospital for treatment.
Santa Clara-Ivins Public Safety said that the Department of Child and Family Services was contacted and four minor children were taken into the agency's care.
Ms Franke ran a popular YouTube channel called 8Passengers. In one video, she said she and her husband had decided to withhold Christmas presents from their two youngest children as punishment for what she described as selfish behavior.
In other videos, Ms Franke discussed withholding food from her children, as well as making her son sleep on a beanbag chair instead of his bed for an extended period of time as punishment for pulling a prank on his younger brother.
Ms Franke had told Business Insider at the time that this sleeping arrangement was Chad's "choice" after he stopped sharing a room with his younger brother amid behavioural concerns.
Meanwhile, court documents revealed Hildebrandt allegedly used cayenne pepper and honey on wounds on Ms Franke's children's bodies.