A top lawyer's son, a FBI raid and 'weapons of mass destruction': How a Philly teen allegedly turned 'aspiring terrorist'
Suspect, 17, had allegedly been communicating with a Syria-based terror organisation,. His heartbroken and shocked father Qawi Abdul-Rahman, a prominent criminal defence attorney in Philadelphia said he had no idea. writes Graig Graziosi
Wednesday 16 August 2023 21:15 EDT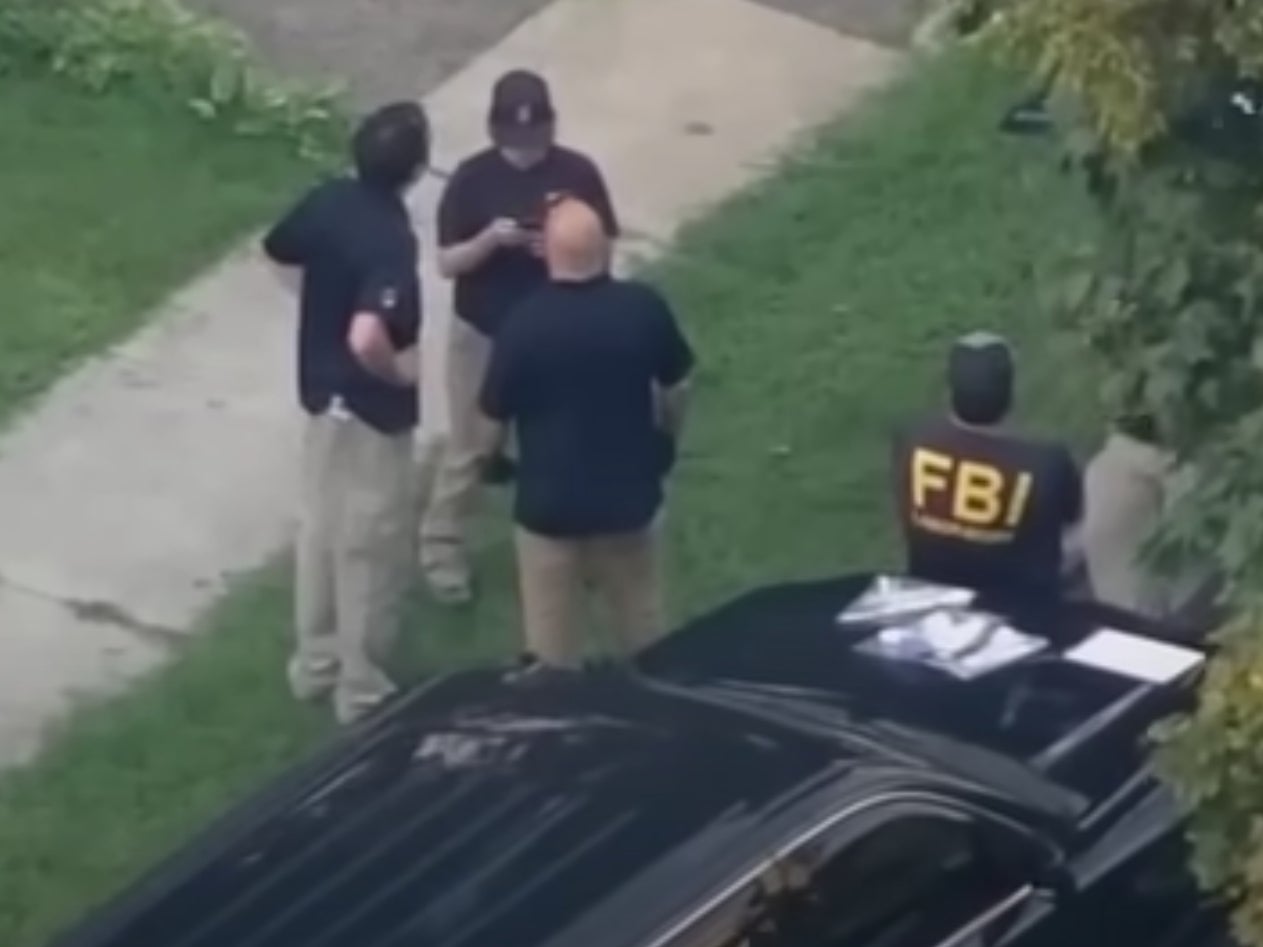 Armored trucks descended on a Philadelphia neighbourhood on Friday, releasing a flood of FBI agents who stormed and raided a house in search of a suspected aspiring terrorist.
There were no adults home when agents arrived; they found three minors in the home. But one of them was their suspect, a 17-year-old with alleged ties to a Syrian extremist group.
Reporters outside captured the scene as agents marched a cuffed teenager, wearing only his undergarments, out into the street and into federal custody.
Days later, the Philadelphia District Attorney's Office made clear what had happened; they had arrested someone they claim was engaged in "the most serious alleged terrorist activity prosecuted in Philadelphia County court in recent history".
The suspect
The suspect is a minor, and his name has not been released to the public.
Philadelphia District Attorney Larry Krasner called the teenager an "aspiring terrorist" during a press conference after his arrest.
"The young man who is under arrest is – was, an aspiring terrorist who was not merely thinking, but was doing things that are deeply disturbing and presented a grave danger to everyone," he said.
FBI Special Agent in Charge Jacqueline Maguire also spoke at the conference, and revealed the suspect allegedly took steps to build a weapon of mass destruction.
"Among the items he purchased were tactical equipment, wiring, chemicals and devices often used as remote detonators," she said. "He had not only taken steps in acquiring those items and materials that are commonly used in improvised explosive devices, but that he had also taken steps to start putting potential devices together,"
Philadelphia teen arrested as part of terrorism investigation
She also noted that the suspect allegedly had access to a "significant number of firearms."
"He is currently charged with the following offenses: weapons of mass destruction, criminal conspiracy, arson, causing or risking catastrophe, attempt to commit criminal mischief, possession of an instrument of crime, and reckless endangerment of another person," she said.
He is being tried as a juvenile, according to Mr Krasner.
The investigation
The 17-year-old landed on the FBI's radar after the agency learned of his alleged communication with members of Katibat al Tawhid wal Jihad, a Syria- based extremist group that the US classifies as a global terror organisation. The group has ties to al-Qaeda, the organisation formerly led by Osama Bin Laden that carried out the 9/11 terrorist attacks in New York, Washington DC and Pennsylvania.
The FBI believes the organisation was responsible for the bombing of metro station in St Petersburg, Russia, in 2017, which killed 15 people. The agency also believes the group carried out a suicide car bombing in 2016 that injured three members of the Chinese Embassy in Bishkek, Kyrgyzstan.
Federal officials believe the teenager was communicating with the terror organisation between March and April of this year.
The FBI also discovered a WhatsApp account allegedly linked to his phone number that used a banner of the Riyad-us-Saliheen Brigade of Martyrs, a terror group based in Chechnya. On 6 August, the banner was reportedly changed to that of Isis.
The agency eventually began surveilling the teenager, and allegedly witnessed him purchasing bomb-making materials on 7 August.
The following day the US Customs and Border Protection agency said the suspect had 14 international shipments of military and tactical gear delivered to their home.
Mr Krasner said that the FBI "potentially thwarted a catastrophic terrorist attack in the name of a perverted ideology that in no way, shape, or form represents the beliefs of the overwhelming majority of peace-seeking people of faith, including Muslims."
The suspect's family
While the suspect's name has not been released as he is a minor, his father has commented on the shocking raid that ended with his child in FBI custody.
Qawi Abdul-Rahman, a prominent criminal defence attorney in Philadelphia, told The Daily Beast that he was "shocked and devastated" to learn on Monday that his 17-year-old child was facing terror allegations.
He recalled receiving a phone call at work from his children as the raid was ongoing. They told him the FBI had swarmed the home. At the time, only his three children — the 17-year-old included — were home, as both Mr Abdul-Rahman and his wife were at work.
The attorney rushed home to find his child in FBI custody. He said he was "shocked" and "devastated" to learn about his child's alleged involvement with terror organisations.
In the aftermath of the arrest, Mr Abdul-Rahman said he was struggling to discuss the incident and its implications with his two younger children.
He said he doesn't know "how to even address it," asking how one could even explain such a concept to a child.
"Your job as a father is to protect," he told The Daily Beast. "But I couldn't do a thing."