Nick Donofrio's family pay tribute to 'loving' son who was shot dead after entering wrong home
Nicholas Donofrio, 20, lived a few blocks away on the street where he was fatally shot on 26 August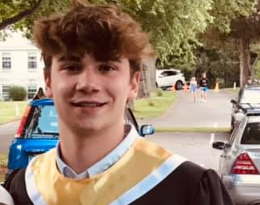 The parents of a South Carolina college student are mourning the loss of their son after he was fatally shot when he entered the wrong house by mistake.
Nicholas Anthony Donofrio, 20, was a student at the University of South Carolina and lived at an off-campus home, his parents told local news station WTNH. According to the City of Colombia Police Department, Donofrio was mistaken for a burglar and shot in the early morning hours of 26 August after he tried to enter a residence on the same block where he lived on South Holly Street.
Authorities said that a 911 call was initially made regarding an ongoing burglary, but it later escalated to a shooting situation. Donofrio was pronounced dead at the scene.
The young man had recently moved into the off-campus home ahead of the start of his junior year at the university. Donofrio, a Kinesiology and Exercise Science major, was looking forward to living with four close friends.
"[Nick was] a great son, loving, compassionate, all the traits you would want in a son," Donofrio's grieving parents said in a statement to WTNH.
Donofrio was originally from Madison, Connecticut and graduated high school in 2021.
"When officers arrived on the scene, they found a deceased male on the front porch with a gunshot wound to the upper body," the City of Columbia Police said in a statement. "Preliminary information indicates that Donofrio who resided on South Holly Street attempted to enter the wrong home when he was fatally shot."
Classes at the University of South Carolina resumed on 23 August.
"Our Student Affairs team is providing resources and support to those who may be affected by this tragedy, and we remind all of our students that help is always available to them," the university said in a statement to The State.
In South Carolina, individuals have no obligation to retreat and are allowed to use deadly force if they're not engaged in unlawful activity and are in a place where they have a right to be — such as their home or place of business. The state's "stand your ground" laws also limit law enforcement's ability to immediately arrest the shooter if they claim they were attacked first or acting in self-defence.
The City of Columbia Police Department said the investigation remains ongoing and it will consult with the solicitor's office regarding the circumstances surrounding the case and whether charges could be filed.