A one-year-old boy died at an NYC daycare. Authorities say he was exposed to Fentanyl
New York City authorities say that fentanyl traces were found underneath a mat where children at the home-based Divino Niño daycare had been sleeping. Andrea Blanco and Graeme Massie report
Tuesday 19 September 2023 13:51 EDT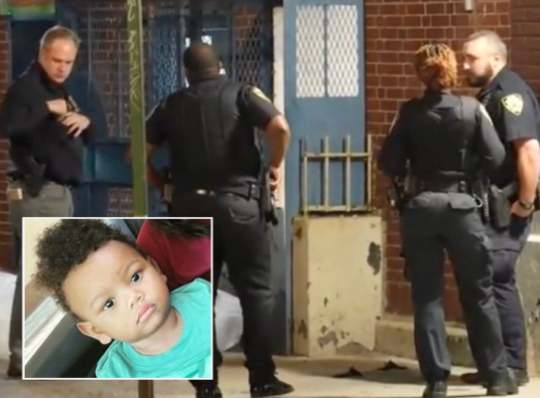 Zoila Dominici was on her way to Divino Niño daycare for an early pick-up on 15 September when she received the tragic news. Just a month shy of his second birthday, Ms Dominici's son Nicholas was pronounced dead at the Bronx home-based daycare centre.
Nicholas' grief-stricken parents and the Kingsbridge Heights community are now grappling with the disturbing reality surrounding the little boy's sudden death — he and three other children at the daycare were exposed to fentanyl, according to New York City officials.
Daycare owner Grei Mendez, 36, and her tenant Carlisto Acevedo Brito, 41, were arrested on charges including murder, manslaughter and assault. They have also been charged with narcotics possession with intent to distribute resulting in death and conspiracy to distribute narcotics at the federal level.
Authorities said that Ms Mendez rented rooms in the apartment where the daycare operated and that a kilo of fentanyl was found inside a hallway closet. The NYPD Chief of Detectives Joseph Kenny said that the lethal drug was placed underneath a mat where the children had been napping.
Law enforcement is now seeking to question Ms Mendez's husband, who was reportedly captured on surveillance video removing trash bags from the apartment before authorities arrived at the scene, according to CBS News.
Here's everything we know about the case:
The daycare
The Divino Niño daycare started operating in January out of Ms Mendez's apartment in Kingsbridge.
The centre, which was advertised for children between 6 weeks and 12 years old, is licensed under the city's Department of Children and Family Services. It had passed all inspections without violations, including a surprise visit by city authorities on 6 September.
During a press conference last week, New York City Mayor Eric Adams pushed back against accusations that the city had failed to identify existing threats at the centre.
"Who did not do their job are the people who were there to protect the children," Mr Adams said. "Part of this relationship is based on trust, that those who are taking care of our children are going to do it in a safe manner. They broke that trust ... This is not marijuana mistakenly left around the house."
Nicholas' father Otoniel Feliz told CBS News that the little boy had been at the daycare centre for just a week. Mr Feliz said that the daycare had been recommended to him by the Kingsbridge Heights Community Center.
"We spoke to the ones who are in charge ... They recommended that place and apparently complied with all of the rules," Mr Feliz said. "We were on a waitlist for our son to qualify. Apparently, the place passed all of the inspections. Supposedly that apartment was only for daycares, but the rumor is, from what we have heard, they also rented rooms."
What happened?
Three infants were found unresponsive by staff at the facility, who then called 911. When EMS first responders arrived they found two infants in cardiac arrest and called the FDNY for backup after administering Narcan.
Nicholas and two other minors were transported to a hospital. A fourth minor, a two-year-old boy, who had already been picked up by his parents was taken to the hospital after his mother realized that he was "acting lethargic and unresponsive."
The boy was in critical condition, while another two-year-old boy and an eight-month-old girl were both in stable condition.
Toxicology results from the three surviving victims showed that they were exposed to fentanyl. The Medical Examiner's Office will perform an autopsy on Nicholas to officially determine his cause of death.
"I love him, I miss him, I want him back – but there's nothing that will give me back my son. When I came home from work and walked through the door, he'd say 'daddy, daddy!'" Mr Feliz recounted to ABC7. "My wife was on her way to the daycare. She was going to pick him up early. Shortly before she arrives, she receives the call and also sees the ambulance."
A kilo of fentanyl was found in a hallway closet outside Mr Brito's room, which he rented from Ms Mendez for $200 a week, according to investigators. Police said that three kilo presses, a device used for packaging large quantities of narcotics, were also found inside the daycare.
Investigators believe that the children inhaled fentanyl particles during their daylong exposure to the drug before they were found unconscious and the alarm was raised.
Who are the suspects?
Prosecutors told a judge during a Sunday night arraignment hearing that Ms Mendez had taken part in a "reckless depraved act" by renting Mr Brito, her husband's cousin, the room, according to ABC News.
Her lawyer told the court that his client, who faces a sentence of life imprisonment if convicted, had no idea that drugs were being stored at the daycare.
"Her only crime was renting her room to someone who had a kilo," attorney Andres Aranda said. "There is no evidence that she did anything but care properly for these children."
The judge said that Mr Brito, a national of the Dominican Republic in the country illegally, was a flight risk. He then said that Ms Mendez, who is not a US citizen and also has ties to the Dominican Republic, was a flight risk.
Law enforcement sources told CBS that phone logs revealed Ms Mendez called her husband before she called 911 immediately after finding the children unresponsive. Ms Mendez's husband was also reportedly captured on surveillance video removing items from the basement apartment.
New York City Health Commissioner Ashwin Vasan and Mayor Adams said that although the specific circumstances surrounding Nicholas' death were not clear, the tragedy was a wake-up call in the fight against the fentanyl crisis.
"I'm very sorry but one of the things my childcare inspectors are not trained to do is look for fentanyl," Mr Vasan said. "But maybe we need to start. Maybe we need to start."