Pilot arrested for stalking woman in low-flying plane and pelting her yard with tomatoes
'He flies so close to the house that it feels like he's going to go through it. It's a nightmare that just doesn't stop'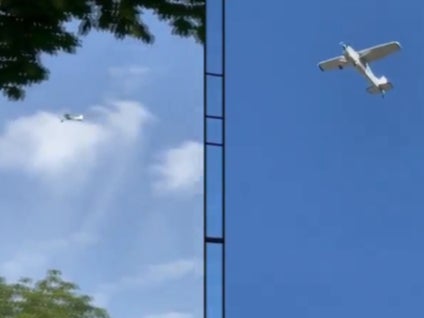 A man in Schuylerville, New York, has been arrested for violating a do-not-fly order after he was accused of stalking a woman from his low-flying plane and pelting her yard with tomatoes.
Michael Arnold was arrested at Saratoga County Airport after violating the protection order that was issued after a previous arrest in May.
The woman he was accused of stalking, Cassie Wilusz, said the incidents had been happening for almost four years and left her and her family - as well as the wider town - plagued by the sound of Arnold's low-flying plane as he allegedly flew his single-engine Cessna over her home at 7am, around three times a week.
"He is terrorising us," Ms Wilusz told the Times Union. "He flies so close to the house that it feels like he's going to go through it. It's a nightmare that just doesn't stop."
According to Ms Wilusz, who works in a cafe, the pilot came into her workplace for lunch and later sent her an email in which he suggested they go on holiday together and sent her an inappropriate picture of himself.
Initially, Ms Wilusz did not know who the email came from, until she realised he was a customer fom the cafe.
"Then he started flying over my house, sending me pictures of my house, my pool, my backyard, of me, my family, my friends," she explained. "He tells me karma is going to get me.
She also claimed that Mr Arnold had thrown tomatoes at her yard and her home from his plane on one occasion last year, and on another buzzed past her home a day after she lost her husband to cancer.
Schuylerville Mayor Dan Carpenter said: "He's flying lower than what we feel is acceptable, and it's loud.
"We see this as harassment of the whole community. Then last year he dropped tomatoes in her yard. ... What's stopping him from dropping something heavier? The police say they are doing everything they can, but it's not been resolved. It's been four years."