Black man films police pulling him over for his air freshener
TikTok video of interaction with Wall Township officers has more than 5.3 million views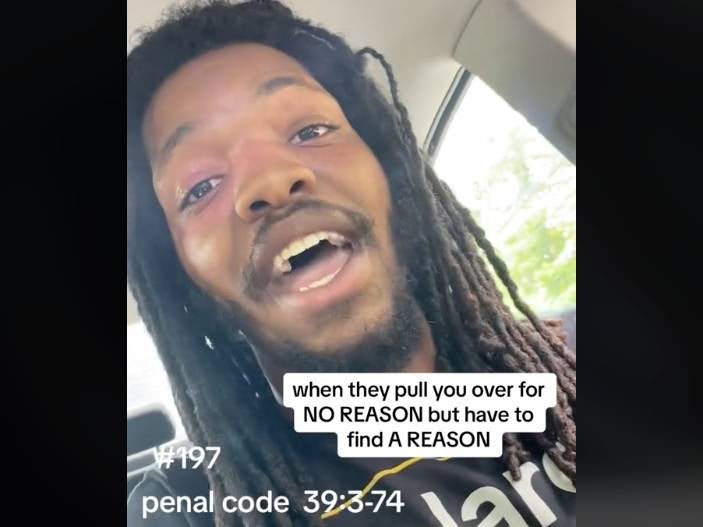 A Black man filmed police in New Jersey pulling him over for having an air freshener hanging from his rearview mirror.
Alex Harbour's TikTok video of his interaction with the officers has of Tuesday received more than 5.3 million views.
"When they pull you over for NO REASON but have to find A REASON," Mr Harbour wrote as a caption on the video.
In the video, he asks the Wall Township Police Department officer who pulled him over if he could speak to his supervisor as he did not agree with the nature of the traffic stop.
When he asked the officer why he had stopped him he was told that he had not used his blinker, which Mr Harbour denied.
The officer then told him that he had also pulled him over because of the air freshener hanging from the mirror.
"He has no reason to pull me over at all," Mr Harbour said, adding that the officer pulled a U-turn to start following him when he left a ShopRite store before making the stop.
When Mr Harbour asked for a senior officer to come to the scene, the officer said that was not necessary, despite state law allowing anyone stopped by the police to make the request.
In a second video, Mr Harbour asked the supervising officer to provide the dashcam footage but was told that was not possible unless he received a ticket.
The first officer then told him that he would not receive a ticket for the alleged blinker offence, but would get one for the air freshener.
TikTok users were quick to urge Mr Harbour to challenge the ticket in court.
"Take it to court, don't pay that ticket … because there's a mirror between you and the window," one wrote.
And another added: "The pine tree air freshener…a felony."