Moment victim punches 80-year-old convicted sex offender in court
Richard Gross, 80, was found guilty on 26 felony counts of sexual abuse in Las Vegas but avoided jail time after striking a plea deal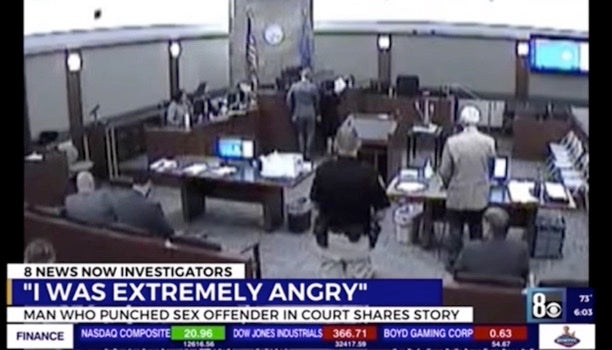 A convicted paedophile was punched in the face by his victim in the middle of a Nevada courtroom.
Richard Gross, 80, was found guilty on 26 felony counts of sexual abuse in Las Vegas but he struck a plea deal with prosecutors, meaning he was given a suspended sentence and avoided jail time.
His victim Tylor Fu, 29, had testified at the trial and said that he was "extremely angry" at the leniency of Gross' punishment on 2 October.
"I know he's old, but that doesn't change anything like that, doesn't change the damage that he caused," he told 8 News Now.
"The horrific effects that I had to live through for decades, and it was not justice at all."
In the dramatic moment in court, Mr Fu lashed out at Gross, causing him to briefly lose consciousness.
While Gross was hospitalised after the courtroom altercation, Mr Fu was handcuffed and arrested on a misdemeanour battery charge.
The father-of-two said that he was abused by Gross, a family friend and babysitter, from the age of eight through to 15.
He told the news channel that he believes the sentence handed down to Gross does not match his crimes.
"It just doesn't make sense how someone can abuse a child multiple times and just walk away without any prison time," Mr Fu said.
Gross received a suspended sentence of 60 to 180 months which means he will not be imprisoned unless the terms of his probation are violated.
Mr Fu is now being sued by Gross for battery and has launched a GoFundMe to cover legal expenses.
"I know there are many children and adults that have experienced this and I want you to know that you have the power to come out with it, tells your loved ones, report your abusers to law enforcement, and find justice," he wrote on the page.