Neo-Nazi nabbed for hanging hate-filled antisemitic banners over highway near Disney World
Around 15 people took part in a demonstration that included swastikas and anti-Jewish slurs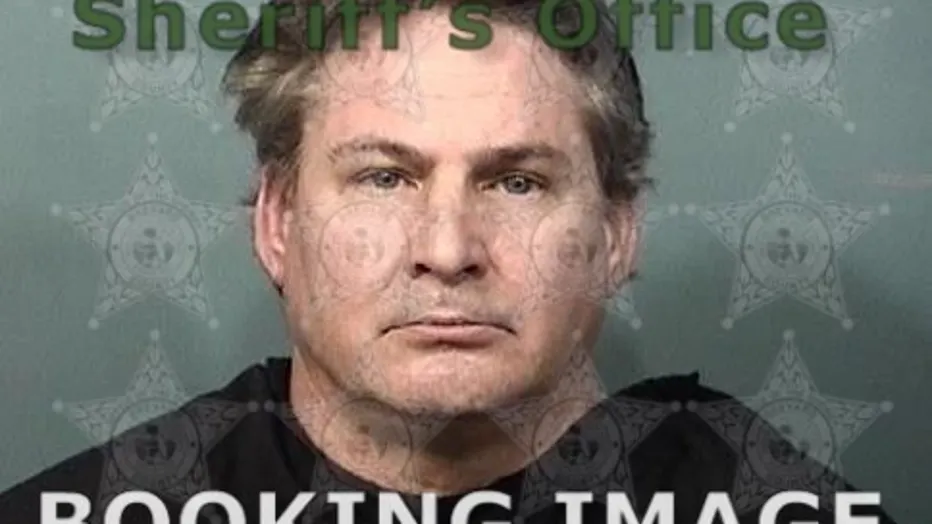 A neo-Nazi has been arrested after he hung huge banners with antisemitic messages off an Interstate 4 overpass near Disney World.
Jason Brown, 48, from Cape Canaveral, was arrested when the Florida Department of Law Enforcement confirmed that he displayed images of swastikas and other antisemitic symbols on banners that he displayed over a highway in Orlando.
They initiated an arrest after agents with the FDLE and the Orange County Sheriff's Office saw a video named "Disney Shock & Awe," where Mr Brown and the other demonstrators were seen dressed in camouflage clothing and carrying antisemitic flags and banners, the arrest warrant stated.
He has been charged with criminal mischief, a misdemeanour.
Mr Brown claims he is a member of the Order of the Black Sun, a neo-Nazi and white supremacist group that often spreads antisemitic propaganda, according to the Anti-Defamation League. The group is mainly based in Florida.
Investigators say that Mr Brown and other members of the group displayed banners without receiving official permission, which is a violation of Florida state law, says the FDLE.
The extremist is known to the Brevard County Police, and was arrested last year in connection to an antisemitic demonstration in Orange County which turned violent, according to USA Today.
This law was put in place earlier this year after Governor of Florida Ron DeSantis signed House Bill 269.
There are still three pending warrants for arrest for other demonstrators, who are believed to live outside the state.
"We want to thank Governor DeSantis for his support of law enforcement and for the signing of HB 269, giving us the tools to arrest this hate-filled radical," said FDLE Commissioner Mark Glass. "This activity will not be tolerated in the greatest state in the country, Florida."
This display of antisemitism comes hard on the heels of two other incidents: On 2 September a group of about 15 neo-Nazis from the Order of the Black Sun, Aryan Freedom Network and the Nationalist Socialist Movement stood outside the Disney Springs shopping centre wearing clothes and bearing flags that displayed Nazi propaganda, CBS reports.
The other incident included other extremist hate groups parading through the Orlando area, shouting racial slurs and bearing flags with swastikas on them, according to The Guardian.
In a statement by the Anti-Defamation League's Florida regional director, Sarah Emmons, she said, "We are deeply outraged by the two extremist demonstrations in the Orlando area. This type of hateful activity has no place in our community.
"We call on public officials at the federal, state and local levels to stand up and clearly denounce this hateful activity. We cannot allow for hate and extremist beliefs to become normalized in our society."
According to research by the ADL, there was a 36% increase in antisemitic incidents between 2021 and 2022 throughout the US, with the number of incidents reaching a record high of 3,697 since the organisation started to collect data in 1979.