Michigan State University shooting
Oxford High School shooting survivors are among MSU students targeted in latest mass shooting: 'Can't believe this is happening again'
"It's really, really surreal to have to worry about this, and to know exactly what to do." Parents of students experiencing their second mass shooting event say it has resurfaced feelings of terror, Bevan Hurley reports
Tuesday 14 February 2023 14:59 EST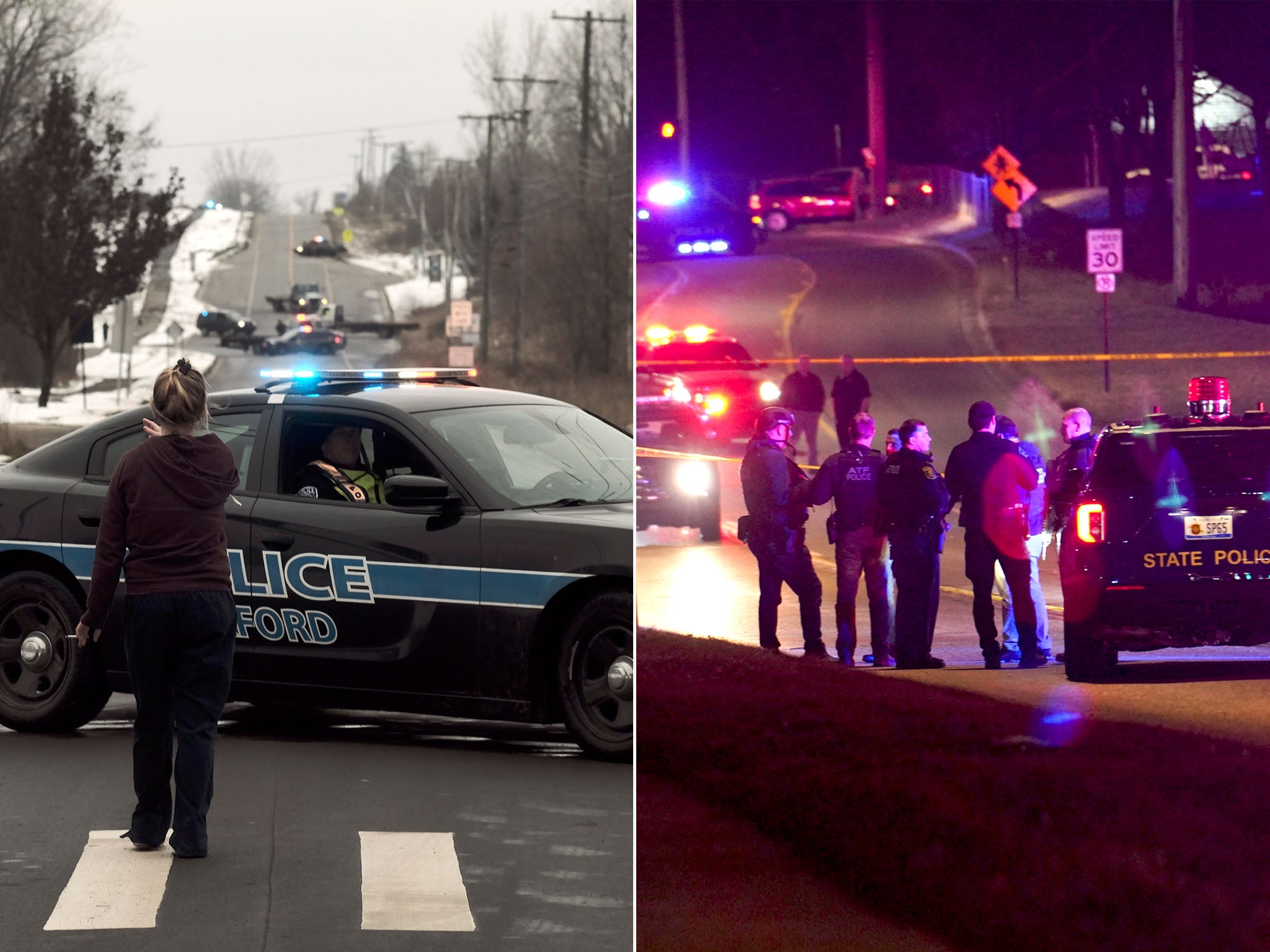 When an alert went out to Michigan State University students at around 8.30pm on Monday night about an active shooter on campus, many of the students knew exactly what to do from tragic experience.
The campus at East Lansing is about 80 miles west of Oxford Township, where 15-year-old student Ethan Crumbley murdered four classmates and wounded seven others just 15 months earlier.
Several students who sheltered in place as Crumbley shot up Oxford High School in November 2021 found themselves once again hunkering down in classrooms and dorm rooms to evade a mass shooting suspect.
Police say 43-year-old gunman Anthony Wayne McRae killed three students and left five others in a critical condition in hospital.
Survivors of Monday night's mass shooting old how the latest shooting had resurfaced feelings of terror and trauma.
Andrea Ferguson told the ClickonDetroit news site that she was struggling to comprehend how her daughter and several of her friends had now been through multiple mass shootings.
She said her daughter had just left class when she began getting texts about an active shooter, and was "unbelievably terrified" as the gunman stalked the campus for several hours.
"I have to say, once the reality kicked in, she knew what to do — and that's what's important is that the kids know what to do," Ms Ferguson told the news site. "It's really, really surreal to have to worry about this, and to know exactly what to do."
Another parent, Jennifer Mancini, told the Detroit Free Press that her daughter had been retraumatised after experiencing her second mass shooting event in just over a year.
Ms Mancini told the news site that her daughter had lost two close friends in the Oxford High School shooting.
"She said that she had PTSD. She said she can't believe this is happening again," Ms Mancini told the Free Press.
Dagmar Gross wrote on Twitter that her nephew was sheltering in place next to where the gunman was roaming, just as he had when Crumbley was shooting children in the class next to his in November 2021.
Ms Gross, a medical writer, said there were "many" Oxford students at MSU, including older siblings of those who were present during the shooting.
She said in a subsequent tweet that she had been trying to convince her nephew to move to Canada in order to escape gun violence.
"Will pursue this more so now," she added. "His words: "Active shootings - this is my life now. It's normal, everyday."
Crumbley was just 15 years old when he launched a murderous attack on his classmates with a 9mm semi-automatic handgun at the school in Oxford Township.
Last October, he pleaded guilty to charges including first-degree murder and terrorism.
Another MSU student Jackie Matthews who had to shelter in place during Monday night's shooting told how she had also survived the Sandy Hook Elementary School shooting in Newtown, Connecticut in 2012.
"I am 21 years old, and this is the second mass shooting that I have survived," Ms Matthews said in a TikTok post.
Ms Matthews said that the Monday night had caused a PTSD fracture in her lower back to flare up.
"The fact that this is the second mass shooting that I have lived through is incomprehensible," the user, whose handle is @Jmattttt, said in a TikTok. "We can no longer just provide love and prayers, there needs to be legislation, there needs to be action."
Students received a text alert from the university telling them to "secure in place immediately", and to "run, hide, fight" after shots erupted inside Berkey Hall and the MSU Union, popular dining and study areas.
A shelter-in-place order was lifted four hours later after police located the gunman, who they said died from a self-inflicted gunshot wound.
Michigan State University Police isenditied the students as Brian Fraser, a sophomore from Grosse Pointe, Michigan, and Alexandria Verner, a junior from Clawson.
While police have not yet named the third victim, family members confirmed to WXYZ that she was 19 year-old Arielle Diamond Anderson.
The shooting came almost five years to the day since 17 people were shot dead at Marjory Stoneman Douglas High School in Parkland, Florida.
Congressman Maxwell Alejandro Frost, marking Tuesday's solemn anniversary, wrote that MSU had "also faced the pain of gun violence, a pain that is all too common across this country".
"My heart today is with Parkland & MSU as they continue & begin this lifelong journey of healing.
Furious Michigan lawmakers said it was time to enact tougher gun control laws.
"I cannot believe I am here again doing this 15 months later," Democratic Congresswoman Elissa Slotkin said during a news conference on Tuesday. "I am filled with rage that we have to have another press conference about our children being killed in schools."
Michigan Governor Gretchen Whitmer said in a series of Twitter posts that many of the students who were caught up in the shooting faced the grim exercise of figuring out who would be our last call.
"They worried for their lives, their friends, their fellow Spartans," she said referring to the school's colleges sports teams. "We can't keep living like this. As parents, we tell our kids, 'it's going to be okay' all the time. But the truth is, words are not good enough. We must act. And we will.