New Hampshire man pleads guilty to threatening Matt Gaetz in voicemail
The man said he was 'emotional and intoxicated when he left the voicemail,' court documents revealed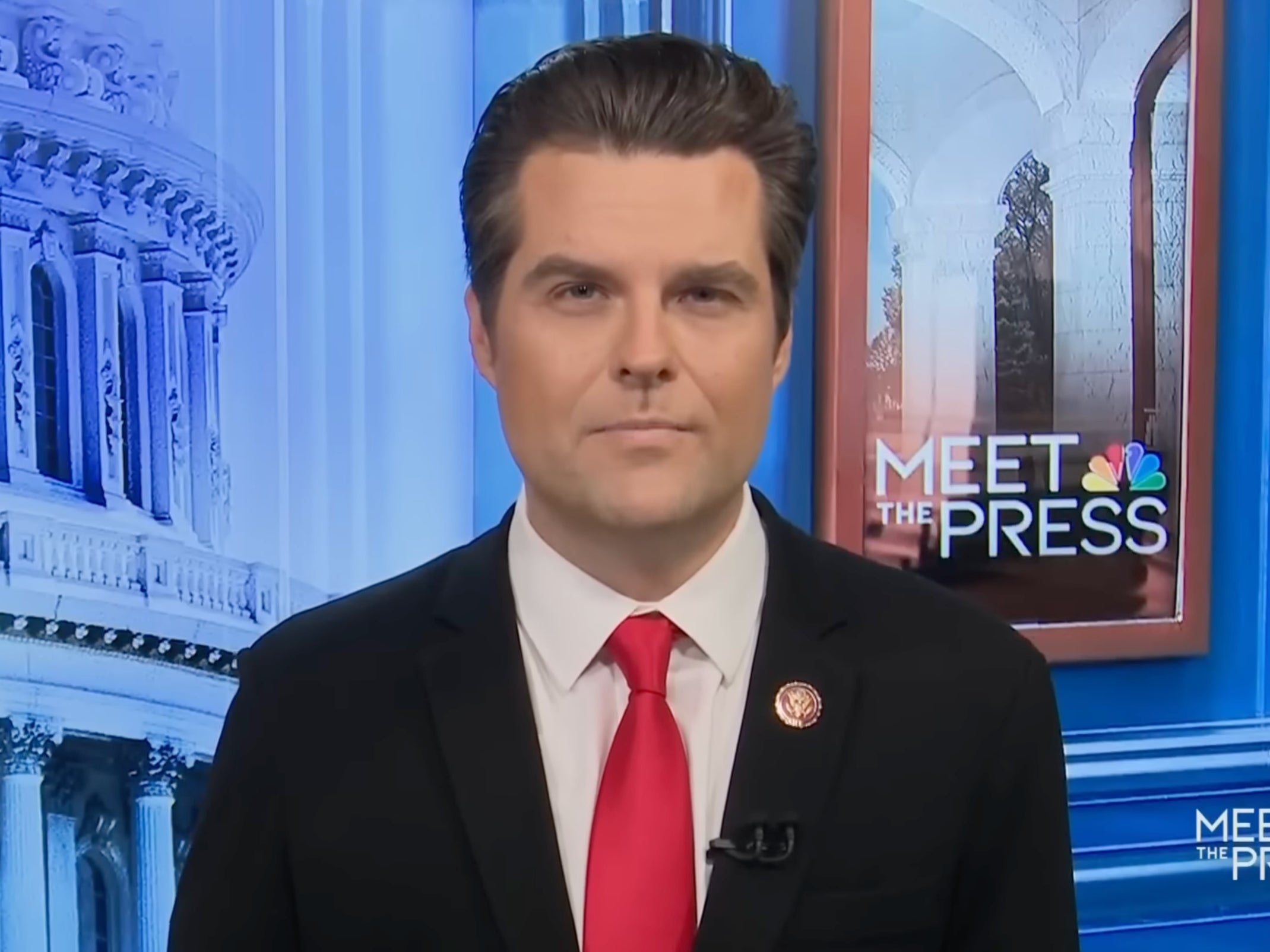 A New Hampshire man has pleaded guilty to threatening Rep Matt Gaetz on TikTok.
Allan Poller, 24, pleaded guilty to one count of transmitting a threat in interstate commerce after leaving a threatening voicemail at the Washington DC office of an unnamed member of Congress in March, according to court documents.
CBS News reported the member of Congress was Mr Gaetz.
In the voicemail, the 24-year-old Keene State College student reportedly told Mr Gaetz: "If you keep on coming for the gays, we're gonna strike back…We will kill you if that's what it takes."
He also said, "I will take a bullet to your f****** head if you f*** with my rights anymore. And then if you want to keep going down that path, you know who's next," prosecutors allege.
Mr Poller admitted to leaving the voicemail on Thursday after being charged in March.
The 24-year-old was contacted by law enforcement officials at Keene State College and admitted to sending the voicemail but told investigators he did not actually plan to do harm to Mr Gaetz and did not own a firearm, according to a criminal complaint filed earlier this year.
He said he was "emotional and intoxicated when he left the voicemail," court documents revealed.
Mr Poller was indicted on two counts and faces a maximum sentence of five years in prison.
However, prosecutors indicated they would drop one of the counts against Mr Poller in exchange for his admission of guilt.
The government said in the plea agreement a sentence of three years probation would be appropriate in the case.
Mr Gaetz, who recently led the charge to oust Kevin McCarthy as House speaker, was one of 157 Republican House members who voted against the Respect For Marriage Act in 2022, which bars states from discriminating on the basis of "sex, race, ethnicity, or national origin" against those who wish to marry.
The bill, which codified same-sex marriage into law, passed through the House following concerns that federal protections for same-sex marriage could be reversed after the Supreme Court overturned Roe v Wade.
Following the overturning of Roe, Supreme Court Justice Clarence Thomas wrote that the court should "correct the error" of same-sex marriage by reversing Obergefell v Hodges.
"Today I voted NO on H.R. 8404—the erroneously named 'Respect for Marriage' Act," Mr Gaetz tweeted in July 2022. "In a fit of hysteria triggered by one sentence in a concurring opinion by Justice Thomas, Democrats have moved to introduce a bill codifying Obergefell v Hodges."
"This holding is not in jeopardy," he added. "Gay marriage doesn't offend me nearly as much as offending federalism does through this legislation."
In 2015, following the Supreme Court's landmark Obergefell v Hodges ruling, Mr Gaetz argued that Obergefell was "a threat to our democracy" that "reflects a growing trend of judicial activism".