Terrifying images show masked home invaders holding family at gunpoint
As she whispered to 911, a petrified woman hid in a closet while family members were threatened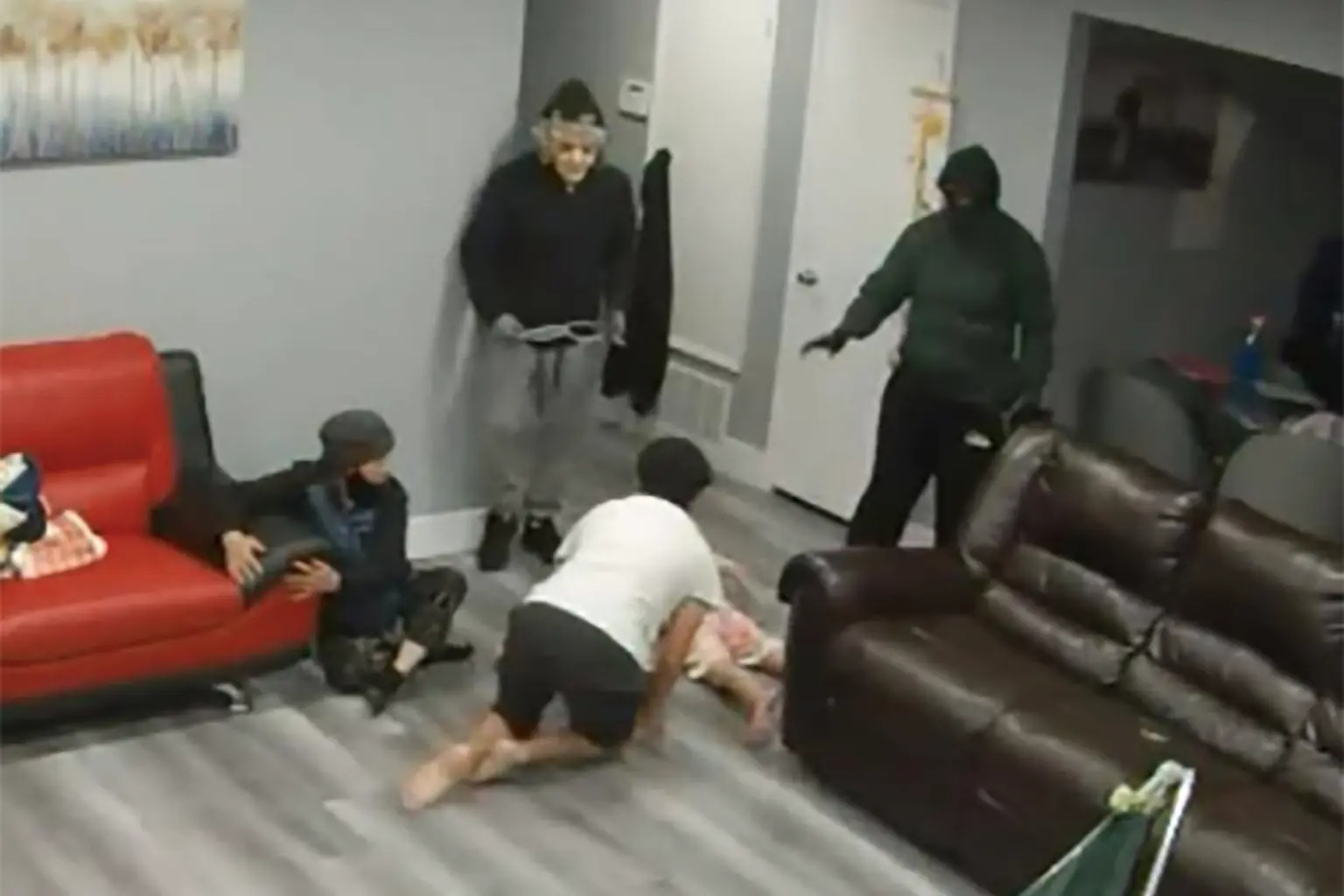 A family, including two children and an elderly woman, endured a terrifying ordeal when they were held at gunpoint by masked burglars.
The beyond-scary home invasion happened on Monday in Orange County, California, at around 10.40pm when the disguised intruders entered the family's home on a quiet residential street.
When the invaders entered the home, one of the masked men used a stun gun on an adult male in the family, forcing him onto the ground, the City of Westminster Police said in a statement.
The man, an elderly woman and two children — a 14-year-old boy and a 7-year-old girl — were all tied up in the living room. The suspects then demanded to know where they kept their valuables.
In one alarming photo released by police, two robbers in masks can be seen gesturing for the family to get on the floor. The 7-year-old is pictured flat out by the suspect's feet.
The burglars then ransacked their property looking for anything of value, the New York Post reported
A fifth victim, an adult female, was able to hide inside a closet while the home invasion was taking place. She called 911 and whispered down the phone that she needed help.
As the officers arrived within three minutes, they saw four burglars sprint from the front door of the residence.
One of the suspects, identified by police as Danny Sommay, was caught outside after he threw his handgun over a brick wall.
The police recovered the firearm and found it to be a loaded 9mm pistol that had been reported as stolen.
The Huntingdon Beach Police Department dispatched a helicopter to try and locate the missing three suspects, but were unable to locate them.
Authorities did not say whether any of the victims needed medical attention or if the man hit with the stun gun was injured.
Mr Sommay has been booked into Orange County Jail on charges of kidnapping, robbery, burglary, conspiracy to commit a felony, possession of a loaded and stolen firearm and armed criminal action on a $1 million bail.