A teenager killed her boyfriend and his friend in a 'hell on wheels' crash. She will serve 15 years to life
Mackenzie Shirilla had one mission when she crashed her car into a brick building — and that was murder, a judge said. The 19-year-old will now serve 15 years to life over the murders of her boyfriend Dominic Russo, 20, and his friend Davion Flanagan, 19. Andrea Blanco reports
Tuesday 22 August 2023 14:50 EDT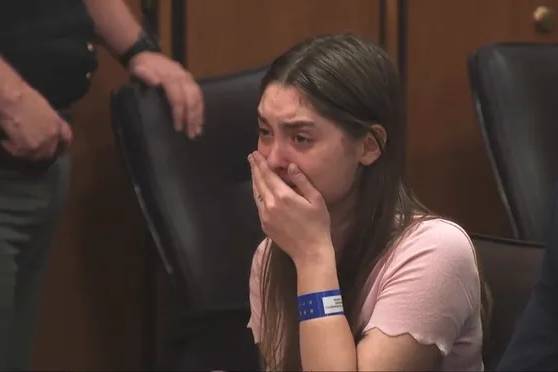 Two weeks before Mackenzie Shirilla deliberately ploughed her car into a brick building, instantly killing her boyfriend Dominic Russo, 20, and his friend Davion Flanagan, 19, the then 17-year-old had threatened to cause a crash during a heated argument with Russo.
The verbal fight dissolved and eventually, Russo got out of the vehicle and was picked up by a friend. But in the early morning hours of 31 July 2022, Shirilla carried out her threats, pushing the accelerator at 100mph until her 2018 Toyota Camry became completely totalled.
"She had a mission, and she executed it with precision. The decision was death," Judge Nancy Margaret Russo — not related to Dominic Russo — told the court in Cuyahoga County, Ohio, during Shirilla's bench trial. "Her actions were controlled, methodical, deliberate, intentional and purposeful. This was not reckless driving. This was murder."
The judge described Shirilla as "literal hell on wheels," while prosecutors noted that in the months following the fatal crash, Shirilla claimed she was "the one you die for" on TikTok. During her sentencing last week, however, the 19-year-old sobbed as she addressed the victims' families, saying she has no recollection of what happened in the moments leading to the crash.
On Monday (21 August), Shirilla was sentenced to life in prison with the possibility of parole after 15 years.
'Can't you just take my licence away?'
Prosecutors argued that Shirilla and Russo had a toxic relationship. Evidence introduced during the trial, showed that Shirilla had threatened to crash her car while driving with Russo just weeks before he and Flanagan were killed.
The crash took place at around 5.30am on 31 July 2022 at a building in the Cleveland suburb of Strongsville. Investigators say that Shirilla drove her 2018 Toyota Camry down a three-quarter mile road until it hit a speed of 100mph.
Although prosecutors did not pursue charges of driving under the influence, Shirilla's THC levels were above Ohio's limit when she crashed, according to Cleveland.com.
Data from the car's computer and surveillance video showed that the steering wheel jerked to the right and then left before the vehicle left the road and crashed into the structure. A passerby called authorities 45 minutes later.
Russo and Flanagan died at the scene, while Shirilla, who miraculously survived the crash, was left trapped in the driver's seat with a fuzzy Prada slipper stuck to the accelerator.
'She took everybody that was in the car with her'
Prosecutors sought to portray Shirilla as a reckless, selfish partner who had intended to take Russo's life because their relationship was ending. The evidence presented in court included a video that showed Shirilla threatening to key Russo's car following an argument, according to NBC.
But in messages seemingly posted by Shirilla on Russo's obituary, the teen said she wished "she could hug him one last time".
"You are the love of my life you will always be with me and I will always think about you," Shirilla wrote in a post just a week after Russo's death, the Daily Beast reports.
Another post read: "I love you Dom you are my soulmate I won't never forget the memories we made together you made me the girl I am today and you were just an amazing bright soul."
" ... I miss your laugh your perfect smile. I feel your energy around me everyday i just wish it was physical. God u are the last person to deserve this you had such a perfect life ahead of you... i wish i told you all this more. Please wait for me."
According to evidence presented by prosecutors in court, Shirilla reportedly asked police if they could "just take my licence away for 10 years or something like that?" in the immediate aftermath of the tragedy.
Shirilla also sought employment with a Los Angeles-based modelling agency while she was still in a hospital bed recovering from her injuries, FOX 8 reports. In the months that followed and before she was criminally charged, she was reportedly seen attending a concert and a Halloween party.
Shirilla's mother said during her daughter's sentencing that she encouraged Shirilla to experience a "second of fun" when Halloween came around after "losing her whole world." Shirilla went to a concert with Russo's cousin and others, according to her mother.
Prosecutors also played TikTok clips in court in which Shirilla claimed, "I'm the one you die for," and, "I'm not even cool, I'm just one of those girls who can do a lot of drugs and not die," The Messenger reported.
However, doctors stated that Shirilla expressed "grief, guilt and shame" about the crash. Her lawyers argued that feeling bad after a fatal crash did not make the driver a murderer and said that prosecutors had not proved she had not just lost control while driving recklessly.
"There is no doubt that this happened because of the relationship with Dominic and the defendant's intent was clearly to end that, and she took everybody that was in the car with her," prosecutor Tim Troup told the court.
'Literal hell on wheels'
Following a four-day, non-jury trial, Shirilla was sentenced on Monday (21 August) to life in prison with the possibility of parole. Russo's mother opened up in her victim impact statement about the devastating loss of her son.
"Mackenzie, going to prison because you did this, be thankful you're still alive and have a future, whatever that may be," Christine Russo told the court, per NBC News. "Dom and Davion were robbed of their futures, their hopes and their dreams. Mackenzie showed no mercy on Dominic, nor did she on Davion. Only God at this time can have mercy on her soul."
Shirilla's mother asked the judge for leniency, claiming that her daughter had "no memory of the crash." Judge Russo, however, said that video of the crash was key in securing Shirilla's conviction as it showed how she "morphed from responsible driver to literal hell on wheels."
"We loved him so much. She would never ever ever murder the love of her life," Natalie Shirilla said, adding that her daughter had received death threats after being arrested. "For three months after the accident, she would only wear his clothes. She would only eat the snacks he ate. She would only listen to the music he wrote."
When Ms Shirilla noted that Flanagan was a new friend of her daughter, the judge interjected: "What does that mean? That his life is worthless?"
"God no," Ms Shirilla said. "They all spent every day together."
"But isn't that part of the problem, Ms Shirilla?" the judge asked. "That they all trusted each other? It's a problem how they all ended up in a car together and two of them ended up dead."
Shirilla, who was visibly upset moments before being sentenced, also addressed the court.
"I'm so deeply sorry. I hope one day you can see I would never let this happen or do it on purpose," she read while wiping away tears. "The families of Dominic and Davion, I'm so deeply sorry. I hope one day you can see I would never let this happen or do it on purpose. I wish I could remember what happened.
"We were all friends, and Dom was my soul mate. I wish I could take all your pain away. And to my family, thank you for the support and all the love you guys give. I love you all so much."
Russo's father Frank Russo told NBC News last week that while the loss of her son had wrecked his family's world, he hoped Shirilla could eventually be freed.
"It's horrible for everybody. Yeah, I lost my son, it's harder on our family, but I don't want the rest of her life ruined too, it isn't going to make me feel any better," the grieving father said at the time.
Shirilla will be eligible for parole after serving 15 years in prison.