Lindsay Clancy
Lindsay Clancy strangled her three kids while on 13 psychiatric drugs. Can postpartum psychosis be a defence?
Lindsay Clancy meticulously planned her childrens' deaths by searching how long it would take for her husband to run errands, prosecutors allege. Her defence attorney argues the case exposes a flawed mental health system. Bevan Hurley reports.
Thursday 09 February 2023 13:05 EST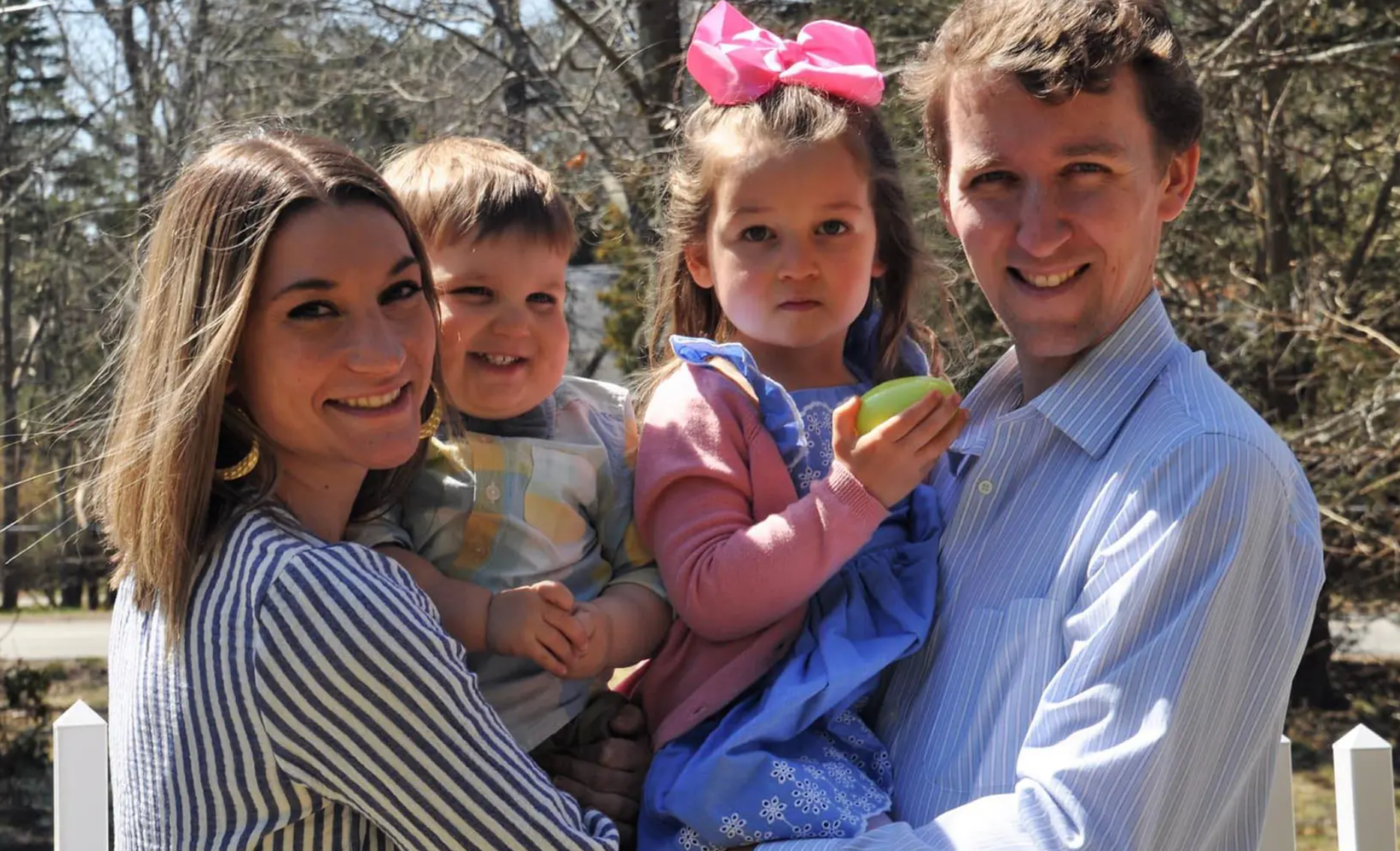 Around 5.15pm on January 24, Patrick Clancy left the family home that he shared with his wife Lindsay and their three young children in Duxbury, Massachusetts, to pick up a takeout meal and medication.
He returned just under an hour later and, unable to find his wife or kids, forced his way into the master bedroom upstairs, according to a timeline of events outlined by prosecutors and in court documents.
He noticed blood on the floor, and from an open window saw Lindsay lying on the frozen ground below. When he reached her she was barely conscious, and suffering from severe spinal injuries and cuts to her wrists and neck.
"What did you do?" he asked.
She told him she had attempted suicide, and that their daughter Cora, five, and sons Dawson, three, and Callan, eight months, were in the basement.
He stayed with his wife until first responders arrived, and upon entering the downstairs room began "screaming in agony and shock", prosecutors say.
Cora and Callan were lying in a den area. Dawson was in a separate room that had been turned into a home office. All three children still had exercise bands wrapped around their necks that prosecutors say Ms Clancy used to strangle them.
"She killed the kids," Mr Clancy screamed, according to a transcript of a 911 read out in court.
He removed the bands and "begged the children to breathe", according to prosecutor Jennifer Sprague.
Cora and Dawson were pronounced dead at the home. Callan died three days later at Boston Children's Hospital.
On Tuesday 7 February, Ms Clancy, 32, lay paralysed in a hospital bed as she appeared for a virtual arraignment via Zoom on charges of first-degree murder, three counts of strangulation and three counts of assault and battery with a dangerous weapon. She is likely to be charged with Callan's murder at a later hearing.
The 32-year-old's defence team have argued that Ms Clancy was driven to commit the murders by postpartum psychosis. At the time of the horror incident, Ms Clancy was under the influence of a cocktail of 13 psychiatric medications, the defence has said.
Those defence claims have prompted a difficult question: Should she be prosecuted?
Here's what we know about the case so far:
'One of her best days'
On the morning of 24 January, Ms Clancy had taken her daughter Cora to a pediatrician's appointment. She interacted with a nurse, receptionist and doctor at the clinic, and appeared to be in good spirits, according to prosecutors.
The 32-year-old then returned to the family home in Duxbury. Cora and her Dawson played outside in the snow, and Ms Clancy texted photos of the snowmen she had built with her children to her husband Patrick, who was working from a home office in the basement.
Mr Clancy would later say that his wife had been having "one of her best days" after a long struggle with anxiety, according to prosecutors.
At 4.13pm, she searched online to check how long it would take for her husband to travel from her home to the ThreeV Restaurant in Plymouth, according to a timeline read out in court on Tuesday 7 February.
The restaurant was further away than where the family usually ordered takeout meals from, Ms Sprague said during Tuesday's hearing.
She then called a nearby CVS pharmacy to check if they had Miralax, a children's laxative medicine, in stock.
Ms Clancy texted her husband at 4.53pm in his home office in the basement to say she didn't feel like cooking, and asked if he felt like takeout for dinner.
She placed an order of a Mediterranean power bowl for herself, and a scallop and pork belly risotto for him. She also asked him to pick up the kids' medication.
Ms Clancy placed the food order at 5.10pm, and her husband left five minutes later.
Patrick Clancy arrived at a CVS in Kingston, about six miles south of Duxbury, just after 5.30pm. Surveillance footage showed him in the children's aisle.
Chillingly, Mr Clancy phoned his wife during the period that prosecutors allege she was strangling her children.
The call went unanswered. Ms Clancy called him back in a 14 second call to confirm the children's medication.
Mr Clancy would later tell investigators that the call was unremarkable, but upon reflelction it seemed like she was in the middle of something, Ms Sprague said.
Prosecutors said it would have taken four to five minutes to kill each child.
A 'living hell'
During Tuesday's court hearing, opposing sets of attorneys set out drastically differing accounts of how the tragedy had unfolded.
Ms Sprague, the prosecutor, said the alleged murders had been carefully planned, and that phone records showed Ms Clancy had searched online how long it would take her husband to run the errands.
"She used Apple Maps to make sure she would have enough time to strangle each child before her husband returned from where she had sent him," Ms Sprague told the court.
Defence attorney Kevin Reddington said his client had likely been suffering from postpartum psychosis after the birth of her third child.
"This is not a situation, your honour, that was planned by any means," Mr Reddington said during Tuesday's court appearance, according to NBC Boston.
In an earlier interview, he told the Boston Herald that Ms Clancy, a labour and delivery nurse, had been trapped in a "living hell" after being prescribed 13 different psychiatric medications in the three months leading up to the children's deaths.
The mind-bending cocktail of meds had given her homicidal and suicidal "ideations" and turned the previously loving mother into a "zombie," he told The Herald.
Mr Reddington said during Tuesday's court hearing that his client's dosages and prescriptions had been repeatedly altered by doctors, and included benzodiazepines, antidepressants, mood stabilizers and Ambien.
She had checked herself into a psychiatric facility after having suicidal thoughts, he said. The childrens' deaths showed just how flawed the mental health system was, he added.
Lindsay Clancy was overmedicated on several prescription drugs, defense lawyer says
Ms Sprague countered that Ms Clancy had not been diagnosed with post-partum depression.
She said that Ms Clancy had called her husband from her hospital bed and told him she killed their children "because she heard a voice and had 'a moment of psychosis'."
Ms Clancy spinal injuries means she is unlikely to ever walk again, the court was told.
Prosecutors asked for Ms Clancy to be held without bail. Instead, the judge ordered she remain in the undisclosed hospital until she could be cleared to be moved to a rehabilitation facility.
Neama Rahmani, a former federal prosecutor and president of West Coast Trial Lawyers, told The Independent that Ms Clancy's lawyers had two options; argue that she was not fit to stand trial, or pursue an insanity defence.
"If the jurors are convinced Clancy suffered from mental illness and was unable to appreciate the wrongfulness of her conduct, they may return a not guilty verdict by reason of insanity."
Defence attorney Rachel Fiset, a managing partner at Los Angeles-based Zweiback, Fiset & Zalduendo LLP, told The Independent that to argue insanity her lawyer would have to convince a jury that she could not tell right from wrong.
"The fact that they're calling it a psychosis instead of a depression does seem to set up the argument that she would have perhaps lost the ability to differentiate between right and wrong," Ms Fiset said.
"If she is claiming to hear voices as a result of postpartum psychosis, if that is shown to be true there is no reason why the insanity defense would not apply."
'My little hero'
The alleged triple murder has shaken Duxbury, a wealthy seaside town founded in the 17th Century and located 34 miles south of Boston.
Opinion about whether Ms Clancy should be charged with murder has been divided.
Friends have posted moving statements online calling for greater awareness and understanding of postpartum depression.
"What I can say for sure is she was battling some serious demons, that nobody can understand if you've never experienced it yourself," wrote one, who asked not to be identified.
Others pointed to the loving posts she wrote about her children on her Facebook page.
An outpouring of support for Mr Clancy has seen more than $1m raised through GoFundMe.
In his only public statement, Mr Clancy wrote on the page that he forgave his wife and wants everyone else to do the same.
He said his wife had been demonised by many who did not know her.
"The real Lindsay was generously loving and caring towards everyone — me, our kids, family, friends, and her patients," he wrote in a 28 January post.
"The very fibres of her soul are loving. All I wish for her now is that she can somehow find peace."
He wrote that his youngest Callan had died "with enormous courage despite being so little".
"Maybe it was his way of demonstrating what I need to do to press forward. I'll always try to draw inspiration from him. He'll always be my little hero."
Post-partum depression
According to the American Psychological Association, as many as one in seven new mothers experience post-partum depression (PPD).
"Unlike the baby blues, PPD doesn't go away on its own. It can appear days or even months after delivering a baby; it can last for many weeks or months if left untreated," the APA advises.
Meghan Downey, a New York-based clinical psychologist, told The Independent that symptoms include a feelings of anger, anxiety, guilt and hopelessness, and the loss of interest in pleasurable activities.
Post-partum psychosis is a separate disorder which Dr Downey says only occurs in one or two births per thousand, and involves symptoms such as hallucinations, delusions and paranoia, that tends to present rapidly within one to four weeks after birth.
This should be treated as an emergency, Dr Downey says.
Treatments for both conditions involve a combination of pharmaceutical and psychotherapy options.
In one high-profile case of post-partum psychosis in 2001, Texas woman Andrea Yates was found guilty of murder after drowning her five children in a bathtub, only to have the conviction overturned at a second trial after a jury found her not guilty by reason of insanity.
If you are experiencing feelings of distress and isolation, or are struggling to cope, The Samaritans offers support; you can speak to someone for free over the phone, in confidence, on 116 123 (UK and ROI), email jo@samaritans.org, or visit the Samaritans website to find details of your nearest branch.
If you are based in the USA, and you or someone you know needs mental health assistance right now, call National Suicide Prevention Helpline on 1-800-273-TALK (8255). The Helpline is a free, confidential crisis hotline that is available to everyone 24 hours a day, seven days a week. If you are in another country, you can go to www.befrienders.org to find a helpline near you.