When people ripped her store's Pride flag, Laura Carleton hung up another. This time it ended with her murder
Hollywood stars and LGBT+ community members have condemned Laura Carleton's horrific senseless killing – while warning it's a sign of the anti-LGBT+ sentiment and hate spreading across the US. Faiza Saqib reports
Tuesday 22 August 2023 04:04 EDT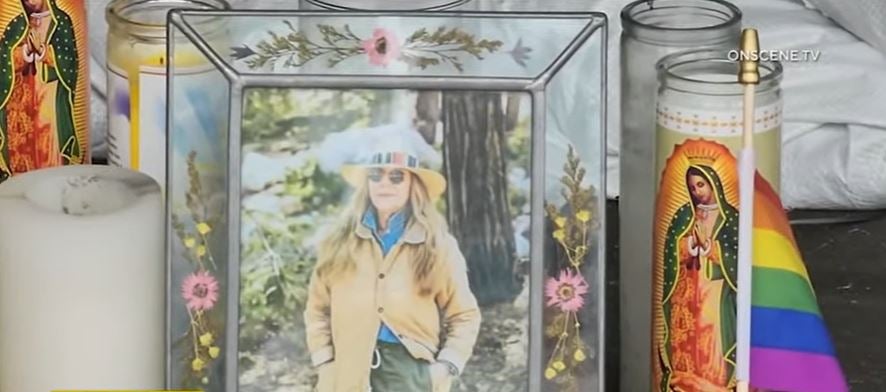 When people first ripped down the Pride flag hanging outside her Cedar Glen clothing store, Laura Ann Carleton simply got another and hung it straight back up.
Friends say this happened multiple times in the two years since she opened the California store as a second outpost to her first location in Studio City.
And, throughout it all, the 66-year-old mother-of-nine remained defiant as a prominent ally to the LGBT+ community.
This weekend, it happened once again.
California shop owner Lauri Carleton killed over Pride flag
Except this time, the flag removal ended with her murder – with the perpetrator shooting her in cold blood in the street.
On Friday, police said that the gunman began complaining about the Pride flag hanging outside of the store on Hook Creek Road. He then pulled out a gun, fatally shooting Carleton.
The killer, who was named by authorities as Travis Ikeguchi, 27, then fled the scene before being tracked down and killed in an encounter with law enforcement.
Hollywood stars and LGBT+ community members are now speaking out about Carleton's horrific murder, condemning the senseless killing and paying tribute to the 66-year-old – while warning that her shocking murder is a sign of the anti-LGBT+ sentiment and hate spreading across the US.
Murder over a rainbow flag
On Friday, 18 August at 5pm officers from the Twin Peaks Sheriff's Station responded to a report of a person who had been shot at the Mag Pi clothing store.
When police arrived on the scene, they saw that Carleton was suffering from a gunshot wound. She was pronounced dead at the scene.
Officials from the San Bernardino County sheriff's office said that there was an initial altercation that took place at Carleton's clothing store over an LGBT+ pride flag that the owner has displayed outside of her store.
The suspect made "several disparaging remarks about a rainbow flag that stood outside the store before shooting Carleton," police said.
The suspect then fled the scene and was later located near Torrey Road and Rause Rancho Road, armed with a handgun.
Police said in a statement when officials attempted to "contact the suspect a lethal force encounter occurred, and the suspect was pronounced deceased."
The investigation into Carleton's death is ongoing and police said no further details are being released.
Residents are urged to contact the homicide department with any information about the incident.
A 'true ally' and fashion leader
Carleton, 66, also known as "Lauri" was the owner of Mag Pi clothing in California.
She started her career in fashion during her teenage years and worked in the family business at Fred Segal Feet in Los Angeles, while attending the Art Centre School of Design, according to the Mag Pi store website.
Carleton then began running the "top fashion" show floor in the US at Joseph Magnin Century City.
She then joined Kenneth Cole and remained there for over 15 years, where she worked with factories and design teams in Italy and Spain.
The designer travelled with her husband across the US, Europe and South America, which fuelled her love for design, fashion, food, fine art and architecture among other things.
Her clothing store, Mag Pi, is "all about tackling everyday life with grace and ease and continuing to dream," the website reads.
Carleton's daughter, Ari, posted a heartfelt tribute on her Instagram, remembering her mother as a "fearless, cool and compassionate" human being and describing her death as a "hate crime."
The caption said: "As most of you know our beautiful mommy was taken from us in a senseless act of violence on Friday August 18th. She was murdered over a pride flag that she proudly hung on her storefront. Make no mistake, this was a hate crime. Her flags had been torn down before and she always responded by putting up a bigger one. Our family is broken. We have a long road ahead of us as we navigate this new reality without our loving matriarch."
The post continued: "We find peace in knowing she passed quickly in a place she cherished, doing what she loved while fiercely defending something she believed in. She was fearless, cool and compassionate – always putting others first. We are overwhelmed by the outpouring of love and support that our family has received from loved ones and strangers alike, it has provided hope and light in our darkest days. We will continue to advocate for love, equality and acceptance in everything that we do. Love will always triumph over hate."
'This intolerance has to end'
Tributes are now pouring in for the "beloved" mother of nine and business owner who was known to be a supporter and advocate of theLGBT+ community.
The death of Carleton has led to outrage across the country, with family, friends and famous figures sharing their grief on social media.
Actor George Takei, posted on X, formerly known as Twitter, that her death was a result of the anti-LGBT+ sentiment coming from the right.
"This is the result of the hate they spew. An innocent woman, a gentle and loving soul, has lost her life" he said.
"My heart aches for her family in the wake of this horrific murder. Those responsible go beyond the murderer. Every anti-LGBTQ politician, bigoted pundit, and right-wing hate monger has Laura Carleton's blood on their hands."
Close friend and Hollywood director Paul Feig, whose works include Bridesmaids and The Heat, posted a tribute on Sunday, calling Carleton his "wonderful friend".
The post, captioned with a photo of Carleton and him said: "We are all devastated for her husband Bort and her family and the LGBTQ+ community, for whom Lauri was such a true ally.
"This intolerance has to end. Anyone using hateful language against the LGBTQ+ community has to realize their words matter, that their words can inspire violence against innocent loving people. Let's all keep moving forward with tolerance and love. Let's not let Lauri's tragic death be in vain," he added.
The Lake Arrowhead LGBTQ+ community also described Carleton as a "friend and supporter" and said that although she did not identify as LGBTQ+, she spent her time "helping and advocating for everyone in the community."
Sex and the City actress Kristin Davis also posted a tribute and said Carleton was a "strong ally" within the community.
Davis's caption said: "I had the pleasure of meeting Lauri and shopping in her charming store over the summer. I cannot comprehend what has happened and I can only imagine what her family and close friends are going through.
"We cannot rest in our work towards love and understanding and equality for every person. It is abundantly clear that divisive senseless hate is the only motive for this hate crime. Lauri was a strong ally, when her Pride flags were stolen she quickly replaced them. To think that she was murdered for her support of our LQBTQ+ family tears my heart into pieces.
"I want Lauri to be known as the HERO she was and is. I want her family to know we are thinking of them and for everyone to know that we must continue to stand up for what is right! #lovewins."