How Kouri Richins turned from grieving widow to accused killer by poison: 'It wasn't necessarily unexpected'
Kouri Richins wrote a children's book about the untimely loss last year of her husband Eric, billing it as an effort to help their sons grieve and heal. Now the mother is behind bars, accused of plotting her husband's poisoning murder for profit. Sheila Flynn reports
Monday 12 June 2023 14:53 EDT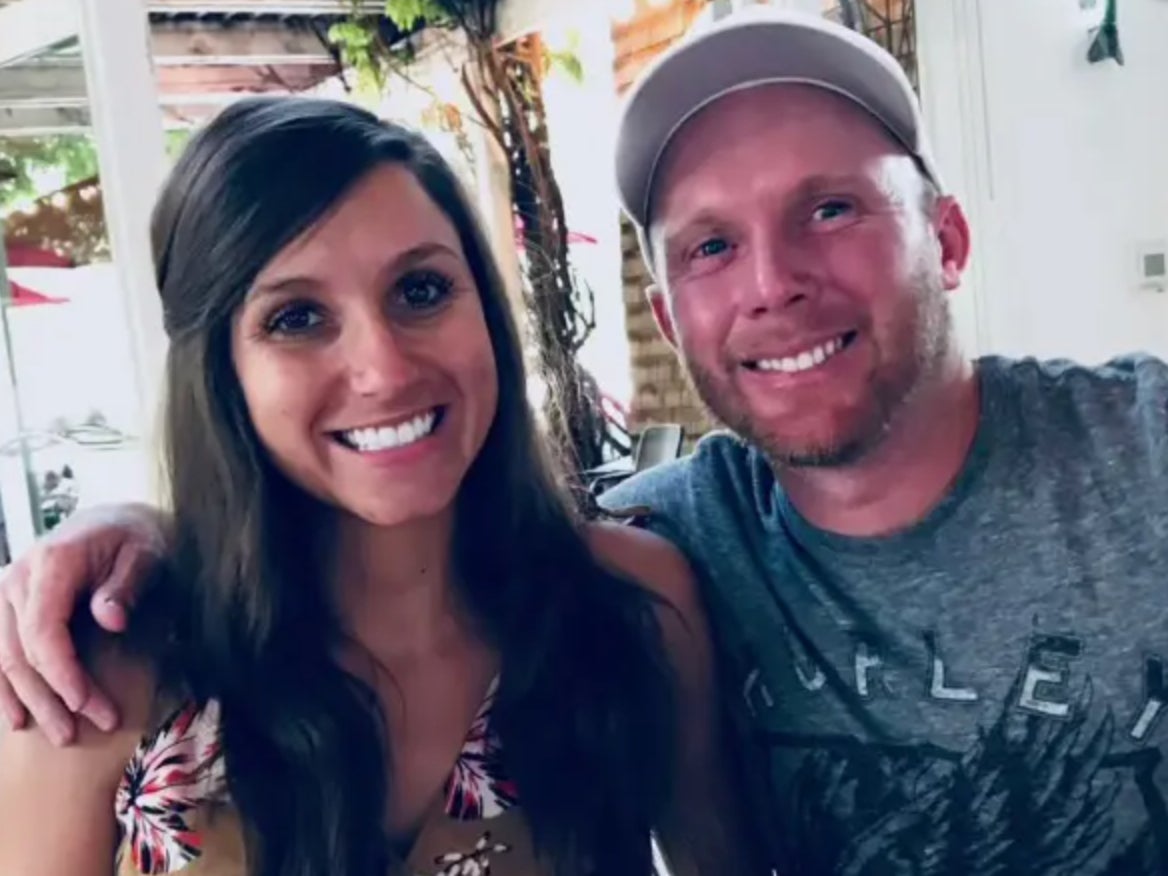 In July 2021, Utah mother-of-three Kouri Richins was keeping a family secret.
She was on a trip to Cancun, Mexico, and her brother, Ronney, was about to ask his girlfriend to marry him. Kouri, already married herself, was in on her sibling's plan; she secretly recorded as Ronney surprised his girlfriend with a proposal that she quickly and happily accepted.
Kouri and her husband, Eric, were both invited to be in the newly-engaged couple's bridal party, Kouri as a bridesmaid and Eric as a groomsman. The wedding was scheduled for August of the following year.
Eric, however, would be dead by then — after Kouri, prosecutors allege, carried out a secret and homicidal plan of her own. The 39-year-old died on 4 March 2022 after ingesting a fentanyl-laced cocktail prepared by his wife, prosecutors say.
But more than a year would pass before Kouri would face charges, and in that period, she not only played the part of grieving widow but also capitalised upon it — writing a children's book about dealing with loss that she promoted on television just weeks before authorities arrested her for murder.
And so, on the weekend the Richins clan should have been celebrating Mother's Day and marking Eric's 41st birthday, his children were fatherless. His wife was in jail. And members of their community — along with the rest of America — were struggling to come to terms with the villainous accusations that Kouri callously plotted her husband's poisoning murder for profit.
The accusations were not news to Eric's siblings and closest family members, however.
"It's been a bit of a whirlwind, because Eric died over a year ago, and [his family] had obviously been involved in taking care of his estate, trying to maintain some relationship with the children, and working with the police and prosecutors who were investigating his wife," lawyer and Richins family spokesman Greg Skordas tells The Independent on Wednesday, just two days before Kouri is scheduled to appear in court for a detention hearing.
"And so everything sort of happened all of a sudden, and she was charged, and it wasn't necessarily unexpected, but it certainly brought on a flurry of attention to the case that hadn't happened for over a year."
Kouri's arrest, then weekend combination of Mother's Day and Eric's birthday, "was all hard because it all just resurfaced again," he says. " And you've got to think about the boys too, because they've lost their father. And, for most purposes, they've now lost their mother."
He says: "It was right up until the end that she was carrying on as though nothing had happened, and that she was a victim, and she was a martyr and promoting her book. And I don't know to what extent she knew this was coming or suspected it, but we certainly did."
Kouri appeared in court on 12 June and sobbed as she was denied bond and set back to Summit County Jail — about a 20-minute drive from the sprawling home she shared with her late husband and their three boys in Francis, Utah.
That home has been at the centre of much legal wrangling, since Eric's death, between Kouri and the Richins family, who immediately suspected his wife of foul play. Court records mention a private investigator, presumably retained by the family, though Mr Skordas declined to comment.
He said the family was pleased with the arrest.
"In this day and age, when a person dies of an opioid overdose, it's not necessarily immediately seen as a problem, because it happens far too often -- and so it took a while to show the police and have the police confirm that this wasn't an accidental drug overdose and, in fact, it was something that was caused by someone else," Mr Skordas told The Independent. "And once they did their investigation, and they did a great investigation, they were able to confirm what the family already knew."
Eric and his wife had originally met while Kouri was working as a cashier at Home Depot, according to a fellow employee who says she helped play matchmaker. Linda King told local station KUTV that Eric, who grew up on a cattle ranch and owned a stone masonry business, had been a loyal and well-liked customer at the store.
"You could never forget his laugh," she told the station. "I loved that laugh so much. He would come into my line all the time."
She said she'd encouraged Eric to talk to his future wife after getting the impression he liked her.
"I said [to] go over there and check out with her, you know, so they did, and they ended up having a date," Ms King said. "From then on, they were like glued to each other. It was perfect, I thought."
The couple moved into a spacious mansion on Willow Court in Francis and married in the home's backyard on 15 June 2013. Eric's first marriage had ended in divorce, and Kouri signed a pre-nuptial agreement on the same day as her wedding agreeing that, bar her husband's death, she would have no claim to his 50 per cent stake in his business.
The pair welcomed three sons, now aged 10, nine and six, and Kouri left the cashier job to work in real estate. By the looks of it, the family was going from strength to strength; they lived in a five-bedroom, four-bathroom home of nearly 5,000 square feet valued at more than $1.1m. They enjoyed holidays abroad and the finer things in life; according to his obituary, Eric "owned almost every motorized toy possible, from four-wheelers and side-by-sides, to trucks and snow mobiles".
A serious athlete from a ranching family, Eric doted on his sons and other relatives and was known for his laughter, likability and willingness to help others, the obituary continues.
"He spent countless hours coaching and teaching the boys to 'play aggressive' and 'give it their all!'" it states. "Eric truly cared about every single child he coached and wanted the absolute best for all of them."
A member of the Church of Jesus Christ of Latter Day Saints, Eric "never was one that wanted recognition or accolades; he did most things anonymously and without recognition," the obituary continued.
"Eric was a true champion of all people. It did not matter if you were an employee, family, friend, or the next random person walking down the street. If you needed anything, you could count on him. He truly cared about each person he met. He was always trying to help people find better situations in work and in life. Eric made sure to set time aside to do what he loved most and made sure that everyone around him did the same.
Kouri is described as the "love of his life" and "wife of nine years" — but, according to court documents, she was one person in Eric's life who seemed to be causing him concern, long before his untimely death.
Years ago, on a trip to Greece, Eric became "violently ill" after Kouri gave him a drink, according to an affidavit — and he later called his sister saying he believed Kouri had tried to kill him, theSalt Lake Tribune reported.
"While investigating the death, I was told by Eric's family members that they suspected his wife had something to do with his death," deputy Jayme Woody wrote in an affidavit for a search warrant, the paper reported. "They advised he warned them that if anything happened to him, she was to blame."
Eric's concerns had been ramping up in the months before his death; he had changed his will and life insurance beneficiary from his wife to his sister, the Tribune reported, adding that the search warrant affidavit states: "He was looking for a divorce and wanted his kids taken care of."
There were also signs that Kouri was engaging in financial shenanigans.
"In January of 2022, Eric's wife logged into Eric's life insurance policy … agreement with his business partner and changed them from each other's beneficiary to her as the only beneficiary," a 2022 search warrant obtained by Fox News Digital states. "They were notified by the insurance company and able to change it back."
According to Mr Skordas, Eric was considering divorcing — but staying for his children, the best interests of his boys at the forefront of his mind.
On Valentine's Day 2022, however, the couple celebrated the holiday with a dinner at home — after which Eric again became very ill.
"Eric believed that he had been poisoned," the documents state. "Eric told a friend that he thought his wife was trying to poison him."
Within weeks, prosecutors allege, she did exactly that.
At some point between December 2021 and January 2022, according to court documents, Kouri had contacted an acquaintance with drug convictions and asked them to procure "some pain medication for an investor who had a back injury."
The acquaintance bought hydrocodone pills from a dealer and left them at a house Kouri was flipping; she left cash in return, the documents state. But Kouri reached out again about two weeks later, claiming the investor wanted "something stronger" and asking for "some of the MichaelJackson stuff ... specifically for fentanyl." Three days before Valentine's Day, Kouri paid $900 for 15-30 fentanyl pills, the documents state.
But two weeks after that, she again went back to the acquaintance and asked for another $900 worth of the same drugs; the pills were left a the outdoor fire pit of the Midway house, where Kouri had left cash, according to the documents.
Eric died six days later of a fentanyl overdose — and Kouri almost immediately closed on the Midway house, which they'd allegedly been arguing about; relatives believed Eric was going to tell his wife he didn't want to buy the home. She held a party at her home the day after his death to celebrate the property deal; according to court documents, Eric had never informed her he'd taken her out of his will — and it was only at the party that she discovered that fact.
Two weeks after his death, Kouri put the 20,000-square-foot home back on the market, KPCW reported after her arrest. Realtor Mike Malmrose told the outlet that the mansion was under contract with an asking price of $3.75m.
Kouri Richins closed on a 20,000-square-foot home she hoped to flip immediately after her husband's death
On 10 May, Eric's family filed a petition to invoke Utah's "slayer statute," which prevents killers from profiting from their crimes. Kouri's legal team had not responded yet as of 12 May, KPCW reported.
According to the family petition, Kouri began encountering financial problems as early as 2016 and started secretly stealing money from Eric to flip houses, KPCW reported. In September 2020, however, he discovered she'd withdrawn at least $100,000 from his bank account and spent $30,000 on his credit cards — as well as using his power of attorney to secure a $250,000 loan and cashing checks from his business for her own use, the family claims in the petition.
The petition states that Kouri admitted to taking the money when confronted by her husband, according to KPCW.
The new widow, before her arrest for murder, had already been embroiled in civil legal battles with her in-laws. Eric's sister, Katie Richins-Benson, filed court documents to formally take over his estate following his death, but Kouri contested the move, and Kouri has also sued Eric's sister in a separate civil case.
As legal wrangling loomed, however, Kouri was working on another project — writing a children's book about coping with grief that was ostensibly inspired by her own experience of loss. Her mother, in March, was excitedly sharing the publication of Are You With Me?, writing on Facebook on March 16: "Her book is out! Buy it on Amazon today!!!"
Kouri was skilled at self-promotion, as well — appearing only last month on a local television station.
"My husband passed away unexpectedly last year. March 4 was a one-year anniversary for us, He was 39," she said on ABC4. 
"It completely took us all by shock," she added. "We have three little boys, 10, nine and six, and my kids and I kind of wrote this book on the different emotions and grieving processes that we've experienced in the last year. I went on Amazon and Barnes and Noble to try to find something to help us cope at night, nights are the hardest. I just wanted some story to read to my kids at night and I couldn't find anything that suited them, so I was like 'let's just write one'."
The Amazon page for the book had been taken down by 12 May, as had Kouri's Facebook page, and both her family and lawyer did not respond to requests for comment from The Independent.
It's not hard to imagine that her relatives — like so many who knew the couple — were still in shock, one month before what would have marked the 10-year anniversary of Eric and Kouri's wedding date.
"I pray to God this isn't true," Ms King, who'd known the couple from the start, told KUTV. "Their family was so beautiful.
"Everything was picture-perfect," she said. "But I guess it wasn't."