Manhunt enters seventh day after murder suspect is accidentally released from Indiana prison
Kevin Mason, 28, was mistakenly released from prison on 13 September due to a records-keeping error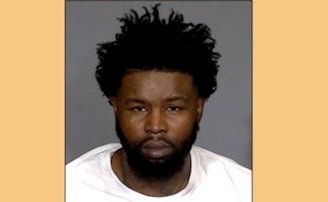 A manhunt has been launched to find a suspected murderer who was accidentally released from an Indianaprison.
Kevin Mason, 28, was mistakenly freed from Marion County's Adult Detention Center (ADC) on 13 September – just two days after he was arrested – due to a records-keeping error, authorities admitted.
Police then waited six days before informing the public of Mr Mason's release.
Colonel James Martin with the Marion County Sheriff's Office revealed details of the bungled incident on Tuesday, hours before the search entered its seventh day.
"I want to reassure the public that a round-the-clock manhunt has been underway ever since," he said, adding that authorities didn't inform the public because they wanted to use the time as a "tactical advantage" against Mr Mason to prevent the risk of him running underground.
The sheriff's office believes Mr Mason remains in Marion County and is receiving help from someone locally.
Mr Mason was wanted on a murder warrant in connection to a fatal 2021 shooting in Minneapolis, as well as on charges of parole violation and firearms possession.
He is accused of shooting and killing Dontevius A Catchings, 29, in the Shiloh Temple parking lot after the funeral of a mutual friend, according to local news reports at the time.
Since his release from prison last week, multiple officials have been fired with Mr Martin saying that the Ramsey County clerk and two Marion County clerks failed to notice an error relating to Mr Mason's booking information.
"This should not have happened," he said.
An investigation is now under way to determine if any policy or procedural violations occurred.
Mr Mason is described as five feet nine inches tall, and weighing about 205 pounds. He has a cross tattoo under his right eye, "SUB" tattooed on his chest and also has a neck tattoo.
Residents are encouraged to provide any details or tips that might aid police in identifying and locating Mr Mason.
People with information are urged to call Crime Stoppers at 317-262-TIPS and anyone who sees Mr Mason is asked to call 911.
Mr Mason is not the first murder suspect to have been mistakenly released from the Indianapolis jail since it began operating in January 2022.
In May 2022, Noah Edwards, who is facing charges of murder and robbery resulting in serious bodily injury, was mistakenly released from the prison after another person in the jail with a similar name was supposed to be released that same day.
Police arrested Mr Edwards 11 hours later on the southwest side of Indianapolis.