Gun violence
Kaylin Gillis: What we know about shooting death of New York woman after she got the wrong driveway
Kaylin Gillis was going to spend Saturday night with friends. Instead she was shot and killed all for going to the wrong address, reports Rachel Sharp
Thursday 20 April 2023 09:07 EDT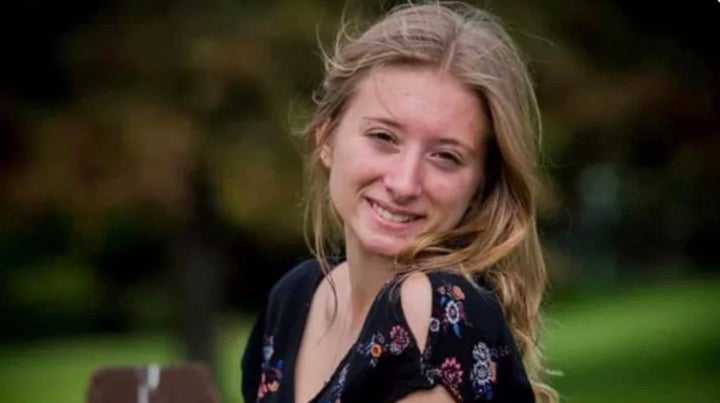 It was a Saturday night and a group of friends were going to visit another friend.
One of them would end up dead – the latest victim of a random act of gun violence in America.
Kaylin Gillis, 20, was fatally shot all because the group took a wrong turn and ended up in the wrong driveway of the wrong home.
And because the homeowner Kevin Monahan allegedly decided to grab a firearm and open fire on the vehicle.
Mr Monahan, 65, is now behind bars charged with the 20-year-old's murder while her family and friends have been left to grieve the life tragically stolen.
Here's what we know so far about the case:
The shooting
Gillis was travelling in a car with three friends when they made a wrong turn looking for a friend's house in Hebron, rural upstate New York, on Saturday night (15 April).
Washington County Sheriff Jeffrey Murphy said at a press conference on Monday (17 April) that the group accidentally drove into the driveway of Mr Monahan's home.
"It's a very rural area with dirt roads. It's easy to get lost. They drove up this driveway for a very short time, realised their mistake and were leaving, when Mr Monahan came out and fired two shots," the sheriff said.
Investigators said the group had already realised their mistake and were turning in their vehicle to leave when the 65-year-old came out onto his front porch and opened fire on them.
Police said Mr Monahan fired two shots – one of which struck Gillis inside the vehicle.
Due to the lack of cellphone reception in the remote area where the shooting took place, the group drove five miles to the neighbouring town of Salem to call 911.
Emergency responders arrived on the scene but Gillis was pronunced dead from her injuries.
The suspect
Mr Monahan was arrested and charged with second-degree murder – after a standoff with police.
Sheriff Murphy said that officers responded to his property following the fatal shooting but Mr Monahan was uncooperative and refused to come out of his home to speak to police.
Members of the New York State Police Special Operations Response Team were called to the address where – after several hours – they were able to take him into custody.
He was booked into the Warren County Jail on the charges.
The sheriff said that there was no reason for Mr Monahan to feel threatened by the group of friends, who are not thought to have even exited the vehicle or had any interaction with the shooter before he opened fire.
"There was clearly no threat from anyone in the vehicle. There was no reason for Mr Monahan to feel threatened," he said, adding that it is easy to get lost in the rural area.
"This is a very sad case of some young adults that were looking for a friend's house and ended up at this man's house who decided to come out with a firearm and discharge it," the sheriff said.
Since the shooting, Mr Monahan has shown "no remorse" for the fatal shooting, according to the sheriff.
"(He), quite frankly, has not shown any remorse in this case," Sheriff Murphy told CNN.
One of the suspect's neighbours has revealed that Mr Monahan had grown increasingly bitter over the years about trespassers coming onto his land by mistake.
"I'm just a bit overwhelmed," Adam Matthews told The Associated Press. "It is a tragic event."
Mr Monahan's lawyer Kurt Mauser disagreed with the version of events coming from New York officials.
"This was not a simple case of coming up a driveway and turning around," he said.
"The description I was given by my client is there were multiple vehicles, including a motorcycle, revving engines, coming up the driveway at a high rate of speed."
Boyfriend breaks silence
Gillis' boyfriend Blake Walsh has spoken out about the moment his girlfriend was killed as he said "my world was taken from me Saturday".
Mr Walsh, 19, told NBC News that he, Gillis and the group was driving along with another car that also entered the same driveway but they all realised they were in the wrong place and were in the process of leaving when the gunfire began.
"We thought we were at the right address," he said. "We didn't have any cell service to figure it out. As soon as we figured it out that we were at the wrong location, we started to leave, and that's when everything happened."
"My friend said, 'They're shooting, go!' I tried to step on the gas as fast as I could, and that's when the fatal shot came through," he added.
He said he just hoped that Gillis didn't suffer: "I want to believe it was instant. I'm hoping it was. I'm praying it was."
Mr Walsh revealed how the young couple had been dating for four years since meeting at high school and wanted to spend their lives together.
"I had high hopes, and I had plans," he said.
"I didn't want to be with anybody else, and I wanted to spend the rest of my life with her."
The 20-year-old loved animals and was working towards becoming a marine biologist, he said.
"I want the world to know how good of a person she really was and how much she impacted everybody who had the fortunate opportunity to be in her life," he said, adding that he will miss "how happy she was able to make me".
Tributes pour in for victim
A GoFundMe campaign launched to help pay for funeral expenses had topped $131,000 as of Thursday morning (18 April).
"Kaylin just turned 20-years-old. She was traveling with friends when they mistakenly turned into the wrong driveway. As they were leaving in the vehicle, the homeowner opened fire upon their car and Kaylin was struck and killed," it reads.
"On behalf of the Gillis family, we would like to thank everyone who has offered their love and prayers as they embark on this incredibly difficult journey of grief and healing. The dollars raised through this fund will go directly to the Gillis family for use toward Kaylin's funeral expenses and any immediate financial needs.
"Again, thank you for your support of this incredible family. Your kindness, prayers and love are felt by the Gillis family and everyone in the community that has suffered this tragic loss."
Several people also took to social media to pay tribute to Gillis.
Several family members and Gillis' boyfriend changed their social media profile photos to images of the 20-year-old.
"Gone way to soon...rest in the sweetest peace Kaylin i hope you relaxing with Uncle Brian and our other family members up there. Family means everything to me and anything helps. I know her parents and sisters along with our entire family greatly appreciate everyone who has taken the time to share this!" one family member posted on Facebook.
"Rest in Peace my baby girl. Daddy loves you so much," her father wrote.
In a Facebook post on Tuesday, he said that his family is devastated.
"Kaylin was a kind, beautiful soul and a ray of light to anyone who was lucky enough to know her," he said.
"She was just beginning to find her way in the world with kindness, humor, and love. ... She was taken from us far too soon."
Mr Gillis said that his daughter was an honors student and talented artist who was looking forward to attending college in Florida with dreams of becoming a marine biologist.
"Our family will never be the same but we will be guided by Kaylin's positivity, optimism, and joy as we learn to live with her loss," he wrote.
Schuylerville Varsity Cheerleading also paid tribute to the former cheerleader saying "we lost one of our alumni in a horrific incident".
"Kaylin graduated from Schuylerville in 2021. She was such a sweet girl, with a kind heart and big smile. She was always laughing. Rest easy sweet girl, our hearts are broken," the cheer group wrote.
A familiar story
The fatal shooting of the 20-year-old in New York shares eerily similar circumstances with the shooting of a Black teenager in Missouri.
Just two days before Gillis was shot dead by a homeowner for turning onto the wrong driveway, Ralph Yarl was shot in the head by a homeowner when he got the wrong house.
The 16-year-old high school junior had gone to collect his siblings from a friend's house on 115th Terrace in Kansas City, Missouri, on the evening of 13 April, according to Kansas City Police.
Police said that the teenager got muddled up with the address and went to a home on 115th Street by mistake.
There, Ralph allegedly rang the doorbell and the white homeowner Andrew Lester, 84, opened fire on him through a glass screen door using a .32 caliber revolver.
Ralph was shot twice – once in the head and once in the arm.
Following the shooting, Ralph managed to stumble away to some other homes in the neighbourhood to get help and was rushed to hospital.
On Sunday (16 April), Ralph was released from hospital to continue his recovery at home.
Mr Lester was finally charged the following day with first-degree assault and armed criminal action.
In the Missouri case, prosecutors said "there was a racial component to the case" but have provided no further details.
Ralph's shooting – which marks the latest in a constantly-growing number of shootings of Black people in America – sparked protests in the city over the weekend demanding justice for Ralph and prompted an outpouring of support from celebrities.