Teenager indicted for murders of his sister-in-law and her two young sons
Eric Sweeney, 17, has been charged with three counts of first degree murder, the New Hampshire Attorney General's office announced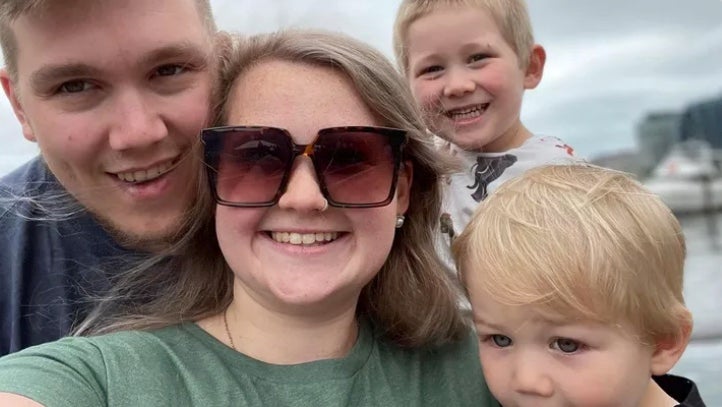 A 17-year-old man has been formally indicted with the murder of his sister-in-law and her two young sons at their family home in New Hampshire.
Eric Sweeney has been charged with three counts of first degree murder, following the deaths of Kassandra Sweeney, 25, and her two sons Benjamin and Mason Sweeney, who were four-years-old and 23-months-old, respectively.
The three bodies were discovered lying next to each other at their house in Northfield on 3 August 2022 by police responding to a 911 call.
Autopsies revealed that each victim died from a single gunshot wound, with all three deaths ruled as homicides.
Sweeney was arrested last year while he was still a juvenile, so no information about his identity was released at the time. Because of the severity of the charges, the case was transferred to adult court.
On Wednesday New Hampshire Attorney General John M Formella announced his indictment by the Merrimack County Grand Jury in connection with the murders.
"The Grand Jury has indicted Eric Sweeney on three counts of first-degree murder for purposely causing the deaths of Kassandra, Benjamin, and Mason Sweeney, by shooting them," a statement from Mr Formella's office read.
"Eric Sweeney was also indicted on one count of falsifying physical evidence, which alleges that Eric Sweeney, knowing that an investigation was about to be instituted, did alter, destroy, conceal, or remove a Taurus .40 caliber handgun, with the purpose of impairing its availability in said investigation."
The office added that Sweeney was currently being held and an arraignment would be scheduled by the court.
Sean Sweeney, husband of Kassandra and father of the two boys, previously spoke out having his name "dragged through the mud" in the aftermath of the killings.
The AG's office previously said that Mr Sweeney had cooperated "fully" with their investigations.