Love rival murder, a harrowing 911 call and bike DNA: Key moments in the Kaitlin Armstrong trial
After two and half weels of evidence, Kaitlin Armstrong was swiftly convicted of killing professional cyclist Anna Moriah 'Mo' Wilson after they were allegedly involved in a love triangle. Andrea Cavallier and Andrea Blanco explain the most crucial moments in her high-profile trial
Friday 17 November 2023 18:13 EST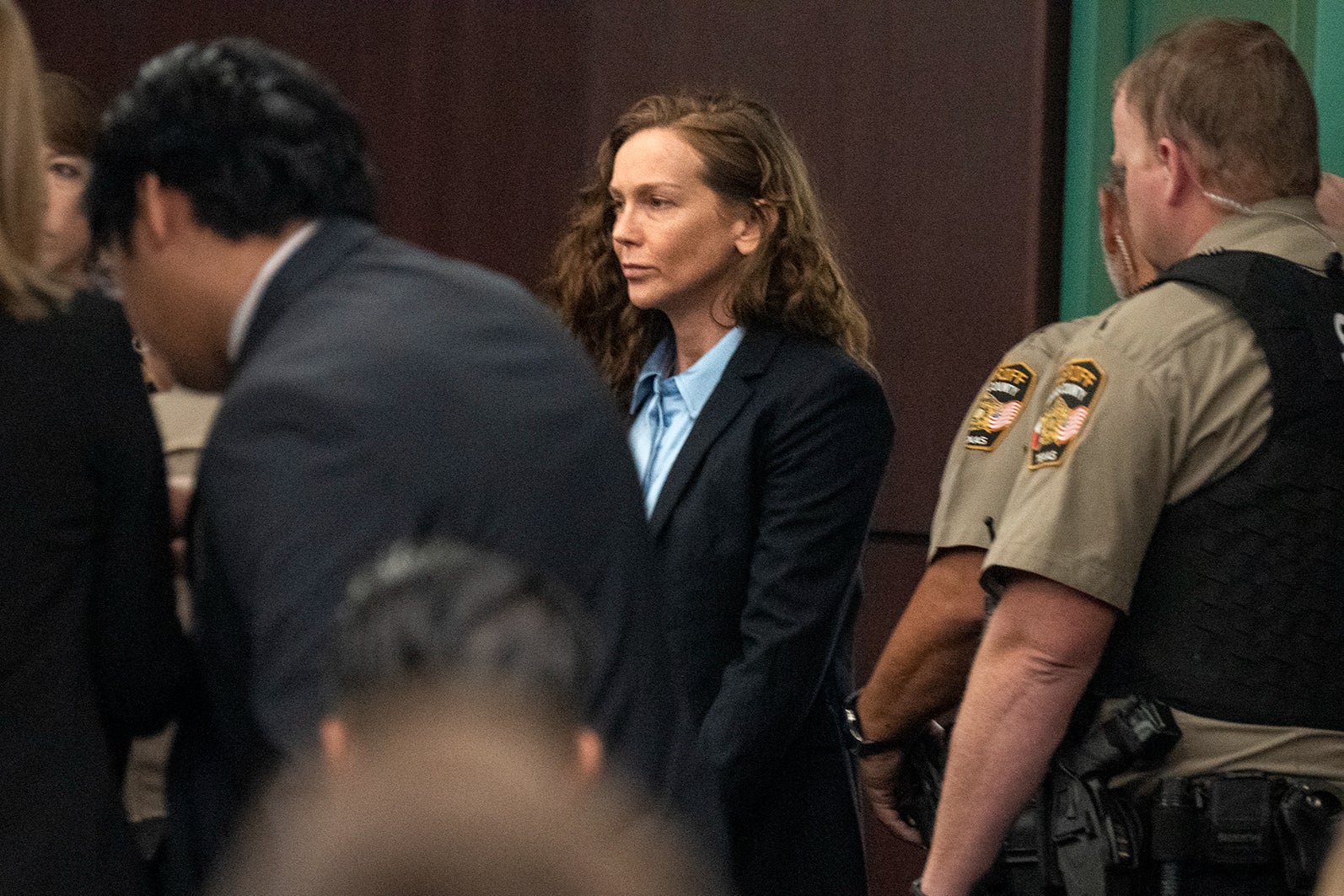 It was a case that shook the cycling world and made international headlines when a Texas yoga instructor was accused of fatally shooting a rising star cyclist in a jealous rage following an alleged love triangle.
Kaitlin Armstrong was questioned by police after the May 2022 slaying of 25-year-old Anna Moriah "Mo" Wilson, but then fled the country to Costa Rica for 43 days.
Police have said Wilson had previously dated Ms Armstrong's boyfriend, Colin Strickland, who also was a competitive gravel racer, and had gone swimming with him hours before she was killed. Mr Strickland cooperated with police and was quickly cleared.
Meanwhile, Ms Armstrong was finally captured and brought back to the United States but made headlines again when she tried to escape police custody during a doctor's appointment, jumping a fence and running about a mile before the escape was thwarted.
Ms Armstrong, now 35, pleaded not guilty to murder but was convicted of the brutal crime following a two and half week trial in Austin, Texas. Jurors deliberated for just two hours before returning a guilty verdict.
Here are the key revelations from the trial:
Mo Wilson's final screams captured on video
The murder trial began on 1 November with Texas prosecutors telling jurors they would hear Wilson's final screams and the shots that killed her.
"The last thing Mo did on this earth was scream in terror," Travis County prosecutor Rickey Jones told jurors in opening statements.
He said nearby surveillance equipment captured the screams.
"Those screams are followed by 'Pop! Pop!'" Mr Jones said, smacking his hands together for emphasis. "You won't hear any more screams after that."
Seconds after those shots, Mr Jones said, "Kaitlin Armstrong stood over Mo Wilson and put a third shot right into Mo Wilson's heart."
Defence says Armstrong fled the country after shooting 'because she likes to travel'
The murder case drew international headlines when Ms Armstrong fled the country after her initial meeting with police just days after the fatal shooting, leading to a 43-day search.
In a short opening statement at trial, defence attorney Geoffrey Puryear suggested Ms Armstrong's sudden flight out of the country was not an attempt to escape justice.
"She would have no reason to know about any (arrest) warrant, You will hear Kaitlin is passionate about travelling and passionate about yoga," Mr Puryear said.
He also said that Ms Armstrong was caught in a "web of circumstantial evidence" and that no video evidence or witnesses can put Ms Armstrong at the scene of the shooting.
Investigators said she sold her vehicle for $12,000 and fled the country using her sister's name, email, credit card and passport.
Federal authorities tracked Ms Armstrong to Costa Rica, where prosecutors said she spent $6,425 for surgery to change her appearance and used several aliases while attempting to establish herself as a yoga instructor.
She also had cut and darkened her hair, and had a bandage on her nose and discoloration under her eyes when arrested at a beachside hostel. She told police when she was arrested that she was injured in a surfing accident.
Wilson's family breaks down listening to heart-wrenching  911 call
Caitlin Cash, Wilson's friend who the cyclist was staying with the night she was killed, was one of the first witnesses to take the stand.
Ms Cash found her friend covered in blood and not breathing when she returned home from dinner.
Her voice cracked as she recalled seeing her feet and thought she was just lying on the bathroom tile floor to cool off. But when she announced her arrival, there was no response.
"She was covered in blood, lying on her back," Ms Cash told the court as she began to cry. "I immediately bent down and tried to wake her up. Pretty quickly, I called 911."
Prosecutors then played Ms Cash's gut-wrenching 911 call where the court could hear crying as she told the dispatcher, "Her brain is leaking."
An emotional Ms Cash could be heard counting out loud as she follows the dispatcher's instructions and delivers chest compressions to her friend.
"She is laying on the bathroom floor and there is blood everywhere. I can't tell what happened," she is heard telling the dispatcher. "She's not awake. There is blood all over her face and the back of her head."
As the 911 call was played in court, Ms Cash was visibly distraught on the stand and many of Wilson's family left while others were seen weeping in court.
Armstrong remains 'emotionless' as graphic photos shown
Early in its case, the prosecution presented graphic photos of the bloody crime scene where Wilson was found dead and has listened to a harrowing 911 call after her body was found by her friend.
Many of Wilson's loved ones broke down in the Austin courtroom. Family members left, unable to watch or listen to the horror. Her father, at one point, appeared to plug his ears with his fingers and kept his head down.
But Ms Armstrong sat at the defence table and stared ahead. Reporters in the courtroom tweeted that she did not turn away from the horrific images, but instead stared ahead and remained "emotionless" throughout the testimony.
Yoga teacher tracked Wilson with an app
Mo Wilson had previously dated Ms Armstrong's boyfriend, Colin Strickland, who also was a competitive gravel racer, and had gone swimming with him earlier in the day of the murder.
During opening statements, prosecutors said they would show that Ms Armstrong tracked Mr Strickland's communications with Wilson — as well as Wilson's whereabouts — in the weeks and days before the shooting.
Ms Armstrong was able to track Wilson's location because she had not turned on a safety feature on a phone app, they said.
The yoga teacher's SUV was seen at the apartment where Wilson was staying with her friend the night she was killed. Police also said shell casings found at the scene matched a gun found at Ms Armstrong's home.
Investigators quickly cleared Mr Strickland and prosecutors said on 1 November that video and cellphone calls, texting, and location data will confirm that he was nowhere near the shooting.
Key DNA evidence ties Armstrong to murder
Dramatic courtroom testimony on 2 November revealed that DNA evidence found on Wilson likely ties her accused killer to the crime scene.
Jurors heard testimony from Sgt Timothy Price who responded to the scene of the murder. He said Wilson's bike was found lying in the middle of bamboo a few yards from the apartment.
It was swabbed by another crime scene investigator, he said.
DNA found on the bike was "highly likely" to have come from Ms Armstrong, prosecutors told the court during opening statements.
But, during witness testimony, defence attorney Rick Cofer questioned crime scene specialist Katie Ferrara about why the bike had been taken to the police department without a protective covering.
She said the police did not have a big enough bag for the bike.
Ms Ferrara also testified that there were no track marks in the grass leading to where the bike was located, and that she did not know how the bike got there.
Austin police detective Rolando Ramirez, another witness for the prosecution, testified on 2 November that he thought Wilson's killing was "more of a personal thing or more of anger type of shooting".
His theory was based on the fact that there was no sign of forced entry and no signs of struggle. Nothing appeared to have been stolen from her home, he added.
Ms Armstrong's eerie 'send my love to Mo' message
The man at the centre of the love triangle that prosecutors say is the motive behind Wilson's murder took the stand on 3 November.
Visibly shaken and with his eyes closed for most of his testimony, according to reporters in the courtroom, Mr Strickland told the jury about his relationship with both Wilson and Ms Armstrong.
Mr Strickland said that while he and Ms Armstrong loved each other, their relationship was "tumultuous" due to her constant fits of jealousy. He also said that he and Wilson maintained a brief relationship while he and Ms Armstrong were broken up, but remained friendly after he reconciled with the yoga teacher.
However, Wilson and Mr Strickland kept seeing each other at competitions or cycling events. And in one instance shortly before the murder, he posted a video on Instagram of himself after a race in which Wilson happened to be in the background.
"Send my love to Mo," Mr Strickland testified that Ms Armstrong had texted him in reference to the video, which he said he found "passive-aggressive."
Missed signs of Armstrong's plans to flee
Mr Strickland and Ms Armstrong were told about Wilson's murder by Austin Police detectives on 12 May 2022, just a day after the murder. Bodycam footage shown to the court reportedly showed that the two seemed shocked after learning the tragic news.
Mr Strickland later joined investigators at the police station, where he gave a statement for nearly six hours. The following day, authorities served a search warrant and seized weapons from his home.
Crime scene specialist Mirezha Guevara testified on November 3 that while she was taking pictures of the firearms evidence and Ms Armstrong's black Jeep, she also noticed Ms Armstrong's passport and foreign currency inside the home.
An attorney representing both Mr Strickland and Ms Armstrong was present while the warrant was served, but investigators did not ask to interview Ms Armstrong.
However, they did ask Mr Strickland about her black Jeep, the same model of car seen on surveillance footage near the home where Wilson was found. The car had also been spotted near the swimming pool bar that Mr Strickland and Wilson had been at just hours before she was killed.
Mr Strickland suggested during his testimony that investigators knew it belonged to Ms Armstrong.
Mr Strickland said that after he was interviewed and the warrant was served, he and Ms Armstrong were exhausted. He asked her to write a timeline of her activities on the day and reportedly said she went to yoga and visited a "healer" but made no mention of seeing Wilson.
He then went to his business' headquarters in Lockhart and did not see Ms Armstrong again.
On 14 May, Ms Armstrong took a flight from Austin to Houston. She was found in Costa Rica 43 days later.
Colin Strickland says 'he doesn't know Armstrong very well'
Mr Strickland's initial remarks to the court about he and Ms Armstrong loving each other but not being compatible long-term took a turn on Monday after he seemingly tried to distance himself from the disgraced yoga teacher.
"You know Kaitlin Armstrong very well, don't you?" Ms Armstrong's attorneys asked during cross-examination on Monday (6 November).
"No, I do not," Mr Strickland answered, prompting an audible gasp in the court, according to NewsNation reporter Alex Caprariello, who was in the room.
Court clash 'prompts charges' against Strickland
Mr Strickland's many mishaps with members of the media reportedly led to one photographer filing charges against him.
In footage captured by reporters who attended the trial on 6 November, Mr Strickland appeared to purposefully go out of his way to stamp on a photographer's foot while he left court.
In the video shot by NewsNation correspondent Alex Caprariello, he takes what seems to be a deliberate step to the left and comes into contact with a man holding a video camera. The man lets out a shout of pain, but Mr Strickland carries on walking.
According to Mr Caprariello, the photographer has pressed charges over the incident. The man said Mr Strickland had also tried to knock down his camera during the lunch recess. The photographer managed to catch the camera just before it fell to the ground, Mr Caprariello said.
A similar incident took place on 3 November, also filmed as Mr Strickland left court. A separate video also shared by Mr Caprariello showed him walking at a fast pace while a photographer walked backwards in front of him.
The cameraman did not seem to realise there was a barricade behind him and lost balance when he tripped on it, eventually falling to the ground. Mr Strickland appeared unphased and stepped over him before entering a vehicle and leaving the courthouse.
Armstrong's searched if pineapples could erase fingerprints
On Tuesday (8 November), Austin police detective Richard Spitler testified for the prosecution about the timeline of Ms Armstrong's escape and the online searches she made while on the run.
Activity from Kaitlin Armstrong's iCould accounts reportedly shows that she searched for her name online and for "can imei be tracked if not making phone calls."
Some of her searches led to articles about her escape to Costa Rica and Wilson's murder. Ms Armstrong also searched "can pineapples burn your fingerprints" and appeared to land on an article that debunked the myth.
Yoga teacher said 'in so many words' that she wanted to 'kill Wilson'
Nicole Mertz, a close friend of Ms Armstrong, was called to the stand on Wednesday (8 November).
Ms Mertz said that her friend and Mr Strickland often broke up and got back together and that he referred to Ms Armstrong as "his lady friend." Ms Mertz went on to recount that Ms Armstrong once said that if Mr Strickland dated another woman, she "would kill her.]"
"My first thought was that Kaitlin might have had something to do with it," Ms Mertz said about the moment she found out about Wilson's killing.
Jacqueline Chasteen, a friend of Mr Strickland who eventually also befriended Ms Armstrong, said that during a gathering in Bentonville, Ms Armstrong confided in her that Mr Strickland had "cheated" on her with Wilson.
"She had described how Colin had cheated but while she was describing that, she had said in so many words that she wanted to kill her," she said, per NewsNation. "That she had thought about it. But how she said it at the time I didn't take it seriously...she said something to the effect that she had bought a gun... I do know the words kill and the words gun were used."
Defence motions for mistrial during detective's testimony
The defence sent shockwaves through the courtroom on Tuesday (8 November) when they raised a mistrial motion mid-procedure, arguing that Det Spitler favoured Mr Strickland and cleared him too soon.
The attorneys brought up that Det Spitler had previously met Mr Strickland at a taco deli years before the murder, also asking the detective if he thought of Mr Strickland as a "local celebrity." The judge quickly denied the motion.
Det Spitler told the court he was confident in his decision to clear Mr Strickland and other men whose names came up during the homicide investigation. The detective refused to entertain the defence's speculative line of questioning and reiterated that he pursued other lines of investigation but they all brought him back to Ms Armstrong.
Graphic details about Wilson's autopsy revealed
Medical examiner Bernadette Derussy, the doctor who performed Wilson's autopsy, testified on 14 November about her role in the investigation and the injuries that Wilson sustained.
Wilson first suffered a gunshot wound to the right side of the face, with the bullet exiting on the left side of her jaw. The second gunshot was to the right side of the head and exited beneath the chin.
A third bullet was fired at Wilson's chest and exited through the back, but not completely as she was lying on the bathroom floor.
Wilson's index finger was also shot at. Dr Derussy said it might have been a defensive wound, but she is not certain.
Wilson's family opted to leave the courtroom when graphic pictures of the autopsy were shown.
Yoga teacher was tacking Wilson's social media
Detective Daniel Portnoy with the Austin Police Department's digital forensic unit told the court he had extracted data from Ms Arsmtrong, Mr Strickland and Wilson's phones at the request of the leading detective in the case and after several search warrants were approved by the prosecution.
The detective said that while analysing Ms Armstrong's iPhone 13, he had found several images of Wilson stored in the cache. Mr Portnoy explained that information stored in the cache was not always intentionally stored by the phone user and that it might have been saved automatically.
Prosecutors have tried to argue that Ms Armstrong was tracking Wilson's digital footprint on the days leading up to the murder.
Ms Armstrong seems panicked as she declines to testify
The state rested its case on 15 November after introducing testimony from Mr Strickland, friends of Ms Armstrong, and law enforcement personnel.
Meanwhile, the defence called experts who sought to discredit the state's DNA and ballistics evidence.
Mr Strickland was briefly called back to the stand by the defence.
Then, Ms Armstrong was advised of her right to testify in her own trial, which she declined, leading to the defence resting its case.
According to NewsNation Correspondent Alex Caprariello, Ms Armstrong seemed confused, and even scared during that exchange, a stark contrast from her stoic demeanour in the two and a half weeks of trial.
Still no emotion from Armstrong as guilty verdict returned
After just two hours on Thursday November 16, the jury returned its verdict of guilty.
Upon hearing the verdict, Wilson's parents, brother and friend Caitliin Cash hugged each other and became tearful, before briefly leaving the courtroom with prosecutors.
Armstrong continued to look ahead as her father stared in her direction.
'She did not deserve a death like that'
Following the verdict, several members of Wilson's family and her friend Caitlyn Cash gave emotional statements to the court.
Her mother, Karen Wilson, said her daughter was strong, independent and delicate, and had hated inconveniencing others.
"When you love somebody so much, and if any of you are parents, you understand what that means... when you love someone that much, and it's taken from you, the depth of the joy of that love is equal to the depth of the pain you have to live with," she said.
"I just miss her so much and nothing here can bring her back and I knew that coming down here. I would have done anything to stand in the way of that bullet and I wasn't there to protect her.
"And she died all alone on the floor of her friend's house. She did not deserve a death like that."
Her father, Eric Wilson, said how proud he was of his daughter, telling the court: "You're living through a bad nightmare, a bad dream... this is not a bad nightmare, this is reality. I think about it every night."
She was a beautiful girl, a beautiful young woman. She was just coming into her own really as a cyclist in that last year and I knew that she wanted to be a professional cyclist. And she achieved that dream."
Wilson's brother, Matthew Wilson, broke down when describing how he had learned of his sister's death, telling the court he felt his pain had been different to that of his parents.
"My sister was my closest confidant. My only sibling. Only person in the world that I could talk to about certain experiences that only she could understand. She was a really, really good listener," he said.
Moriah Wilson's mother has the last word
Armstrong was sentenced to 90 years behind bars on Friday November 17. Jurors deliberated on her sentence for around three and half hours.
After the verdict was read out, Ms Cash and Karen Wilson returned to the stand to address Armstrong directly for one final time.
"Kaitlin Armstrong. I'm not sure that my words can penetrate your heart but I'm gonna try," Ms Wilson said. "I hate what you did to my beautiful daughter it was very selfish and cowardly."
Ms Wilson said that had Armstrong endeavoured to have a "civil" conversation with her daughter, things may have been resolved. "She would have cared about your feelings. She was a caring empathetic person," she said.
"When you shot Moriah in the heart, you shot me in my heart. You shot Eric and Matt in the heart... You shot cousins and aunts and uncles and all the people who loved her, there in their hearts."
Ms Wilson finished her remarks by urging Armstrong to admit her guilt and seek forgiveness.
"It's up to you. There is no winner in this story. Your actions have caused all sides to suffer," she said.
"There is a ripple effect of sorrow upon sorrow upon sorrow. Moriah is free of this sorrow, though. She is more alive today than any of us here."
As she left the stand, Ms Wilson looked at Armstrong directly. It was not clear if Armstrong returned her gaze.