Hundreds of police officers hunted for Danelo Cavalcante for two weeks. A dog secured his capture
Four-year-old Yoda subdued Cavalcante, allowing a US Border Patrol's tactical unit to surround the murder convict. Andrea Blanco reports
Thursday 14 September 2023 05:58 EDT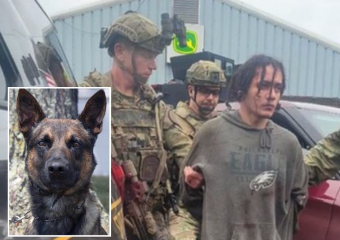 As escaped murder convict Danelo Cavalcante was escorted out of the woods of a Pennsylvania town on Wednesday morning, his face bore the mark left by the four-legged hero who subdued him.
Calvalcante was finally taken back into custody after a 14-day multi-agency manhunt that spanned more than 25 miles. For nearly two weeks, Cavalcante eluded hundreds of SWAT, FBI, state, federal and local enforcement officers in full combat gear, as well as tracking dogs, and police on horseback and on aircraft.
It was a US Border Patrol's tactical unit (BORTAC) that finally made the capture shortly after 8am. Dozens of agents in the special operations unit celebrated the major development with a victory photo next to a defeated, bloodied and handcuffed Cavalcante.
The key participant in the imminent capture, a K-9 who surprised Cavalcante and tackled him to the ground, also posed front row next to its handler for the photo. A Border Patrol spokesperson told The Independent that the K-9 behind the heroic efforts is a four-year-old Belgium Malinois named Yoda.
Pennsylvania State Police Lt Col George Bivens said that Cavalcante began to crawl through heavy underbrush as border patrol agents closed in on him. Yoda then set out to subdue Cavalcante and left the escaped killer with a gnarly scalp wound that bled onto his face.
"K9s play a very important role, not only for tracking but also in a circumstance like this, safely capturing someone," Mr Bivens said. "Far better than having a patrol dog subdue the individual and then have to use lethal force. Our intention is always to use other means."
Mr Bivens said the K9s that participated in the search are typically used to simply detain suspects without causing additional injuries. According to the Border Patrol's website, the dogs are "trained in human detection, tracking and the physical apprehension of violent subjects is singularly suited for this need."
Border Patrol said that it worked together with state police and other local and federal agencies to corner Cavalcante and secure his arrest. Agents from Buffalo, Detroit, Washington and Vermont and Border Patrol's Special Operations Group in El Paso, Texas, participated in the capture.
"Today's actions are the latest demonstration of how our agents and officers bring incredible capability, additional interagency communications technology, and dedication to keep our communities safe," a spokesperson said. "Most importantly, all those involved in the search were able to return home safe following the end to this manhunt."
BORTAC agents are deployed to specialised missions across the country and are described as "highly skilled at tracking humans in all terrain and in all environments."
Moment police pose with escaped killer Danelo Cavalcante after capture
Cavalcante's escape from a Pennsylvania prison on 31 August ensued a frantic manhunt for the convicted killer in the vast wooded terrains of Chester County. Residents gripped by fear followed pleas by police to secure their homes, as three school districts in the area and a large botanical garden were forced.
Law enforcement faced criticism for Cavalcante's success in eluding officers and sneaking past the search perimeter. The initial four-square-mile search area had to be expanded to 10 square miles and then dropped altogether after Cavalcante managed to steal a vehicle and drive more than 25 miles from his initial hiding spot.
Then on Monday night, Cavalcante broke into a garage in South Coventry Township and stole a .22 rifle with a scope and a flashlight on it. The homeowner opened fire on Cavalcante with his pistol but the fugitive was not injured.
Authorities blamed the vast wooded area and the weather for their failure to capture Cavalcante sooner, noting that no perimeter could be secured completely.
Retired Las Vegas Police Lt Randy Sutton agreed that the biggest challenges law enforcement faced were weather and containment-related. Aircraft with thermal technology had been flying over Cavalcante's hiding area, but high temperatures likely prevented human signals from being detected.
"It is absolutely impossible to contain a subject within a perimeter if it has not been diminished to an area where the manpower could be completely surrounded," Mr Sutton, founder of the nonprofit The Wounded Blue, told The Independent. "It is not unusual for individuals to escape from perimeters, and that is why there is flexibility [in] changing those parameters. Law enforcement did just that and is what eventually led to the capture of the suspect."
He added: "The suspect could've been captured earlier had additional resources in the terms of manpower and technology been employed but once again, there is no full-proof method when it comes to a manhunt.
"This individual could've [held] up for many more days or even weeks, had he located an unoccupied structure and remained there."
The first possible sign of Cavalcante that alerted searchers shortly after midnight Tuesday was a burglar alarm. Law enforcement personnel investigated it and did not find Cavalcante.
But the alarm attracted nearby search teams to the area and around 1am, a Drug Enforcement Administration plane with a thermal imaging camera picked up a heat signal that searchers on the ground began to track and encircle.
Storms moving in with rain and lightning forced the plane to leave the area while search teams stayed put and tried to secure a perimeter around where the heat signal had been to prevent Cavalcante from slipping away once again.
Later in the morning, the plane returned along with more search teams. Border patrol agents then moved in on Cavalcante in a wooded area, about a half-mile away from where the burglary alarm went off.
Cavalcante was wearing an Eagles hoodie and what appeared to be his prison pants when he was apprehended. Officers cleaned his bloodied face and proceeded to cut off his clothing before he was escorted inside a tactical vehicle.
"Folks, whoever had their Eagles' hoodie stolen," Gov Josh Shapiro joked at a press conference after the arrest. "If you could let us know, I'll do my best to get you one of those new Kelly Green ones."
Cavalcante was transported to PSP's Avondale barracks, where he will be interviewed. He is then expected to be moved to a state-run prison facility.
The capture likely brought ease to members of the suburban community, especially the family of Cavalcante's murder victim Deborah Brandao.
Prosecutors said during his trial last month that Cavalcante stabbed Brandao roughly 40 times in April 2021 to prevent her from telling American authorities that he was wanted for murder in Brazil.
"Our nightmare is finally over and the good guys won," Chester County District Attorney Deborah Ryan said. "We never lost faith that this capture would take place and knew it was just a matter of time."