Body cam shows prolific federal drug prosecutor offering cops business card in DUI crash arrest
Body-camera video obtained by The Associated Press shows one of the nation's most prolific federal drug prosecutors offering police his business card in an apparent attempt to leverage his position to blunt the fallout from a Fourth of July crash in which he is accused of striking another vehicle and leaving
Body cam shows prolific federal drug prosecutor offering cops business card in DUI crash arrest
Show all 6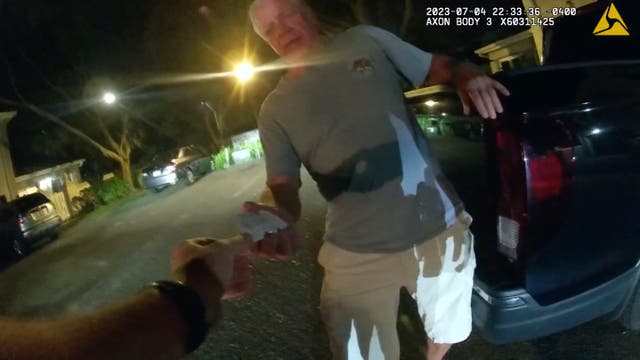 When police arrived at his house to investigate a hit-and-run, Joseph Ruddy, one of the nation's most prolific federal narcotics prosecutors, looked so drunk he could barely stand up straight, leaning on the tailgate of his pickup to keep his balance.
But he apparently was under control enough to be waiting with his U.S. Justice Department business card in hand.
"What are you trying to hand me?" an officer asked. "You realize when they pull my body-worn camera footage and they see this, this is going to go really bad."
That footage obtained by The Associated Press showed Ruddy apparently attempting to leverage his position to blunt the fallout from a Fourth of July crash in which he is accused of drunkenly striking another vehicle and leaving the scene.
But despite being charged, the 59-year-old Ruddy remained on the job for two months, representing the United States in court as recently as last week to notch another win for the sprawling task force he helped create two decades ago targeting cocaine smuggling at sea.
On Wednesday, a day after the AP asked the Justice Department about Ruddy's status, the veteran prosecutor was pulled off three pending criminal cases. A Justice Department spokesman would not say whether he had been suspended but said that Ruddy, while still employed, had been removed from his supervisory role at the U.S. Attorney's Office in Tampa. The case also has been referred to the Office of Inspector General.
Such an inspector general's probe would likely focus on whether Ruddy was trying to use his public office for private gain, said Kathleen Clark, a legal ethics professor at Washington University in St. Louis who reviewed the footage.
"It's hard to see what this could be other than an attempt to improperly influence the police officer to go easy on him," Clark said. "What could possibly be his purpose in handing over his U.S. Attorney's Office business card?"
Ruddy, whose blood-alcohol level tested at 0.17%, twice the legal limit, was charged with driving under the influence with property damage — a first-degree misdemeanor punishable by up to a year in prison. Despite his own admissions and witness testimony, he was not charged with leaving the scene of an accident.
Neither Ruddy nor his attorney returned messages seeking comment.
Ruddy is known in law enforcement circles as one of the architects of Operation Panama Express, or PANEX — a task force launched in 2000 to target cocaine smuggling at sea, combining resources from the U.S. Coast Guard, FBI, Drug Enforcement Administration, and Immigration and Customs Enforcement.
Historically, PANEX-generated intelligence contributes to more than 90% of U.S. Coast Guard drug interdictions at sea. Between 2018 and 2022, the Coast Guard removed or destroyed 888 metric tons of cocaine worth an estimated $26 billion and detained 2,776 suspected smugglers, a senior Coast Guard official said in congressional testimony in March. The bulk of those cases were handled by Ruddy and his colleagues in Tampa, where PANEX is headquartered.
A former Ironman triathlete, Ruddy enjoys a reputation among attorneys for hard work and toughness in the courtroom. Among his biggest cases were some of the early extraditions from Colombia of top smugglers for the feared Cali cartel.
But the majority of cases handled out of his office involve mostly poor fishermen from Central and South America who make up the drug trade's lowest rungs. Often, the drugs aren't even bound for American shores and the constitutional guarantees of due process that normally apply in criminal cases inside the U.S. are only loosely observed.
"Ruddy is at the heart of a costly and aggressive prosecutor-led dragnet that every year pulls hundreds of low-level cocaine traffickers off the oceans and incarcerates them in the U.S.," said Kendra McSweeney, an Ohio State University geographer who is part of a team studying maritime interdiction policies.
Research by Ohio State's Interdiction Lab found that between 2014 and 2020, the median sentence for smugglers picked up at sea and prosecuted in Tampa was 10 years — longer than any other court in the country and compared to seven years, six months in Miami, which handles the second-largest amount of such cases.
Last Friday, nearly two months after his arrest, Ruddy was in court to ratify a plea deal in the case of a Brazilian man, Flavio Fontes Pereira, who in February was found by the U.S. Coast Guard with more than 3.3 tons of cocaine aboard a sailboat off Guinea, in West Africa.
After two weeks aboard the U.S. Coast Guard vessel, Pereira made his initial court appearance in Tampa in March, charged under the Maritime Drug Law Enforcement Act, which gives the U.S. unique arrest powers anywhere on the high seas whenever it determines a vessel is "without nationality."
Ruddy is next due to appear in court in his own case Sept. 27. He's accused of sideswiping an SUV whose driver had been waiting to turn at a red light, clipping a side mirror and tearing off another piece of the vehicle that lodged in the fender of Ruddy's pickup.
"He never even hit brakes," a witness told police. "He just kept going and he was swerving all the way up the road. I'm like, 'No, he's going to hurt somebody.' So I just followed him until I got the tag number and just called and reported it."
When officers arrived at Ruddy's home in the suburb of Temple Terrace, they found him hunched over his pickup, holding his keys and using the vehicle for support, the report said. Officers noted that he had urinated on himself, was unable to walk without help and failed a field sobriety test.
"I understand we might be having a better night," Tampa police patrolman Taylor Grant said before looking at the business card.
"Why didn't you stop?" the officer asked.
"I didn't realize it was that serious," Ruddy said in a slurred response.
"You hit a vehicle and you ran," the officer said. "You ran because you're drunk. You probably didn't realize you hit the vehicle."
___
Goodman reported from Miami. Contact AP's global investigative team at Investigative@ap.org.