A Florida man's teenage niece was pregnant with his child; he killed her, and now he may face execution
Five years after Iyana Sawyer vanished, 38-year-old Johnathan Quiles, was found guilty of murdering her and the child writes Graig Graziosi
Friday 22 September 2023 19:57 EDT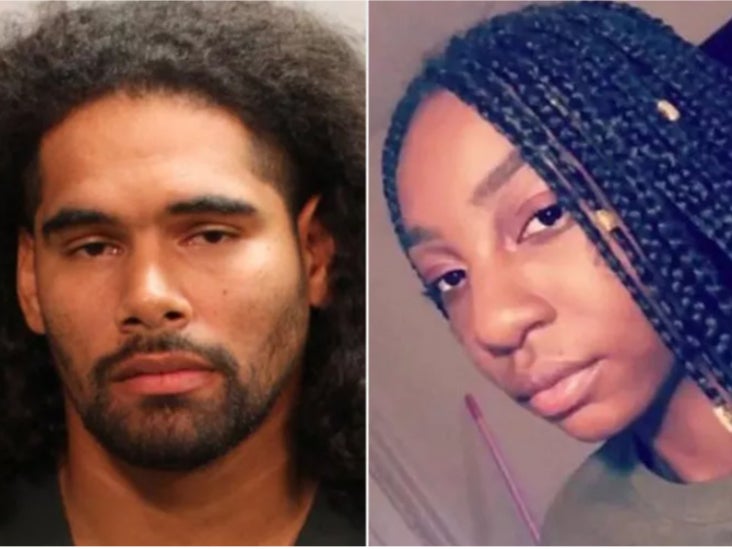 Iyana Sawyer was 16 and pregnant when she left Terry Parker High School during her lunch period, convinced that she and the father of her unborn child were about to run away together.
She drove out to Ace Pick-a-Part, a large junkyard in Jacksonville, Florida, where the father — her uncle, by marriage — was planning to meet her.
Iyana was never seen again.
Nearly five years later, Iyana's uncle and the father of her unborn baby, 38-year-old Johnathan Quiles, was found guilty of murdering her and the child.
Prosecutors presented Mr Quiles as a man who sexually preyed on his family members — not just Iyana — and it was ultimately his family who helped convince jurors to hand down a guilty verdict.
Quiles demanded teenager get an abortion
In 2018, Quiles was working at the Ace Pick-a-Part junkyard in Jacksonville, Florida.
At some point in 2017, he began a sexual relationship with his niece through marriage — the daughter of his wife's sister.
Iyana became pregnant, and, based on court testimony, wanted to keep the child, despite Quiles's insistence that she receive an abortion. The girl's sister told the court that the teenager was in love with Quiles.
At the time, Quiles had been sending text messages to the teen professing his love. Comments like "I'm just so in love with you...I'll kill you and cry," and "You're stuck with me until you die ... I love you way too much to let you go" were read to the court during his trial. Those messages were what would eventually tip the police off to the fact that Quiles and Iyana had been involved in a sexual relationship.
Despite his messages, the revelation that Iyana was pregnant sent Quiles into a tailspin, the court was told.
Later testimony would reveal that Quiles was afraid that if the girl had the baby, it would destroy his family. At the time, Quiles's wife, Naomi Mobley, was pregnant, according to Jacksonville.com.
Iyana's sister knew what had happened; she slept with Quiles and became pregnant. She used a pseudonym when referring to Quiles, calling him "Jose," to keep his identity secret.
The sister told the court that despite knowing what had happened, she was afraid to come forward with the information, fearing retribution from her uncle.
Quiles reportedly hatched his murder plot months before he killed the girl, likely in the weeks after learning she was pregnant, according to court testimony.
He convinced Iyana that the two would run away together, and told her to meet him at his work on 19 December, 2018. He shot and killed the teen in the junkyard, later moving her body — wrapped in a blanket — to a nearby landfill, where he hid her in a dumpster.
Police have still not recovered Iyana's body.
Quiles preyed on girls during unsupervised visits
After Iyana disappeared, her mother became increasingly convinced that Quiles was somehow involved. She knew her daughter was pregnant by early December, and suspected that Quiles was the father.
Quiles's predation did not come out of the blue; according to Ms Mobley, she asked her nieces in early 2018 if he had done anything inappropriate to them. They told her no, and she dropped the issue.
In 2017, Quiles had broken his femur and required assistance during his recovery. Because Ms Mobley had a young daughter at home and Quiles had difficulty moving, her nieces — Iyana and her sister — would visit the house and help with the child, according to court testimony.
Prosecutors argued it was during these unsupervised visits that Quiles began preying on Iyana and her younger sister.
By March 2018, Ms Mobley became aware of rumours circulating amongst her family members that Quiles had been carrying on an inappropriate relationship with Iyana. She confronted the girls away from Quiles, but they insisted nothing had happened. She told the court if they had said yes, she would have taken her daughter and left Quiles that day.
After Iyana disappeared, her sister confided to her mother that Quiles had sexually abused her when she was 13 years old, and revealed she had seen Quiles sexually abusing Iyana as well. The girl told the court that she kept the secret to maintain her relationship with her sister and avoid upsetting Quiles.
Quiles's ultimate undoing came about when he confessed his crime to his brother, Joseph.
Suspect turned in to police by brother after saying he planned killing for months
A day after the murder, Quiles called his brother four times.
During their conversations, Quiles admitted to luring the girl to the junkyard to kill her, telling his brother that he would lose his family if she had the baby. She was five months pregnant at the time.
"He said he took the young lady and had her sitting in a vehicle, waiting, he tried to strangle her, it didn't work out, he couldn't stomach it, so he shot her in the chest. And he put the body, transporting it in a dumpster, and destroying the vehicle," Joseph Quiles told the court, according to News4JAX.
He asked his brother how long he had been planning the murder, and Quiles reportedly revealed he had been preparing for months to carry out the killing.
Joseph Quiles said he wasn't sure if his brother was telling the truth when he first received the calls but changed his mind in January when he learned that Iyana had gone missing.
That's when he turned his brother into the police, and a message he sent him was read in court.
"I can't talk to you right now. I have to stay firm on my decision. What you told me isn't a joke or something. So yeah I told the police because they need to know. If you was lyin', then you will be cleared and free, but if you wasn't, then you won't," Joseph Quiles said. "I'm sorry I have to do the right thing for that girl and her family. Not the right thing for you and your selfishness. I hate to lose you, but I'd rather that girl's family have some peace. If you're innocent, then you don't have anything to worry about. They won't find her body. But if you are not, they are going to find her. And in that case, I've already lost my brother. I'm sorry."
Quiles was indicted by a grand jury and arrested on 8 January.
Quiles admits on a prison wire that he carried out junkyard murder
While he was jailed and awaiting trial, investigators convinced two inmates to talk to Quiles about the murder. One of the men was equipped with a wire to capture the conversation.
During their nearly two-hour conversation, Quiles again admitted to killing the girl and dumping her body at a landfill.
He told the inmate that he had used a 9mm handgun to kill the girl, and explained that a lot of trash would have been dumped at the landfill in the time since the murder. Quiles said he doubted that police would be able to locate her body.
The wire also captured Quiles explaining that his mother had worked in a morgue, so he understood a bit about human decomposition and was confident there would be little left of the girl for police to find.
Ms Mobley also called Quiles while he was imprisoned, and asked him directly what happened. He told her that he wanted to tell her the truth, but that "people listening will take it the wrong way."
She said at that point she stopped believing him and began praying about her marriage vows. She eventually left him.
Verdict returned quickly by jury with state seeking death penalty
After a six-day trial, the jury hearing Quiles's case broke to deliberate for about an hour before returning with their ruling.
Guilty.
Quiles was also found guilty of sexual battery and of the first-degree murder of Iyana's unborn child.
The state is seeking the death penalty for Quiles. Florida previously required a jury to vote unanimously for a death sentence, but a recent change in state laws now allows a jury to hand down an execution with 8 out of 12 votes in favour.
"Today, a nearly 5-year nightmare ends with another measure of justice. We thank the jury, law enforcement and judge, as well as all of our friends and family who reached out when we needed it most. Johnathan Quiles has now been found guilty of murder and will go back before a jury to determine his fate on earth, but he chose to end Iyana's young life," John Phillips, the Sawyer family's attorney, said after the ruling, according to News4Jax.
"He was a predator and the jury saw that with ease. We are grateful. Please keep our family in your prayers. Thank you from the family of Iyana Sawyer,"
The jury will reconvene on Monday to begin the sentencing phase.