Jesse McFadden raped me 20 years before his Oklahoma massacre. My pleas to keep him locked up were ignored
EXCLUSIVE: 'I'm pissed,' Krystle Strong tells Andrea Blanco. 'The hardest thing is the fact that these babies lost their lives and they didn't get a chance to live'
Friday 05 May 2023 08:48 EDT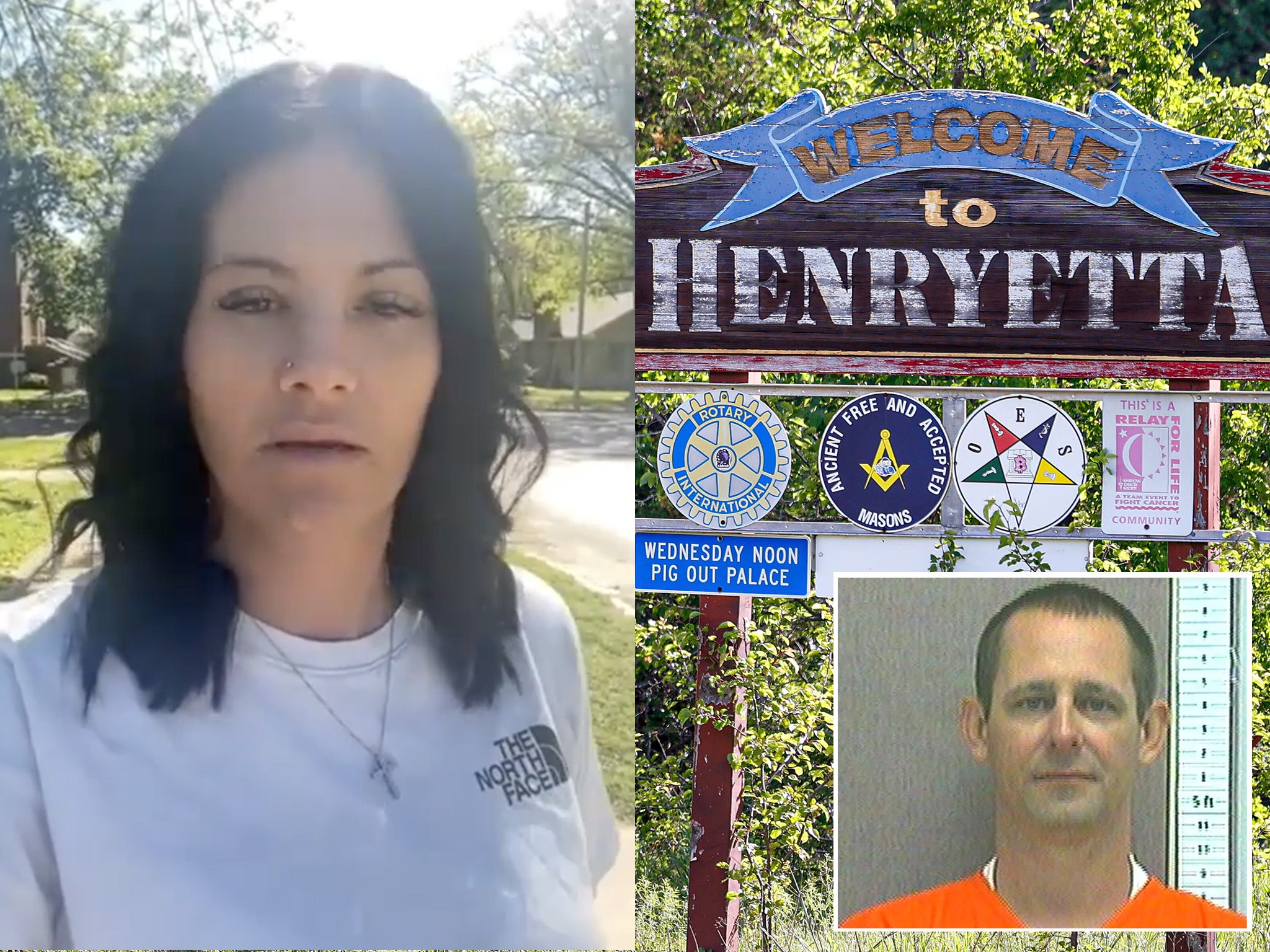 Three years before Jesse McFadden opened fire on his wife and five teenagers, Krystle Strong says she begged several Oklahoma state agencies to halt his early release for good behaviour. McFadden was convicted in 2003 for raping a then 16-year-old Strong, a crime that was supposed to land him in prison for at least 20 years.
So when Ms Strong found out that her attacker was set to be released three years before finishing his sentence in 2020 — despite being hit with fresh charges in 2017 after he was caught using a contraband cell phone to exchange nude photos with a minor — she tried to warn authorities.
"I called the jail," Ms Strong tells The Independent. "I believe I left a voicemail and tried to get transferred and I kept getting the runaround. I told them, 'Look, I've called you guys over the years several times trying to get updates and I've seen that you guys are still going to let him out even after you found contraband child porn on his phone. If this doesn't show that somebody isn't rehabilitated, then I don't know what else would.'"
But her attempts to deter McFadden's return to freedom were fruitless. McFadden was set free, found a job in marketing — according to text messages he found before the massacre, married 35-year-old Holly Guess and moved in together with her and her three children.
Following a search for two teenagers who went missing in Henryetta on Sunday, and after McFadden failed to show up in court over soliciting and child pornography charges that stemmed from the 2017 incident while he was in prison, authorities found a gruesome scene on his property.
Guess, her kids Rylee Elizabeth Allen, 17, Michael James Mayo, 15, and Tiffany Dore Guess, 13, and missing teens Ivy Webster, 14, and Brittany Brewer, 15, — who had stayed with Guess' children for a sleepover over the weekend — had suffered between one and three fatal gunshot wounds to the head.
Authorities confirmed on Wednesday that McFadden killed the victims before "staging" the grisly scene and then turning the gun on himself.
Why was McFadden free?
Ms Strong has questioned the reasoning behind McFadden's release and how he was able to preserve his freedom while facing child pornography charges despite having previous convictions.
"My heart just goes out to the families, I can't even begin to imagine, it's so sad," Ms Strong. "[They failed,] the whole system, the police, I'm pissed. The hardest thing is the fact that these babies lost their lives and they didn't get a chance to live."
Ms Strong said she was violently attacked by McFadden at knife-point when she was just 16 years old, and he was 19. Guess' family told NewsNation on Wednesday that McFadden reportedly paid a woman to impersonate Ms Strong and tell Guess that "it was all a misunderstanding" and she was 19 when the rape took place.
"He paid people to lie to her. He literally found somebody, whoever, and he paid that person to go to Holly and say that I made up the whole story," Ms Strong said. "And I don't believe the knife that he held in my throat was ever brought up either."
Ms Strong also alleged that she was largely kept in the dark regarding McFadden's whereabouts as he was transferred to different prisons throughout the years.
"They've never told me where he was living and I'm pretty sure that was part of the deal that I was supposed to know about everything he did. Because I was the victim," she said. "It was always hard to find him, so I would have to go to the Oklahoma Department of Corrections page to look up where he was. Again, call that [police] and then I was lucky if somebody answered."
Families of the victims have also voiced outrage at McFadden's early release.
"And they rushed him out of prison. How?" Guess' mother Jannette Mayo, told the Associated Press. "Oklahoma failed to protect families. And because of that my children, my daughter and my grandchildren are all gone ... I'm never going to get to see 'em, never going to get to hold them, and it's killing me."
Ms Mayo said the family didn't learn about her son-in-law's criminal history until a few months ago.
"He lied to my daughter, and he convinced her it was all just a huge mistake," the grieving grandmother said. "He was very standoffish, generally very quiet, but he kept my daughter and the kids basically under lock and key. He had to know where they were at all times, which sent red flags up."
Justin Webster, who said he allowed his daughter Ivy to join a sleepover at the McFadden home not knowing anything about the man's past, raised similar concerns about McFadden's release.
"To get to save some other children, to make a change is what I want to do," Webster told the AP on Tuesday, nothing he was determined to "tell Ivy's story and our story and get our government officials and everybody to start speaking up loud and keeping those paedophiles in jail."
McFadden texted victim in 2017 case 'this is all on you'
Ms Strong previously told Fox News that she believes McFadden may have been motivated to carry out the massacre because he knew he would go back to jail once his upcoming trial wrapped up. The victim in his most recent case has revealed that McFadden reportedly texted her the night before authorities found the seven victims.
"I did exactly what I promised I would do when I got out," the text, exclusively obtained by FOX 23, read. "I got a marketing job making great money and was being advanced been there 2 years now and made a great life like I promised I would do with you."
"Now it's all gone, I told you I wouldn't go back ... This is all on you for continuing this," another set of texts stated.
Teens' parents were not aware McFadden was a sex offender
On Monday morning, an Amber Alert was issued to find Ivy Webster and Brittany. The Okmulgee County Sheriff's Office said that Ivy had gone out with a friend to the McAlester area and was supposed to return home by 5pm on Sunday but she failed to return home.
The two teens were last seen at around 1.30am on Monday travelling with Jesse McFadden – who was on the state's sex offender registry – in a white Chevrolet pickup.
Ivy's mother told KJRH that her daughter's cellphone tracking had been turned off and said it was unlike her daughter not to respond to messages or calls.
Ivy and Brittany had gone to the McFadden's house for a sleepover with his teenage daughter over the weekend and had been planning to go swimming on a ranch in McAlester but never showed. She said she was unaware of the man's criminal history.
Brittany's father also told KOTV that the girls had been to the man's house many previous times without incident.
A spokeswoman for the Oklahoma Department of Corrections did not immediately respond to a request for comment Wednesday on why McFadden was released despite facing new felony charges. When reached by The Independent, the Henryetta Police Department said that McFadden's address was located in an unincorporated part of Okmulgee County and deferred to the Okmulgee County Sheriff's Office.
The Independent has contacted the OCSO for comment.
Victims' families reel from devastating loss
Judy White-Allen, the grandmother of victims Rylee and Michael, told The Independent on Tuesday that her family is still processing the unimaginable tragedy.
"All I can tell you is my kids are hurting," she said. "My son lost his daughter and son. My other kids lost their niece and nephew. My other grandkids lost their cousins. Rylee and Michael have four other siblings that will never know them. Holly was a great mother. She had a big heart."
Mr Brewer told KOTV that his daughter was about to appear in an upcoming pageant. He said his daughter had dreams of being a teacher or a veterinarian.
"Brittany was an outgoing person," he said. "She actually was selected to be Miss Henryetta in [an upcoming] pageant in Tulsa, and now she ain't gonna make it because she' dead. She's gone."
Brittany's grieving mother Malaina Schabell told NewsNation that her daughter had just turned 15 last week.
"She told me she'd call me later and I never heard anything from her which wasn't normal," Ms Schabell said through tears. "I knew something was wrong 'cause she wasn't answering, I tried to call. I got online on her Facebook and I tried calling her, video calling her, and I messaged her and she wouldn't respond, and it showed she was online and but she wouldn't respond, so I knew something was wrong."
A GoFundMe page in memory of Brittany has been set up to assist with funeral expenses.
"This is undoubtedly one of the most difficult times they will ever experience and they need to be focused on their healing instead of worrying about how they are going to pay for Brittany's funeral," a message alongside the fundraiser reads.
Guess's sister Heather Pettigrew has also started a GoFundMe account to cover funeral expenses.
"This is a huge tragedy not just for my family but all of our friends and the community," Ms Pettigrew wrote in the description of the fundraiser. "So much was lost so quickly and any help is greatly appreciated."
A vigil for the victims is scheduled for Friday, according to family members.