Florida sheriff's deputy arrested for allegedly soliciting teenager for sex
Thirty-five-year-old Jeremiah Thomas, who has been with the Broward Sheriff's Office since 2017, is facing several felonies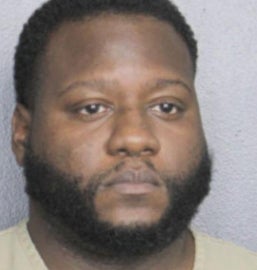 A Florida sheriff's deputy has been accused of soliciting a minor he met while responding to a domestic violence call placed by her parents.
Broward sheriff's deputy Jeremiah Thomas, 35, has been placed under administrative leave without pay following his arrest Tuesday on felony charges. Sheriff Gregory Tony announced the charges against Mr Thomas at a press conference where he discussed details about the case he deemed "egregious."
Mr Thomas reportedly met the 17-year-old female victim while responding to a domestic disturbance call at her home in Pompano Beach in September. Authorities said that he gave the girl his personal phone number and began texting her, at one point allegedly telling her he could be his "personal sheriff that handcuff[s] you from time to time."
"This is one of the more grotesque and deliberate attempts to abuse a minor in our community," Sheriff Tony said. "When you arrive to a domestic violence call, whether it be a minor or an adult, that is not a time to try to date someone or solicit contact or to maintain communication that is inappropriate, in this case .. all type of vulgar comments of the sex that he want[ed] to impose on this young lady."
The father of the minor contacted the BSO, prompting an internal investigation and a separate probe with the assistance of BSO's Internet Crimes Against Children Task Force. An investigator posing as the teen victim engaged in text conversations with the deputy for nine days.
During that period, Mr Thomas, who has been with the law enforcement department since 2017, reportedly sent nude pictures of himself while on duty and told whom he believed was the girl that he wanted to meet her in private to perform sex acts on her.
On 22 October, Thomas and the officer pretending to be the girl arranged to meet at a hotel room. The suspect showed up at a hotel the following day, but the officer cancelled the meeting.
Mr Thomas was arrested a day later on charges of solicitation of a minor, transmission of material harmful to minors, travelling to meet a minor and attempted lewd and lascivious written solicitation.
Sheriff Tony said there are no indications Mr Thomas was involved with any other minors, but the investigation continues.
"The arrest of Deputy Jeremiah Thomas on these charges is deeply disturbing," the sheriff said in a statement. "One of the most important obligations that law enforcement officers have is to protect our greatest resource, our kids. If these allegations are true, Deputy Thomas broke that trust."
Mr Thomas is being held at the Broward County Main Jail.