A high school graduate, a devoted father and hardworking mother: The Jacksonville shooting victims
A shooting at a Dollar General store in a predominately Black neighbourhood in Florida left three innocent people dead, Faiza Saqib reports. Read their stories here
Tuesday 29 August 2023 11:11 EDT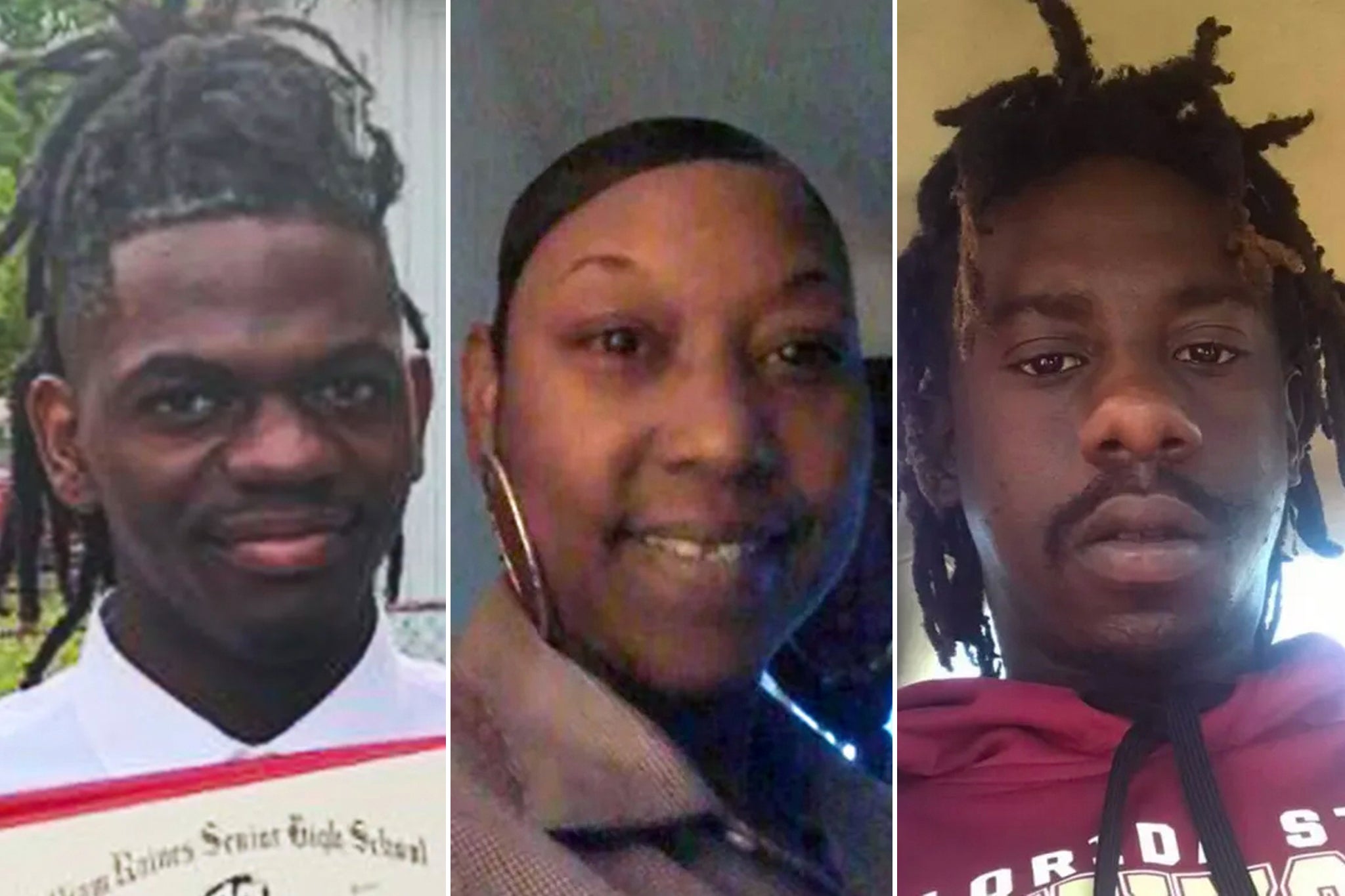 The community of Jacksonville has been left reeling after a gunman killed three Black people in a racially motivated attack at a dollar store.
The shooting took place inside a Dollar General store in a predominately Black neighbourhood on Saturday, with 21-year-old gunman Ryan Palmeter opening fire on innocent victims with an AR-15-style rifle decorated with swastikas.
As well as the rifle, Palmeter was armed with a Glock handgun and was wearing a tactical vest and face mask when he carried out his attack.
He briefly visited the dollar store before leaving and heading to the historically-Black Edward Waters University, where a security guard refused him entry to the campus.
He then headed to the Dollar General, arriving at around 1pm local time.
Police said Palmeter first fired 11 rounds into a black Kia before entering the store, allowing some shoppers to leave before opening fire on those who remained.
As law enforcement descended on the store, the shooter died by suicide.
Speaking at a press conference, Jacksonville Sheriff TK Waters said that the shooting was definitely "racially motivated."
"He hated Black people," he said after reviewing the killer's writings, which were sent to federal law enforcement officials and at least one media outlet shortly before the attack.
The gunman acted alone and "there is absolutely no evidence the shooter is part of any larger group," he added.
He added: "This is a dark day in Jacksonville's history. There is no place for hate in this community. I am sickened by this cowardly shooter's personal ideology."
On Sunday, the three victims – two men and one woman – were identified as Angela Michelle Carr, 52, Anolt Joseph "AJ" Laguerre Jr, 19, and Jarrald De'Shaun Gallion, 29.
Here, we take a look at the victims who lost their lives in the horrific Jacksonville shooting
Angela Michelle Carr – a hardworking mother
Angela Michelle Carr, 52, was a mother and worked as an Uber driver.
On Saturday, Carr was dropping off a passenger at the Dollar General store and was sat inside her vehicle when the gunman opened fire on her.
Speaking to NBC News on Monday, Carr's daughter Ashley Carr, 36, said: "She wasn't meant to go that fast. She wasn't even supposed to be there. She was shot in her car. She never even had a chance."
Ashley remembered her mother as a "dedicated" and "hardworking" woman.
"She was a great woman, and she's been taken. I hope her spirit is at rest," she said.
Carr's daughter said that she knows the gunman's family and is also praying for them.
As well as her love for her family and her work, Carr was dedicated to her faith. She joined St Stephen African Methodist Episcopal Church in Jacksonville when she was three years old and still attended services there up until her death.
The pastor said the church community has rallied behind her family. "She was just a loving, caring mother," Reverend David Green said.
Jarrald De'Shaun Gallion – the devoted father
Jarrald De'Shaun Gallion has been remembered as a devoted father, brother and grandson.
The 29-year-old was brutally shot dead as he entered the Dollar General store's front door on Saturday with his girlfriend.
"My brother shouldn't have lost his life," his sister, Latiffany Gallion, said on Sunday. "A simple day of going to the store, and he's taken away from us forever."
As father to four-year-old daughter Je Asia, Gallion's family said he was planning to spend the weekend with her on the weekend when he was killed.
Family members said he worked two to three jobs to try to build the best life for her.
Je Asia's maternal grandmother Sabrina Rozier said at a press conference on Monday that Je Asia's fifth birthday is coming up and the family was planning a big party for her.
Gallion was also looking forward to a father-daughter dance in February.
"He was so excited about it, talking about the colours they would wear," Ms Rozier said. "Now she's asking, 'Who shot my daddy?'"
"From the time my daughter got pregnant 'til yesterday, Jerrald never missed a beat," she added of Gallion.
Ms Rozier said that the family is now trying to figure out how to tell his daughter that he "is gone" and said she does not have the "words to tell her, to break her heart".
"This man saw fit to break my granddaughter's heart and take her daddy away," Ms Rozier said about the gunman.
Tyesha Jones, the mother of Gallion's four-year-old daughter, said he was a devoted father and co-parent. Although the two were no longer together, they remained close, according to NBC News.
In a vigil held on Sunday, Ms Jones told the news outlet that Gallion was her "best friend" and added: "He was my daughter's best friend. He got her every weekend. He was the best daddy ever."
Anolt Joseph 'AJ' Laguerre Jr – a high school graduate
Anolt Joseph Laguerre Jr, also known as AJ, was only 19 years old and worked at the Dollar General store when he was shot and killed by the gunman.
The youngest of five siblings, they were raised by their grandmother after their mother passed away in 2009.
AJ graduated from high school in 2022, which was a proud moment for him and his family.
While he was thinking about going to college to study cybersecurity, he took up a job at the Dollar General store just a few months ago to help his grandmother pay the bills.
In his downtime, AJ liked to play Fortnite and other videogames on Twitch, his brother said, using the gamer tag galaxysoul. His goal was to build a large online following.
"He had dreams and aspirations of being a professional streamer," Quan Laguerre said.
"So after he would get off work, he'd just stay up until 3 or 4am in the morning just grinding, you know, trying to get that stance and have followers."
Additional reporting from agencies