More families await answers in Gilgo Beach killings – and the names of other victims
New York architect Rex Heuermann has been charged with three murders and is the prime suspect in a fourth in connection with the infamous Long Island serial killing. But, one week after his first court appearance, the families are still awaiting justice, and four more victims have yet to even be identified, writes Sheila Flynn
Friday 04 August 2023 13:40 EDT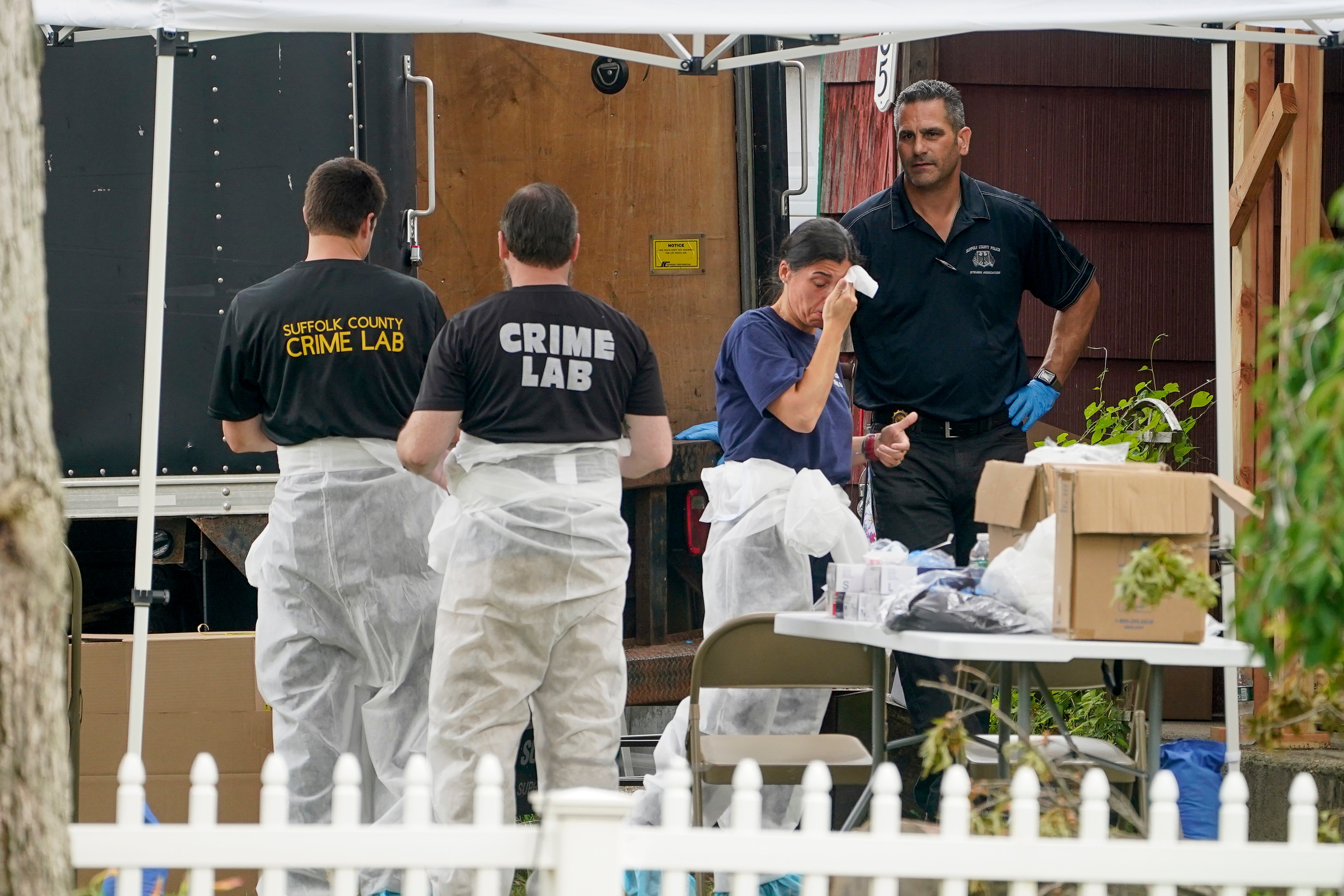 The victim names were there, finally, in black and white on charging documents, immortalised in the justice system as their alleged killer stood before a judge. Melissa Barthelemy. Amber Costello. Megan Waterman. They were names that had before been connected primarily to a cold case and a mystery – a mystery still unravelling – and their appearance on the court documents marked a step towards justice and, just maybe, some semblance of closure for families and investigators.
Long Island architect and married father-of-two Rex Heuermann, 59, was charged last Friday with three counts of first- and second-degree murder in connection with the deaths of Ms Barthelemy, who went missing in 2009; Ms Costello, who vanished in June of the following year; and Ms Waterman, 22, who disappeared in September 2010.
Suffolk County District Attorney Ray Tierney said this week he was "confident" that Mr Heuermann would also be charged with the murder of Maureen Brainard Barnes, 25, who went missing in 2007. Her body was discovered in December 2010 in the same vicinity and within the same week as the remains of the three other victims.
But there were other names not included in the court documents, and there are other families watching closely as the investigation progresses – wondering if their loved ones' murders were at the hands of the alleged serial killer.
And there are other victims whose names are still unknown – other bodies found on Long Island that may or may not be linked to the same perpetrator. Their families may not even known they are dead.
One of the names associated with the Long Island serial killings and Gilgo Beach murders, Shannan Gilbert, was not included in charging documents – although it was her family's push for answers that undeniably played a pivotal role in the crimes' prominence.
Ms Gilbert, 24, went missing in 2010 right after making a 911 call from Long Island, desperately telling the operator "somebody's after me" as the call recorded the sound of her running and knocking on the doors of houses. Originally from upstate New York, Ms Gilbert had been working as a sex worker, as had the victims Mr Heuermann is charged with murdering. Investigators had been searching for her remains when they stumbled upon the other four bodies in 2010. Her skeletal remains were located more than a year later in a marsh eight miles from Gilgo Beach.
Police ruled out murder at the time of her discovery, theorising that she may have been under the influence and run into the marsh, where she died by hypothermia or drowning. But her family – doggedly demanding answers – commissioned an independent autopsy, which found that her death was consistent with a homicide. The Gilbert family's quest was depicted on screen in Netflix's 2020 Lost Girls.
Ms Gilbert's sister, Sherre, released a statement on the Facebook page Praying for Shannan Maria Gilbert following Mr Heuermann's arrest.
"I want to express my deepest sympathy & prayers to the families & their loved ones that have been named as victims of the Long Island Serial Killer (LISK)," she wrote, continuing that their "lives were cut short by this cruel heinous act of violence and no amount of justice will ever bring them back".
"The pain, hurt & anger these families have had to deal with since these women first went missing is immense," she wrote, also thanking the media and investigators, including Suffolk County Police Department.
"Even though SCPD ruled my sister's death 'a tragic accident' that's not connected to LISK and a mere coincidence, the time, effort, and dedication my mom & I put into this case isn't wasted ... It's sad how many of us have similar tragic stories & experiences with law enforcement with limited resources & opportunities to seek justice. Every victim deserves justice. And every case – big or small deserves recognition.
"I wished, hoped & prayed for this day," she wrote. "I'm glad I'm still alive to see it. And with LISK being captured, there's one less monster off the streets and he'll never be able to hurt anyone else. I pray one day each of you who has gone through something similar and have yet to receive justice will have their day soon. The perilous fight is worth it!"
The family of Valerie Mack is among those yet to receive justice.
Ms Mack, 24, was raised in an adoptive family in New Jersey and was working as an escort when she was last seen alive in 2000. Her remains were found on two separate occasions and two different locations, in Manorville in 2000 and in Oak Beach in 2011 – the same place where Ms Gilbert's remains were found – but she was only identified in 2020 through the use of genetic genealogy.
Following that identification, one of her sisters, Angela Mack, introduced herself on the Remembering Valerie Mack page and wrote: "My big sister ... was a great smart sweet and troubled young woman. My parents did everything to try to help her troubled heart. My family and I tried to report her missing but they said she was an adult and left on her own."
Another sister, Danielle, told the Associated Press after news of Mr Heuermann's arrest that it was "a lot to process" – adding that she didn't know what to make of the fact that Heuermann wasn't charged in Valerie's death.
"I'm just waiting for all the other facts to come out for us to really understand what happened and who's responsible," she said. "Hopefully the right person is being brought to justice."
Tricia Fulton Hazen – describing herself in a previous post on the Remembering Valerie Mack Facebook page as the victim's half-sister though they "never met" – wrote this week that she felt "thankful [that] this arrest has happened and hoping and praying that they connect him to all of the people that were brutally murdered. Especially my sister's case."
The relatives of another victim, however, are also still waiting for answers. Jessica Taylor was just 20 and working as an escort when she went missing in New York in July 2003. Her partial remains were discovered in 2003 and in 2011 in two places, like Ms Mack's: Manorville and along Ocean Parkway.
Ms Taylor's cousin, Jasmine Robinson, was outside the courthouse last Friday where Mr Heuermann was arraigned, telling reporters that "full justice" would only be achieved when all the cases were solved, the AP reported.
Ms Robinson also hoped her cousin would be "remembered as a beautiful young woman, not what her occupation was at that time."
But enduring mystery surrounds other victims found on Long Island and whether they could all be tied to the same perpetrator.
The search for Shannan Gilbert also yielded the partial remains in 2011 of a Black woman and, a few miles down the parkway, a toddler. DNA evidence later linked the woman's skeletal remains to a dismembered torso discovered stuffed into a bin in a Long Island state park in 1997 as well as determining that she was the mother of the child. The adult victim has been nicknamed "Peaches" by investigators because of a large heart-shaped peach tattoo on her chest – but the identities of Peaches and her child have not yet been determined.
Around the same time that Peaches' skeletal remains were found near the beach in 2011, a skull was also discovered that would be traced back to yet another body which turned up years earlier on Fire Island. The severed legs of an unidentified white woman, believed to be between 18-50, were discovered in April 1996 at Blue Point Beach, and DNA connected the remains to the 2011 find.
On 4 August 2023, Long Island officials announced that this victim – known as Jane Doe 7 or Fire Island Jane Doe – had finally been identified as Karen Vergata, a 34-year-old woman who was last seen alive in Manhattan around Valentine's Day in 1996 while working as an escort.
Peaches' identity meanwhile has yet to be ascertained.
So has the identity of the only male victim – found a quarter mile away from the bodies of the three victims whose murders Mr Heuermann is already charged with. The man, believed to be between 17 and 23 years old, was found in April 2011, was wearing women's clothing and had been dead for at least five years, according to the Long Island Press.
Investigators were continuing to comb through evidence this week, and pieces of information continued to trickle out regarding Mr Heuermann and his past – as victim families continued to hope for more and more answers.
"I'm grateful for the hard work that has been done," Ms Taylor's cousin, Ms Robinson, said after Mr Heuermann's arrest, according to The New York Times.
"I'm grateful that today is happening," Ms. Robinson said. "And I'm hopeful for the future."