FBI raid Georgia home in search of teen who vanished seven years ago after tip about human remains
Morgan Bauer vanished in February 2016, then 19, shortly after moving to Georgia from South Dakota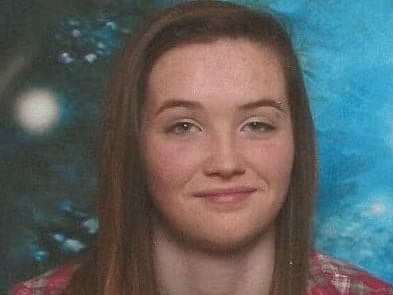 The FBI and a number of law enforcement agencies searched a Georgia property for the human remains of a teen, who disappeared in 2016, following a tip.
"The search warrant was obtained based on credible information and evidence gathered during the course of the investigation," the Porterdale Police Department said in a statement on Thursday. Police confirmed that the search is for the remains of Morgan Bauer.
The search, taking place at 2 South Broad St, so far has uncovered "items of evidentiary interest," police added. The officials also said that the current owners of the property have been cooperating.
A number of local law enforcement agencies were conducting the search, as well as the Peoria Illinois Police Department; it was not immediately clear why this out-of-state agency was part of the search.
The Peoria Police Department told The Independent in an email: "The Peoria Police Department can only confirm that our officers assisted in the investigation. None of our officers are in Georgia helping with this investigation."
Ms Bauer vanished in February 2016, shortly after moving to Georgia from South Dakota. She was 19 years old at the time of her disappearance.
Her last known sighting was in a video posted on social media on 26 February 2016, showing Ms Bauer walking through a park, and a man can be seen behind her.
On Thursday, the day of the FBI search, Ms Bauer's mother, Sherri Keenan, wrote on Facebook: "At this time, my family and I are doing our best to be grateful, graceful, peaceful and prayerful."
Kasey McClure, who has been helping Ms Keenan with the search since Morgan Bauer went missing, spoke to Fox 5 Atlanta, telling the outlet that the mother is "in shock."
Ms McClure continued, "She's not sure what's going to come from this investigation, she's not sure if that's her daughter, she's not sure of what they found because it's so hush-hush."
Ms McClure also alluded to a particular finding. Ms Bauer reportedly found a job as a dancer at The Top of Gainesville, a now defunct adult entertainment club in Georgia, according to the outlet.
"I'm actually a survivor of the sex industry," Ms McClure said. "I worked in that lifestyle for a little over six years. Twenty years ago today I actually walked away from it."
"There are thousands of girls in Georgia that are in the sex industry. That might mean they're just a dancer, or they might be an escort, but every day their life is at risk," she concluded.
Porterdale Police encouraged anyone who may have additional information regarding to the case to contact them.