Wrongly arrested because of facial recognition: Why new police tech risks serious miscarriages of justice
The latest generation of police surveillance tools are overused, underregulated and often completely wrong, opponents tell Josh Marcus and Alex Woodward
Sunday 17 September 2023 10:08 EDT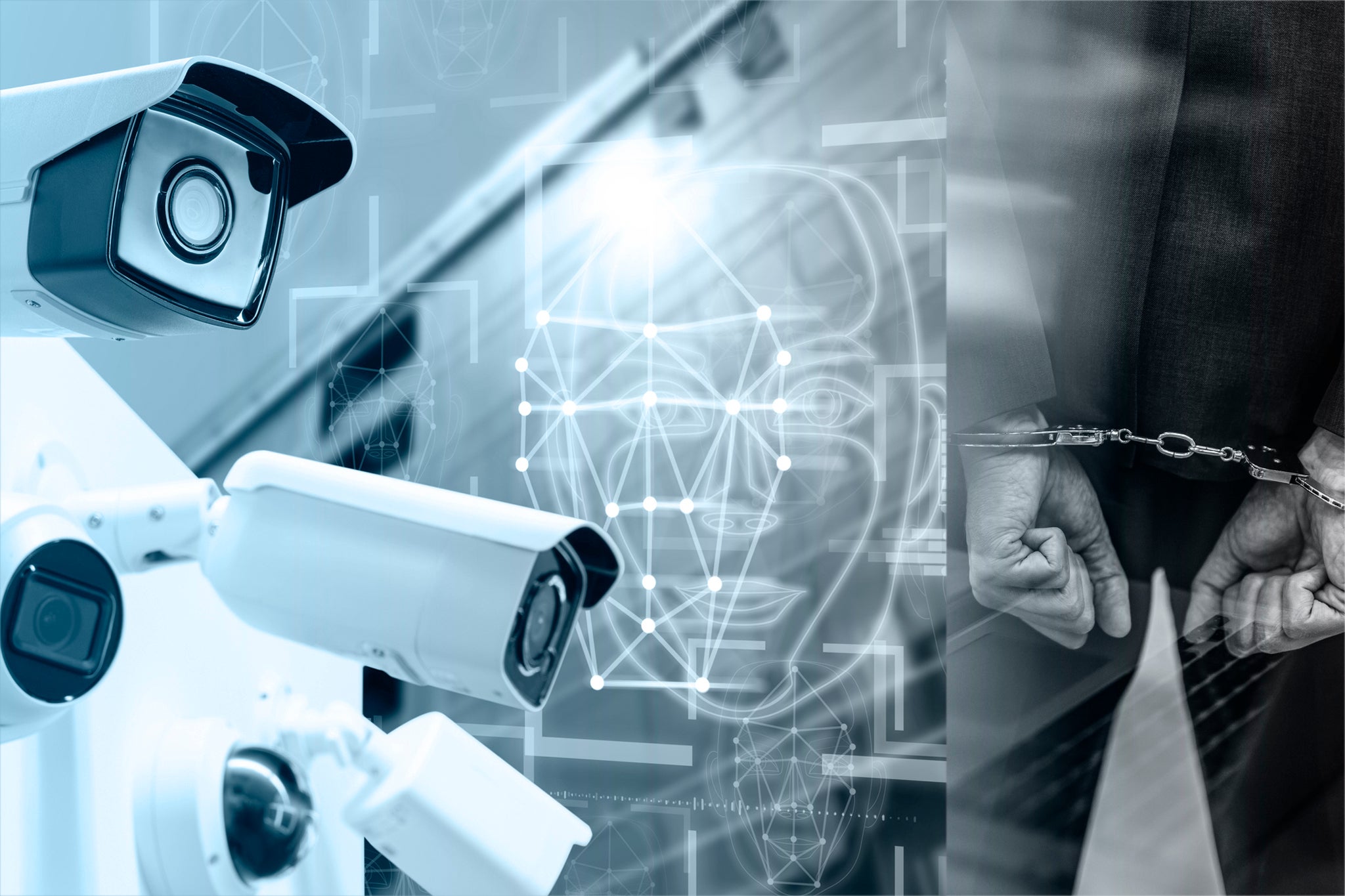 On 16 February, Porcha Woodruff was helping her children get ready for school when six Detroit police officers arrived at her door. They told her she was under arrest for a January carjacking and robbery. She was so shocked she wondered for a moment if she was being pranked.
She was eight months into a difficult pregnancy and partway through a nursing school programme. She did little else besides study and take care of her kids. She certainly wasn't out stealing cars at gunpoint, she said.
"I'm like, 'What,?' I opened my door so he could see my stomach. 'I'm eight months pregnant. You can see two vehicles in the driveway. Why would I carjack?'" she told The Independent. "'You've gotta be wrong. You can't have the right person.'"
Her children cried as she asked officers if the suspect was pregnant and insisted they had mistakenly arrested her. She was put in handcuffs and taken to jail, where she had panic attacks and early contractions.
She later learned police identified her as a suspect after running security footage through the department's facial recognition software, relying on a 2015 mugshot from a past traffic arrest into a photo lineup where the carjacking victim singled out Ms Woodruff as her assailant.
The Detroit Police Department eventually dropped the case, but the arrest has deeply shaken Ms Woodruff.
"What happened to the questioning? What happened to me speaking to someone?" she said. "What happened to any of the initial steps that I thought were available to a person who was accused of doing something?"
The case underscores the growing risks of civil rights violations as police departments and law enforcement agencies across the country increasingly adopt facial-recognition and other mass surveillance technologies, often used as an unreliable shortcut around methodical human police work.
Criminal justice advocates and the people targeted by this burgeoning police tech argue these programmes are riddled with the same biases and opaque or nonexistent oversight measures plaguing policing at large.
The early results, at least, haven't been encouraging. At least six people around the US have been falsely arrested using facial ID technology. All of them are Black. These misfires haven't stopped the technology from proliferating across the country. At least half of federal law enforcement agencies with officers and a quarter of state and local agencies are using it.
"We have no idea how often facial recognition is getting it wrong," Albert Fox Cahn, executive director of the Surveillance Technology Oversight Project (STOP), told The Independent.
"When you have facial recognition being used thousands of times, without any accountability for mistakes, it's inviting injustice," he added.
Nowhere has that injustice been more pronounced than Detroit, a city where Black people have long experienced documented over-policing from law enforcement. Three of the six people mistakenly arrested by facial recognition technology have been in the Motor City, according to the ACLU.
This status quo is why Ms Woodruff is suing DPD, claiming among other things that the agency has engaged in "a pattern of racial discrimination" against her and other Black residents "by using facial recognition technology practices proven to misidentify Black citizens at a higher rate than others in violation of the equal protection guaranteed by" the Michigan civil rights statutes.
"I definitely believe that situation would've gone differently had it been another race, honestly, just my opinion. There was no remorse shown to me and I was pregnant. I pleaded," she told The Independent.
"Being mistaken for something as serious as that crime – carjacking and armed robbery – that could've put me in a whole different type of lifestyle," she added. "I was in school for nursing. Felons cannot become nurses. I could've ended up in jail. That could have altered my life tremendously."
The Independent has requested comment from DPD.
After Ms Woodruff filed her suit, Detroit police chief James White said in a press conference in August "poor investigative work" led to the false arrest, not facial recognition technology. He claimed that department software gave detectives numerous possible suspects and was only meant to be a "launch" point for further investigation.
"What this is, is very, very poor investigative work that led to a number of inappropriate decisions being made along the lines of the investigation, and that's something this team is committed to not only correcting, having accountability, having transparency with this community, and in building policy immediately to ensure regardless of the tool being used, this never happens," Mr White said.
He added that officers won't be allowed to use images sourced by facial recognition in lineups, and warrants based on facial ID matches must be reviewed by two captains before being carried out.
'The lead and the conclusion'
Some aren't convinced these changes will prevent the excesses of what they see as a fundamentally flawed technology.
"The technology is flawed. It's inaccurate," Philip Mayor, senior staff attorney at the ACLU of Michigan, told The Independent. "Police repeatedly assured us that it's being used only as an investigative lead, but what we see here in Detroit time and time again is it is both being used as the lead and the conclusion."
Studies suggest that facial-recognition algorithms, which have been used to capture suspects in high-profile cases like those connected to January 6, also fail to accurately identify Black people and women, driving up inequalities in arrests, because image-training datasets often lack full diversity.
However, according to Mr Mayor, police departments make things even worse by failing to do basic training and common-sense investigative work on top of facial recognition tools.
He represents Robert Williams, a Detroit man who was mistakenly arrested for a 2020 theft from a high-end Detroit boutique. A security contractor employed by the store worked with the city and state police and flagged Mr Williams' name using facial recognition tools.
How police came to trust that Williams was the right man reveals the sloppiness of how facial ID tech is used in practice, according to the ACLU attorney. After the theft, police searched a database containing both past photos of Mr Williams and his present-day driver's license.
'It picks out 486 people who are the most likely perpetrators; not a single one of them is his current driver's license, even though his current driver's license is in the database that was searched,'' Mr Mayor said. "That seems like an obvious exculpatory fact, the kind of thing that would lead you to say if you were actually thinking, this isn't the right guy."
When these dubious matches are then used to build a line-up, questionable police work attains the gloss of near-fact, and witnesses choose from a group of people who may have no credible tie to a crime that took place but still look something like the person who did.
"This is not me," Mr Williams told police during his investigation, according to The New York Times. "You think all Black men look alike?"
The father of two, after asking a local police voluntarily stop using facial recognition technology, sued the DPD in 2021.
"This technology is dangerous when it doesn't work, which is what the cases in Detroit are about. It's even more dangerous when it does work. It can be used to systematically surveillance when we come and go from every one of the places that are important in our private lives," the ACLU attorney said.
"I don't think there's any reason to believe that departments elsewhere right now are not making the same mistakes."
'A force multiplier for police racism'
Detroit isn't the only place grappling with the impacts – and errors – of this technology.
In Louisiana, the use of facial recognition technology led to a wrongful arrest of a Georgia man for a string of purse thefts. A man in Baltimore spent nine days in jail after police incorrectly identified him as a match to a suspect who assaulted a bus driver. The Baltimore Police Department ran nearly 800 facial recognition searches last year. Those cases and others have added to a growing list of misidentified suspects in a new era of racial profiling dragnets fuelled by tech that is rapidly outpacing police and lawmakers' ability to fix it.
Facial recognition software often is "a force multiplier for police racism," worsening racial disparities and amplifying existing biases, according to Mr Cahn.
It can spur a vicious cycle. Black and brown people are already arrested at disproportionate rates. These arrests mean they are more likely to enter a database of faces being analyzed and used for police investigations. Then, error-prone facial recognition technology is used to comb these databases, often failing to identify or distinguish between Black and brown people, particularly Black women.
"So the algorithms are biased, but that's just the start, not the end of the injustice," Mr Cahn says.
Such technologies, advocates warn, are embedded in wider mass surveillance programmes that often lack robust public oversight.
In New York City, law enforcement agencies relied on facial recognition technology in at least 22,000 cases between 2016 and 2019, according to Amnesty International.
New York City's Police Department spent nearly $3bn growing its surveillance operations and adding new technology between 2007 and 2019, including roughly $400m for the Domain Awareness System, built in partnership with Microsoft to collect footage from tens of thousands of cameras throughout the city, according to an analysis from STOP and the Legal Aid Society.
The NYPD has failed to comply with public disclosure requirements about what those contracts – from facial recognition software to drones and license plate readers – actually include, according to the report. Until 2020, that money was listed under "special expenses" in the police budget until passage of the Public Oversight of Surveillance Technology Act. The following year, more than $277m in budget items were listed under that special expenses programme, the report found.
"We've seen just concerted pushback from police departments against the sort of oversight that every other type of government agency has because they don't want to be held accountable," according to Mr Cahn.
"If we treated surveillance technology vendors the way we treated other technology vendors, it would be like Theranos – police would be arresting some of these vendors for fraud rather than giving them government contracts," he added. "But there is no accountability."
On 7 August, 2020, New York City Police Department officers in riot gear launched a six-hour siege outside Derrick Ingram's Hell's Kitchen apartment. Mr Ingram – a racial justice organiser who is embroiled in a federal lawsuit against the NYPD – was surrounded by more than 50 officers after he allegedly shouted into an officer's ear at a protest earlier that summer.
Police insisted they had a warrant on assault charges, but couldn't produce one when Mr Ingram asked them to, according to his suit. The whole encounter, in which the NYPD deployed snipers, drones, helicopters, and police dogs, began with facial recognition technology.
"To say that I was terrified is an understatement – I was traumatized, I still am," Mr Ingram later testified. "I fear deep down in my core that if I opened my door to those officers, my life would be swiftly taken."
To identify Mr Ingram as a potential suspect, NYPD relied on facial recognition software "as a limited investigative tool, comparing a still image from a surveillance video to a pool of lawfully possessed arrest photos," according to a police statement, adding that "no one has ever been arrested solely on the basis of a computer match."
The software pulls from a massive internal database of mugshots to generate possible matches, according to the department. Civil rights groups and lawmakers criticized the department's use of facial recognition – initially hailed as a tool to crack down on violence offenders – for being deployed to suppress dissent, and triggering a potentially lethal police encounter at Mr Ingram's home.
As for Ms Woodruff in Detroit, she hopes her experience can show the dangers of relying too heavily on facial recognition technology.
"It may be a good tool to use, but you have to do the investigative part of using that, too," she said. "It's just like everything else. You have your pieces that you put together to complete a puzzle."
Her life would've been a whole lot different, she said, if "someone would've just taken the time to say, 'OK, stop, we're going to check this out, let me make a phone call.'"