Delta Airlines worker and friend acquitted of charges for stealing bag with more than $258,000 in cash
Quincy Thorpe, 40, and Emmanuel Asuquo Okon, 32, were acquitted in Brooklyn Federal Court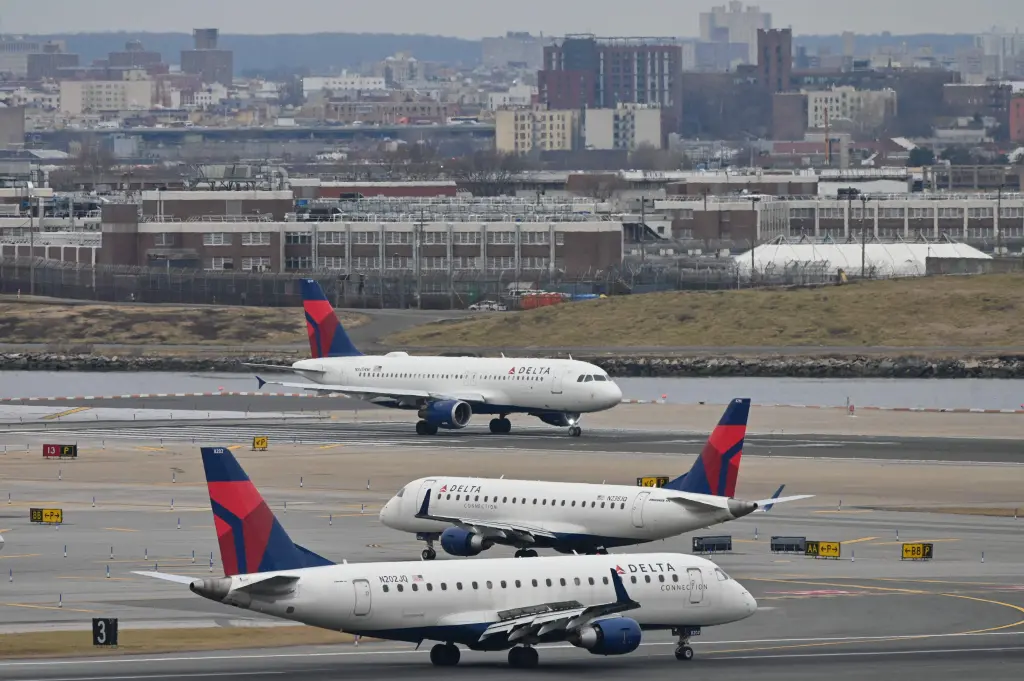 A former Delta Airlines worker and his close friend have been cleared of charges for stealing a bag with more than $258,000 in cash inside.
Quincy Thorpe, 40, and Emmanuel Asuquo Okon, 32, were acquitted in Brooklyn Federal Court on 18 September after being accused of stealing the bag and swapping it out for another one.
The pair would have faced 10 years in prison if convicted.
The money was part of a cash shipment from a cruise ship to be loaded onto Delta Flight 1225 from Kennedy Airport to Florida. Mr Thorpe was responsible for loading eight bags packed with US and foreign currency onto the plane.
But only seven of the bags were loaded onto the plane, and the two men were accused of stealing the eighth bag.
Investigators accused Mr Thorpe of driving away with one of the stolen bags and transferring it to a white van, before meeting Mr Okon in the public side of the airport and swapping the bag out.
Mr Okon was accused of smuggling the money out of JFK airport. According to court documents, he "intentionally and unlawfully" took "a stolen bag containing United States and foreign currency of approximately $258,205 in value," which he intended to use himself.
Mr Okon then drove Thorpe back to the airport to finish his shift, the prosecutor said.
The men were arrested after the FBI found the car with documents including a Delta waybill five days later.
Security footage of the men moving around the airport was shown in court by the prosecution but the jury was unconvinced the video was incriminating.
"The videos worked against them. It just didn't show what they claimed that the video showed," Mr Thorpe's attorney, Lonnie Hart Jr, told the New York Post following the verdict.
The defence argued the two men were falsely accused, with Mr Thorpe's lawyer blaming Delta Airlines for making a scapegoat out of his client for the "embarrassment" it suffered.
Mr Thorpe was "a scapegoat for someone else's incompetence," his lawyer said.
"Someone has to pay for it and the convenient person in this case is my client, Quincy Thorpe, because he was, in fact, in charge of loading that particular flight," he said.
Mr Thorpe was identified as a suspect after co-workers said he went home sick around the time of the theft. Over the next two days, Mr Thorpe called Delta Ground Services to say he would not be coming to work.
Mr Okon's lawyer, Douglas Rankin, also argued that his client had been mistakenly accused despite the car belonging to his partner.
"Whether it was Miami, whether it was New York, money got stolen. A quarter of a million dollars, somebody gets arrested and prosecuted, and it's not always the right somebody," Mr Rankin said.
In a statement released after Mr Thorpe was suspended, Delta Airlines said: "The alleged actions of this employee are unacceptable and in no way reflect the professionalism and values we expect from Delta team members."
Delta Airlines was contacted for comment.