A 'domestic dispute' spilled into historic biker bar Cook's Corner. It ended with a mass shooting
A regular night at a popular biker bar took a devastating turn when gunfire broke out. Faiza Saqib reports
Thursday 24 August 2023 18:23 EDT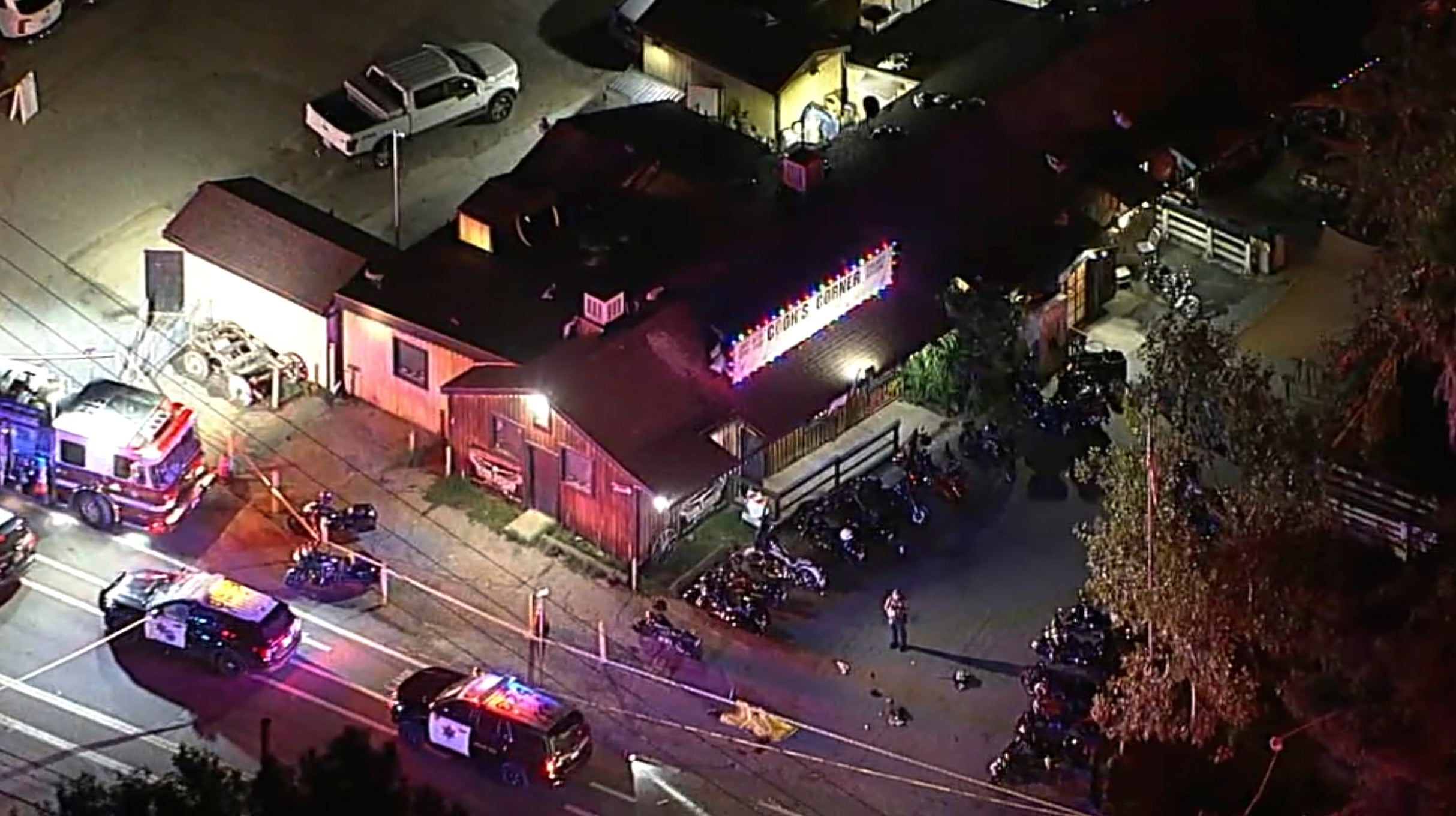 It began just like any other Wednesday night at the popular biker bar.
Motorcycle riders and enthusiasts had gathered for drinks, food and fun with friends at Cook's Corner, one of the most famous biker bars and restaurants in southern California.
But, this one night took a devastating turn when a gunman opened fire, leaving at least three people dead and many others injured.
The shooting suspect – identified by authorities as retired police officer John Snowling, 59– was then shot and killed by responding officers. Reports suggest that Snowling's wife Marie Snowling, who is being treated in hospital for gunshot wounds, was the target of the attack.
Now, the southern California biker community has been left reeling, as the latest community rocked by the effects of gun violence in America.
Cook's Corner has been met with an outpouring of love and support on its Instagram account in the wake of the mass shooting.
"I'm still trying to process what happened tonight," Diana Simon, who works at Cook's Corner, wrote on Facebook. "The loss and what it has done to all I care about. We are a family at Cook's Corner. Marie lights up every room she walks in. Her smile and enthusiasm for life… it's just so wrong. It all doesn't feel real."
Here's what we know so far about the shooting:
The deadly shooting
At around 7.04pm on Wednesday (23 August), authorities received a 911 call about a shooting at Cook's Corner biker bar in California's Orange County.
Police said that the gunman opened fire at the bar, killing at least three people.
Another six victims were injured including five who were hospitalised with gunshot wounds.
Witnesses told CBS and KCAL News that the gunfire began in the picnic area.
They said they initially heard about five or six shots before a brief pause. Shortly after, the shooting continued with an increased volley of fire.
One witness told the outlet that he and a cook barricaded themselves in the kitchen to hide from the gunman.
They armed themselves with a frying pan and waited until it was safe to come out, he said.
The cook had been shot in the arm during the encounter.
The witness also claimed that a pregnant woman had begged the gunman to spare her, saying "please don't shoot me, I'm five months pregnant".
The gunman allegedly told her to "get out of here" and let her leave.
Another man was not so fortunate, however, with the witness saying his friend was fatally shot in the back by the gunman.
Police said that officers arrived on the scene of the shooting around two minutes after the 911 call came in.
There, they encountered the gunman who was fatally shot at the scene.
Six victims were taken to Providence Mission Hospital in Mission Viejo for treatment.
Two are in critical condition while four others are in stable condition.
The suspect
The suspected gunman was identified on Thursday as retired police officer John Snowling.
The Orange County District Attorney's Office said that Snwoling had been employed by the Ventura Police Department from 1984 until his retirement in 2014. According to an article published in 2012, Snowling led a patrol task force within the agency.
Local media reports said that the incident began as a domestic dispute between the shooter and his wife, Marie Snowling.
The Orange County Sheriff's Department said it was looking into reports that the suspect first shot his wife at the bar.
Cook's Corner shooting: Witness describes scene
Despite earlier reports that Ms Snowling had not survived, her father William Mosby told The Orange County on Thursday that she is recovering from her injuries at Providence Mission Hospital Mission Viejo.
"Her friend in the bar said she was shot in the lower jaw," Mr Mosby told the outlet. "I'm extremely relieved, what I heard was the worst."
Mr Mosby described Snowling as a "crazy husband" who couldn't cope with Ms Snowling's request for a divorce.
A neighbour of the Snowlings told the Los Angeles Times that he believed the couple had started to have marital problems because Ms Snowling wanted to go out more often, while her estranged husband preferred to stay at home.
"I think it reached a point where it felt like life was passing her by because he didn't want to do anything,"James Goldsmith, 68, told the outlet.
"He would barely maintain the house. I think she wanted to have friends and live life and that's why I think she made the move that she did. It's sad that he couldn't allow that and let her live her own life."
Mr Goldmisth said that Ms Snowling had moved out and now lived with her mother after she filed for divorce in December 2022. Snowling had recently bought a home in Ohio and was spending most of his time there, Mr Goldsmith said.
"John was always kind of a standoffish kind of person," Mr Goldsmith told the Times. "He wasn't the most personable guy, not that I can say that there was anything really negative. He wasn't the type of neighbour that you'd get the warm fuzzies from."
Ms Snowling's friend Betty Fruichantie also told NBC that the two were enjoying a live performance at the popular biker's bar when the gunman entered the establishment.
"We were sitting there listening to the band and all of sudden, from behind us, we hear shooting. A bunch of shooting," Ms Fruichantie said. "I thought it was just firecrackers, she didn't say anything. People were getting shot. People were getting shot."
Ms Fruichantie said that Ms Snowling had recently filed for divorce and was staying with friends.
The reaction
The devasting shooting has left many in shock, including community members, gun control groups and lawmakers.
In a press conference, undersheriff Jeff Hallock described the night as "difficult" for everyone involved and for the community.
"I want to start off by offering condolences to the families of the victims and to the entire Trabuco Canyon community," he said.
California Governor Gavin Newsom said in a post on X, formerly Twitter, that he was monitoring the shooting "and coordinating with local officials as more details become available".
Orange County supervisor Katrina Foley tweeted: "We must do more to protect survivors. Another domestic dispute led to another mass shooting. This as US v. Rahimi, being heard by SCOTUS following Fifth Circuit Court of Appeal decision ruling this lifesaving federal 'red flag' law unconstitutional. We must do more to protect survivors."
Senator Dave Min from Orange County said he was "devastated" by the news.
"Our district is one of the safest areas in the country, and yet we too are repeatedly afflicted with the scourge of mass shootings," he said.
"An office park in Orange, a church in Laguna Woods, a bar in Trabuco Canyon. There is no place in America that is safe from the scourge of gun violence. There is no community not affected."
There have been more than 400 mass shootings in the US so far in 2023, according to the Gun Violence Archive.