Student dies after being stabbed 107 times by stepfather as she tried to protect mother, police say
Nghiep Kein Chau, 54, told Seattle police 'I killed somebody' after allegedly stabbing Angelina Tran, 21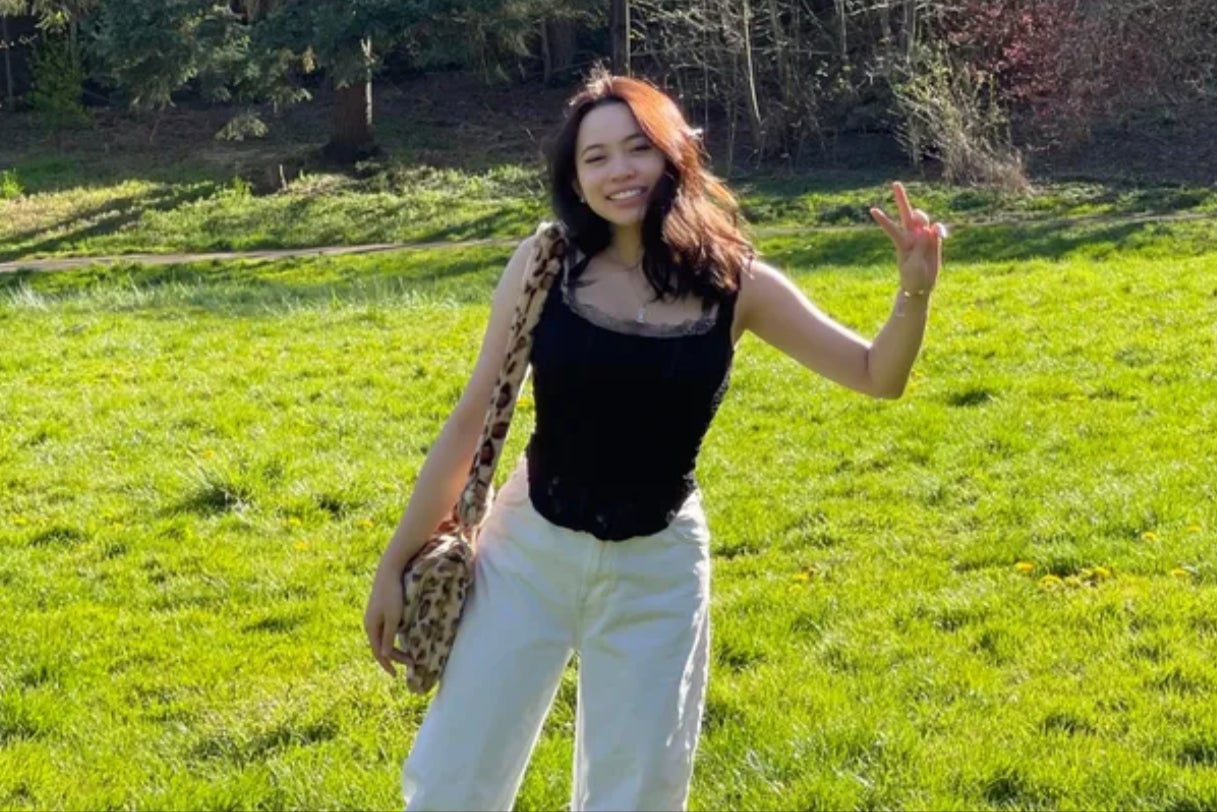 A Washington college student who had a passion for helping others was stabbed over 100 times after she stepped in to protect her mother from being attacked by her stepfather, according to a court document.
Angelina Tran, 21, was awoken in the early morning hours of 7 August to find her 54-year-old stepfather, Nghiep Kein Chau, repeatedly punching her mother in the face at their home in the Beacon Hill neighborhood of Seattle, police said.
When Tran tried to intervene, her stepfather turned the attack on her, which allowed her mother to break free and run downstairs to call 911.
Tran and her stepfather continued to struggle and they both fell near a folding dog kennel in the middle of the room, according to the probable cause statement. Chau then dragged a piece of the dog kennel, with Tran on top of it, toward the kitchen and grabbed a knife.
Chau repeatedly stabbed Tran as she fought back, and continued even after she "stopped displaying any signs of life," according to the document.
She "continued to try and fight [Chau] off, and at times turned her back toward him, resulting in her getting stabbed in the back."
Chau paused the attack on Tran several times to change clothes, to grab a meat cleaver to replace the knife he was using, and another time to search for his wife.
"Angelina Tran's intervention allowed her mother to escape and hide in a nearby bedroom, but the defendant did not stop his attack," prosecutors said in the criminal complaint.
The initial assault on Tran's mother and her own violent stabbing was captured on home surveillance camera, police said.
It showed how Chau paused to "change clothes because of all the blood" and to "select a different knife (a meat cleaver) from the kitchen drawer" before he continued stabbing Tran.
Seattle police arrived at the residence at about 5am to find a blood-covered Chau "holding a large bloody fixed-blade kitchen style knife, which he dropped when ordered to do so by officers."
"I killed somebody," he reportedly told police, according to the charging document.
Tran was pronounced dead at the scene after being stabbed 107 times in the torso, the documents claim. Her mother was transported to the hospital for her injuries.
Chau was taken into custody and charged with first-degree murder and attempted first-degree murder in connection with the attacks. He remains held at the King County Correctional Facility on $5,000,000 bail.
Chau also told police that he started "bickering" with his wife "about money in the living room area on the top floor" and that he hit her in the face because he was angry.
He "explained that he thought [his wife] would divorce him and take his money" — even though she "never said this to him, but he thought it to be true," the document detailed.
An arraignment that was scheduled for Wednesday was postponed to August 31 because Chau is "medically unavailable", according to the King County Prosecuting Attorney's Office.
A GoFundMe was created for Tran, who is described by as "an incredible daughter, a cherished friend, and above all, a perfect girlfriend."
She was committed "to making a difference in the lives of elderly individuals," the GoFundMe reads.
"She excelled in her studies, with just one more year remaining at the University of Washington, Seattle. Her dedication and hard work were truly admirable. The pain of her absence is profound as she was a gem of a human being. The impact she had on all those fortunate enough to know her was significant."