Their son's killing by police was caught on film like Tyre Nichols' beating. They want answers – and change
Former Clear Creek County Sheriff's Deputies Andrew Buen and Kyle Gould are charged in the June 2022 death of 22-year-old Christian Glass. Sheila Flynn reports from Georgetown, Colorado
Wednesday 01 February 2023 06:06 EST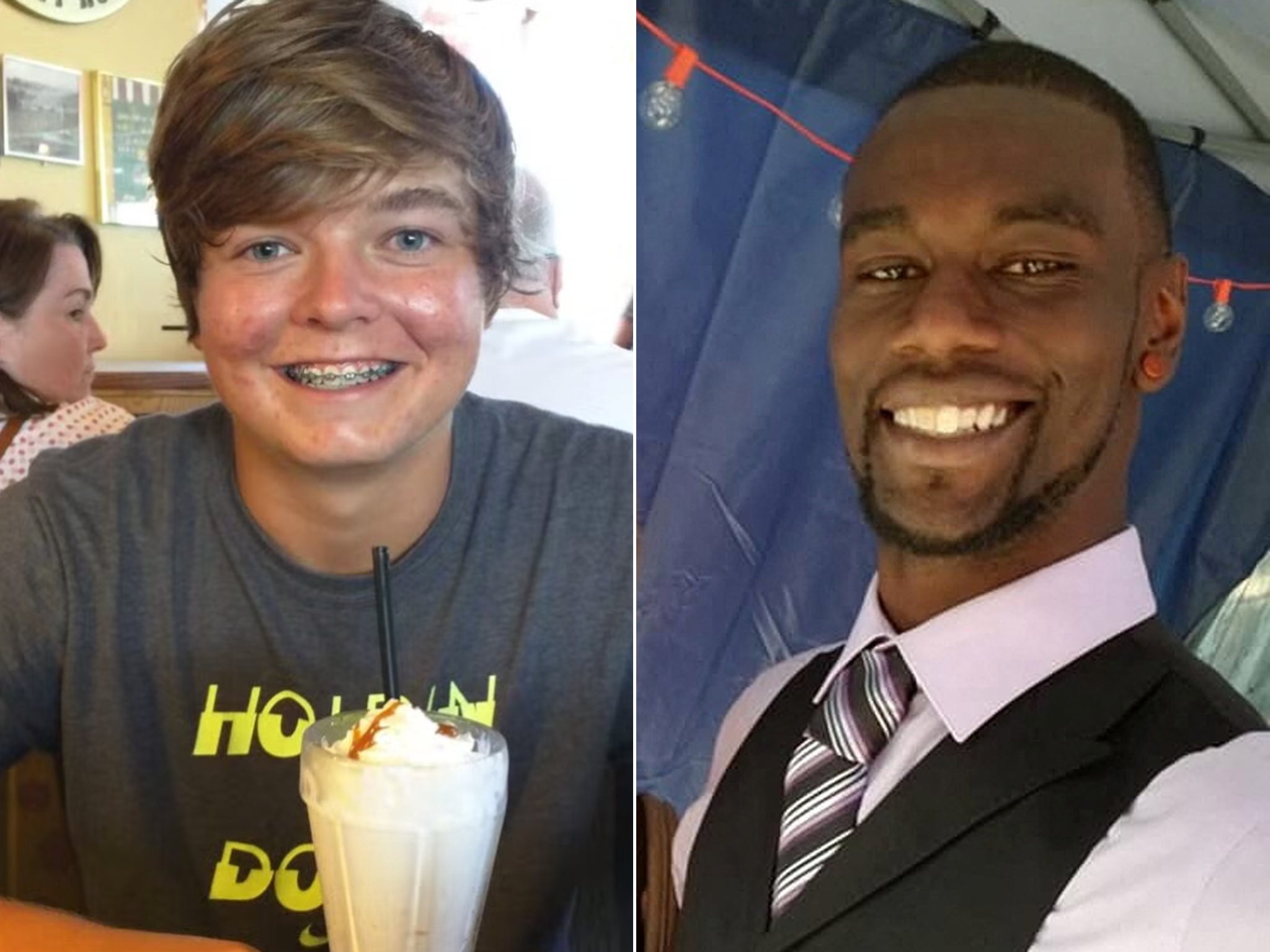 The parents of a Colorado 22-year-old killed by police after calling 911 for roadside help have blasted officers' attempts to dismiss charges against them – while sharing their despair that people like Tyre Nichols and their son keep losing their lives at the hands of law enforcement.
"What are they doing?" an exasperated Sally Glass, mother of Christian, asked as she fought back tears outside of Clear Creek County Courthouse, where the two former officers charged in her son's death appeared on Monday.
Former Clear Creek County Sheriff's Deputy Andy Buen has been charged with second-degree murder and two misdemeanors, official misconduct and reckless endangerment, in the 11 June death of Christian. Former Deputy Kyle Gould, who was Mr Buen's supervisor working remotely while observing events via body cam, has been charged with criminally negligent homicide and reckless endangerment.
The men responded last June when Christian called 911 because his car got stuck near Silver Plume; the amateur geologist repeatedly offered to throw anything that might be considered a weapon out of the car when dealing with 911 and law enforcement but was instructed not to. Seven officers responded from different departments and spoke with Christian for more than an hour as he appeared to suffer some type of mental health crisis. When he refused to leave the vehicle, however, officers eventually tasered him; he appeared to grab a small knife as he subsequently thrashed and Mr Buen fatally shot him.
Bodycam shows fatal shooting of Colorado man during apparent mental health crisis
Prosecutors have petitioned for a joint trial, while Mr Gould's lawyer on Monday argued that the case be dismissed for reasons that include his client's physical absence on the night in question. After speaking to on-site officers and allegedly authoritizing the breach of the vehicle, Mr Gould was en route to the scene when Christian was killed, according to court documents.
"It's incredibly hard to sit there and hear them basically trying to get off," Ms Glass said Monday after the hearing. "That's what they're going to try and do ... That's what we're going to have to sit through."
The court date came just days after the release of body camera footage from the fatal police stop of Tyre Nichols in Memphis, video eerily reminiscent of the footage from Mr Glass's killing.
"I saw Tyre's parents' interview, part of the interview that they did, and really see the same thing we were going through – just disbelief," Mr Glass said on Monday. "I think he said something like, 'I'm just trying to make it home' or something like that."
"What are they doing? What are they doing?" he said of police departments and violent altercations.
"Elijah McClain, with his iced tea – 'I'm just walking home,'" his wife added. "The guy driving – 'I'm just going home.' Christian, just driving ... what are they doing?"
She said it was "just very, very hard to listen to and, honestly, to be that physically close" to the former officers charged in her son's killing, who are next due in court in April. Both men were fired by Clear Creek County following the indictment last year.
An internal affairs report that concluded in December found that Mr Buen had "failed to recognize his verbal and non-verbal tactics were failing to de-escalate Mr. Glass and gain Mr. Glass' cooperation.
"Rather, Deputy Buen's actions escalated Mr. Glass to the point that Mr. Glass stopped all verbal communication before other officers could attempt to negotiate with him."
The report found that Christian had not been "in a physical position to kill anyone.
"A knife is a dangerous weapon, however for Mr. Glass to kill or seriously injure an officer on scene, he would have had to exit the vehicle or turned his body so significantly in the driver's seat that he would have been able to reach the knife more than one to two feet outside the vehicle, in order to inflict injury."
Regarding Mr Buen's actions, the report found that "four reasonable officers with direct vantage points of the events… chose not to fire their handguns. For this reason, Deputy Buen using deadly force against Mr. Glass was not consistent with that of a reasonable officer."
Mr Glass on Monday said more must be done to stop such fatal interactions with police.
"People need to see this," he told reporters. "This needs to stop."
He added that he would "love to see the other police chiefs here in this area in Colorado come out [and] condemn what happened to Christian Glass.
"They were very quick to do it with with Tyre Nichols," he said. "This is happening in their own backyard."
The Glasses praised Tennessee authorities for swift action taken against officers charged in the case of Tyre Nichols, a Black 29-year-old man who died three days after being beaten during a 7 January traffic stop. Five officers were fired and indicted on charges including murder and kidnapping.
"They've already filed charges for all of them ... quick, and it's great to see that and that's that's how things should be done," Mr Glass said Monday, noting that seven months had passed since their son's killing. The runup to Monday's court date was particularly emotional, he said.
"It's just really hard," added Ms Glass. "I think now we're beginning to accept [Christian's] gone. At the beginning, we couldn't understand and, honestly, accept it. But as months go by ... you just have to accept it. It's just a deep, deep sadness and loss."
She said that "people are disgusted" by what happened to their son "as obviously we are, as parents."
"So many people have reached out to us," she said. "It could have been your nephew, your son, your grandson. If it could happen to us, it can happen to anyone. People are outraged, and we have to make sure that this goes ahead, they're indicted, they're prosecuted, they're convicted, they're put in prison, and it doesn't happen to somebody else."