Laura Carleton's death and the growing 'epidemic of hate' against LGBT+ people in the US
The murder of a California store owner over a Pride flag is just the latest in a series of horrific homophobic attacks, reports Andrea Cavallier
Wednesday 23 August 2023 07:34 EDT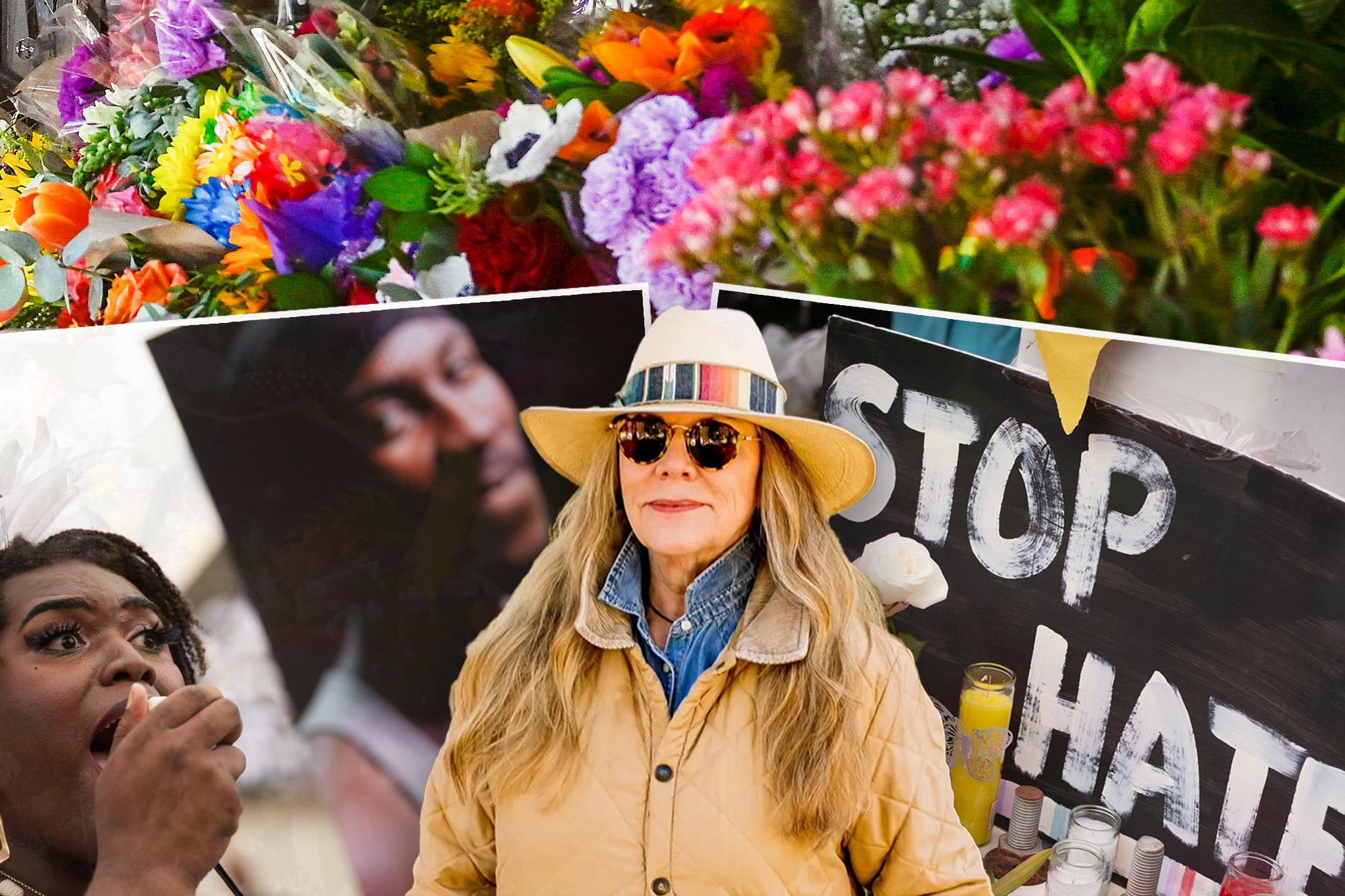 A mother-of-nine who proudly displayed a Pride flag outside her California store. A gay man who danced to a Beyoncé song in Brooklyn. Five patrons killed in a mass shooting at an LGBTQ+ nightclub in Colorado.
All were appalling attacks against the LGBTQ+ community and their allies in recent months. From the disruption of drag show story hours to threats against retail employees for selling Pride merchandise, the rising threat of violence is terrifying, but unfortunately unsurprising, Sarah Moore, an Anti-LGBTQ+ Extremism Analyst, told The Independent.
The senseless murder of Laura "Lauri" Ann Carleton last week is the most recent example of the anti-LGBTQ+ hate currently being spread across the US.
The 66-year-old store owner was a straight, white woman who spent her time helping and advocating for everyone in the community, a Lake Arrowhead LGBTQ organisation said in a post.
Carleton had nine children, but because of one person's hatred, all of them will now have to live the rest of their lives without a mother.
"This epidemic of hate is not only killing us, but the people who stand with us too," Human Rights Campaign president Kelley Robinson said in a statement to The Independent.
On 18 August, 27-year-old Travis Ikeguchi, who had been spewing anti-LGBTQ+ hate on social media for quite some time, emerged from behind his computer, and fatally shot Carleton outside her Mag.Pi store on Hook Creek Road in Cedar Glen, California, according to the San Bernardino Sheriff's Office.
It was all because the fashion entrepreneur dared to hang a rainbow Pride flag outside her store. When someone would rip it down or damage it, she would simply hang up another one.
But this time, Carleton was confronted about the rainbow flag by Ikeguchi as he tore it down while screaming homophobic slurs at her. He then pulled out a gun and shot her.
Officers arrived to find she had suffered a single gunshot wound, before she died at the scene. Ikeguchi had fled the area, but was later tracked down by deputies. A standoff ensued and he opened fire on the officers before he was shot and killed.
An investigation found a slew of anti-LGBTQ+ posts on Ikeguchi's social media. The California man had posted images of Pride flags on fire, along with rants lashing out at the LGBTQ+ community and law enforcement.
Sarah Moore, an Anti-LGBTQ+ Extremism analyst at the Anti-Defamation League (ADL), said the attack on Carleton is a "crucial example of what the ADL has been tracking in the latest trends over the past year."
"Pride flags have been targeted, whether it's by burning them, stealing them or damaging them," she said, adding that the flag is being used as a statement and an increasingly popular tactic against the LGBTQ+ community.
Moore, who has viewed and analysed Ikeguchi's social media, said there are not just anti-LGBTQ+ posts but also antisemitic and anti-Israel ones.
"I want to stress that bias against the LGBTQ+ community often overlaps with other forms of hate," she said.
A report released in June by the ADL (the Anti-Defamation League) and the national LGBTQ+ organization GLAAD, recorded a total of 356 anti-LGBTQ+ incidents between June 2022 and April 2023, including 305 acts of harassment, 40 acts of vandalism and 11 incidents of assault.
This is up from 2021-2022 where 223 incidents were recorded.
The report also found that anti-LGBTQ+ incidents often overlapped with other forms of hate, with at least 128 incidents also citing antisemitic tropes and 30 incidents also citing racist tropes.
Nearly half of all incidents (49 per cent) were perpetrated wholly or substantially by individuals associated with extremist groups, the report found.
The most cited anti-LGBTQ+ trope was what the report called baseless "grooming" conspiracy theory, with at least 191 anti-LGBTQ+ incidents of harassment, vandalism and assault making explicit references to "grooming" or "pedophilia."
Carleton's murder has since led to an outpouring of grief and anger from her children and family members, Hollywood stars and the LGBTQ+ community members who have warned that her killing is yet another devastating example of the increase in bigotry in violence across America.
Human Rights Campaign president Kelley Robinson said in a statement that "threats against the LGBTQ+ community and our allies have evolved from violent rhetoric on social media and from anti-equality political leaders to, now, real-world violence — and let's be honest, no city, state or person is immune from this brutality."
"The killing of Laura Ann Carleton, just for standing up for the LGBTQ+ community by displaying a Pride flag at her store, is devastating. Let's be clear — the combination of hate and easy access to guns is killing too many of us.
"From the rise of fatal violence against transgender and gender non-conforming people over the past decade, the loss of five innocent lives at Club Q in Colorado Springs, to the ruthless murder of O'Shea Sibley for vogueing at a gas station, we are seeing an escalation of hateful words turning into vicious, senseless attacks that has escalated into a nation-wide state of emergency for the LGBTQ+ community. Laura should be here with her husband and her family. This epidemic of hate is not only killing us, but the people who stand with us too."
California shop owner Lauri Carleton killed over Pride flag
The latest attack happened less than a month after O'Shae Sibley was murdered by a "good Christian boy" for dancing to a Beyoncé song in Brooklyn, New York.
Sibley, 28, had been out celebrating a friend's birthday when the group stopped at a Mobil gas station in Coney Island on 29 July.
The professional dancer took off his shirt and was "vogueing" — a dance form popularised by the LGBTQ+ community — to Beyoncé's Renaissance album with a friend on the station forecourt.
Just after 11pm, a group of young men allegedly began hurling homophobic insults saying that they didn't like "gay dancing" in their neighbourhood, according to eyewitnesses.
Sibley confronted the men, surveillance footage showed, and the clash turned violent, ending with Sibley being stabbed in the heart during a scuffle. He died a short time later.
Otis Pena, who was with Sibley when he was killed, said he and Sibley were "just pumping gas and listening to Renaissance and having a good time".
"O'Shae was just trying to tell people 'we may be gay' and they stabbed him right in the heart," he continued, breaking down. "They murdered him because he was gay, because he stood up for his friends. All because he wanted people to know that we are gay."
Dmitriy Popov, 17, was later arrested and arraigned as an adult on murder and hate crime charges. He has pleaded not guilty.
Eyewitnesses told the NYPD that Mr Popov had told the vogueing group that their dancing offended him as a Muslim.
Mr Popov's lawyer Mark Pollard told The Independent in an interview that his client was a "good Christian boy" who regularly attended church.
Army veteran gives account of tackling Colorado Springs gunman
"I have no idea where that came from. I just know he's not Muslim. It's very strange," Mr Pollard told The Independent.
Beyoncé, who was performing nearby at New York's MetLife stadium on the night Sibley was killed, paid tribute to the dancer, choreographer and model, who family say was cut down "in his prime".
The killing attracted national attention due to its alleged homophobic nature, as attacks on the LGBTQ+ community are increasing.
Last year, five people were shot dead and 17 others injured just for being at Club Q, a gay nightclub in Colorado Springs.
On 19 November 2022, drag performer Del Lusional was hosting an alternative and punk show at the club — a DJ was set to follow.
But then Anderson Lee Aldrich walked in and opened fire with an AR-15-style rifle killing bar staff Daniel Aston, 28, and Derrick Rump, 38, along with Kelly Loving, 40; Ashley Paugh, 35; and Raymond Green Vance, 22.
Aldrich was charged with 305 criminal counts, including first-degree murder, attempted murder, assault, and at least 48 counts of committing crimes motivated by anti-LGBT+ bias.
Prosecutors argued that Aldrich be charged with hate crimes, pointing out that his mother was reportedly nonbinary and forced him to go to LGBT+ clubs.
Aldrich ultimately accepted a plea deal, reducing the number of charges to 53, but which included all five first-degree murder charges, 46 attempted first-degree murder charges, and two bias-driven crimes charges.
Threats against the LGBTQ+ community emerged in June when Target's Pride Month displays came under fire.
Several videos posted on social media show customers destroying the displays and heavily criticising the retail company for including LGBTQ+ attire.
This included a "tuck-friendly" bathing suit option and greeting cards that used inclusive language.
The backlash forced the retail giant to pull some of its Pride Month merchandise after several of its employees experienced "confrontational behavior" from angry customers.
"Since introducing this year's collection, we've experienced threats impacting our team embers' sense of safety and well-being while at work," Target said in a statement.
A Target spokesperson told The Wall Street Journal that several angry customers made "threatening posts on social media with video from inside stores" in addition to confronting workers.
"Given these volatile circumstances, we are making adjustments to our plans, including removing items that have been at the center of the most significant confrontational behavior. Our focus now is on moving forward with our continuing commitment to the LGBTQIA+ community and standing with them as we celebrate Pride Month and throughout the year," Target said in a statement.
Target isn't the only company grappling with public criticism.
Bud Light is still dealing with fallout from its partnership with transgender influencer Dylan Mulvaney, who in April posted a picture on Instagram of a beer can with her face on it.
Mulvaney, a transgender influencer, was the target of disparaging right-wing attacks for weeks after she partnered with Budweiser to promote Bud Light.
US: Community Members Hold Memorial Ball For O'Shae Sibley Stabbed To Death In Brooklyn
In response to the hate-filled and transphobic backlash that followed, the company said it "never intended to be part of a discussion that divides people," but didn't directly address the rhetoric or signal clear support for Mulvaney. Bud Light's parent company, Anheuser-Busch, is tripling its US marketing spending this summer as it tries to restore lost sales.
Anheuser-Busch, the producer of Budweiser beers, issued a statement at the time in response to the conservative boycott, saying that it "never intended to be part of a discussion that divides people".
"We have thousands of partners, millions of fans and a proud history supporting our communities, military, first responders, sports fans and hard-working Americans everywhere," said CEO Brendan Whitworth. "We never intended to be part of a discussion that divides people. We are in the business of bringing people together over a beer."
In response to the increasing attacks on the LGBTQ+ community and allies, many have called for a change.
Wendy Via, co-founder of Global Project Against Hate and Extremism, said in a statement this week, that this will continue to result in violence if this rhetoric and push for irrational, hateful, and rights-restricting legislation isn't stopped."
"From the arson of a church in Texas, to the firebombing of a coffee shop in Oklahoma, to the disruption of library story hours, the threatening of school boards, and the banning of books, to the horrific murders at Club Q in Colorado last November, the threats and the violence facing LGBTQ+ people and allies is all too real,"  Wendy Via, co-founder of Global Project Against Hate and Extremism, said in a statement this week.
"The man who shot and killed Laura Ann Carleton after disparaging the LGBTQ+ pride flag she proudly hung in her store window had a history of anti-LGBTQ+ posts on social media sites. Yet again, anti-LGBTQ+ hate turned to violence, and an innocent woman tragically lost her life. Now, an entire community is not only reeling from the tragic death, but LGBTQ+ people and their allies everywhere are once again reminded in the worst possible way of the very real threat of hate and violence they face every day.
"The killing of Laura Ann Carleton proves anti-LGBTQ+ hate and violence are out of control in the US and around the world. Efforts to demonize, intimidate, and provoke violence against LGBTQ+ people have increased over the past year globally. It would be naive to separate these violent attacks from the anti-LGBTQ+ efforts of some politicians and far-right organizations.
"As we've said before, the relentless dehumanization and demonization of LGBTQ+ people by far-right politicians, extremist religious leaders, and hateful ideology adherents — often spread online — will continue to result in violence if this rhetoric and push for irrational, hateful, and rights-restricting legislation isn't stopped."