California Superior Court judge arrested on suspicion of murder in wife's killing
Neighbours and colleagues expressed 'shock'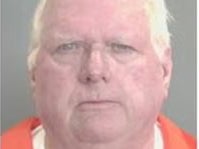 An Orange County Superior Court judge was arrested on suspicion of murder after his wife was fatally shot in their California home.
According to an Anaheim Police news release, police arrived at the judge's home in Anaheim Hills around 8pm after receiving reports of a shooting.
When they arrived, officers found Sheryl Ferguson, 65, inside with at least one gunshot wound. The police said she was pronounced dead at the scene.
Officers arrested Jeffrey Ferguson, the Orange County Superior Court judge, and booked him into an Orange County jail in lieu of $1m bail.
Police said the investigation is ongoing.
One other person in the home at the time of the shooting was not injured, the Anaheim police sergeant said, according to the Los Angeles Times. Officers said the other person in the home was the Fergusons' son, who was trying to perform CPR on his mother.
The outlet reported that at least one firearm was recovered from the property.
A neighbour, John Poulter, told the outlet that the shooting and subsequent arrest were "tragic," adding that it was a "shock."
"So many people in the neighbourhood flooded the street [afterward] and just kept repeating, 'There's no way he could have done this,'" Mr Poulter told the publication.
Mr Ferguson has served his current term as an Orange County Superior Court judge since 2015; his term is set to end in January 2027. He has won a number of awards, including prosecutor of the year, which he was awarded four times.
Susan Kang, a former chief of staff for Orange County's district attorney, told the Los Angeles Times that she has been friends with the couple since 1999. Ms Kang said, "I have always known Jeff to be someone who was devoted to his wife and his sons."
She recalled to the outlet, "Just a little while ago, they were at my house having dinner. To be shocked to hear Jeff was arrested for murdering Sheryl would be an understatement. I cannot wrap my mind around it. I am brokenhearted, especially for Phillip."
The judge was previously admonished by the Commission on Judicial Performance. The commission found that he violated the Code of Judicial Ethics "by posting a statement about a candidate for judicial office on Facebook with knowing or reckless disregard for the truth of the statement" and for being Facebook friends with lawyers who were appearing before him in court regularly.